Just a quick post from the Brian Lehrer Show camp on how our preparations for Inauguration day are coming along. We're working tirelessly, as part of WNYC's entire station effort, to bring you a great day (and really, four days) of coverage around the Obama Inauguration.
On the one hand, this Tuesday stands as the end bracket to our exhaustive (and exhausting!) election coverage. So we're taking this opportunity to look back, at least around the office, at where we've been: from early buzz about an all-NY contest; our 7pm-3am Super Tuesday coverage; visits to both Denver and St. Paul for the conventions; and culminating in an election night where much of NYC (but not all) was literally dancing in the streets. Of course, Tuesday also marks the beginning of a new journalistic endeavor - a new administration with new personalities, story lines, and interesting conversations to have.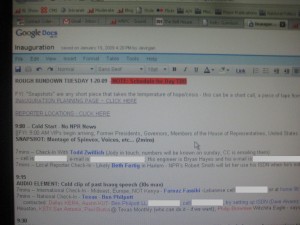 But for now, we want to take a breath, a step back, and try to capture the moment alongside our listeners. We are witnessing a time of tremendous hope for a new presidency, but also deep deep fear about our economic crisis. It is this tension that we want to reflect. Our show on Tuesday morning - which begins an hour early on 93.9 FM - will not sound like our normal show in the sense of segmented twenty-minute-ish interviews. Instead, we'll be much more fluid, dipping in and out of discussions with reporters in DC, NY, calls from listeners, a few special guests and lots and lots of audio, including all of the messages we've been collecting through our inauguration hotline. In the end, we hope all of this will help us capture the mood of the moment, in all its conflicted, complex glory. Thanks for joining us!