"Never in My Wildest Dreams"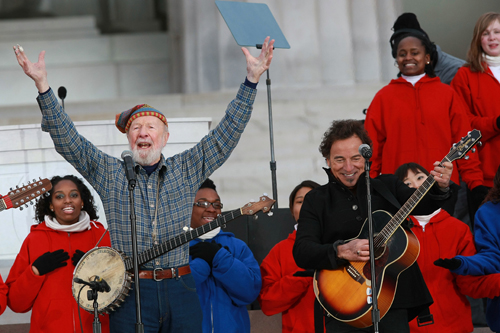 WNYC asked New Yorkers what the inauguration of Barack Obama meant to them. Here are some of their answers.



Pete Seeger

This is a moment of hope, not just for America, but for all the world. It's true 47 percent of the electorate did not vote for Barack Obama. But, we are having a peaceful transition of power down there in Washington. What an achievement that is. Not many people know it, but Abraham Lincoln made it with just 40 percent of votes of the American people. Lincoln had the good sense to put in his cabinet people who thought they should have been president. Later on, they became his strongest supporters.


There was one abolitionist who wrote to him and said, 'Mr. President, the Emancipation Proclamation has been on your desk for months, why haven't you signed it?' Lincoln wrote back and said, 'I can't sign it yet. You keep on pushing me.' That is the message for all of us. We've got to keep on pushing the Obama camp to do all the nice things we wish he would do. We've got to get out and push in our own communities.


Dan Freed, Brooklyn, Financial Reporter

Very excited about having an African American president, but the early signs are that he is clueless about the economy, judging from the people that he has appointed to important positions. I think that they are very much entrenched in, and part of, the system that has brought us down. I hope that we can get out of this thing and take advantage of the opportunity that we have.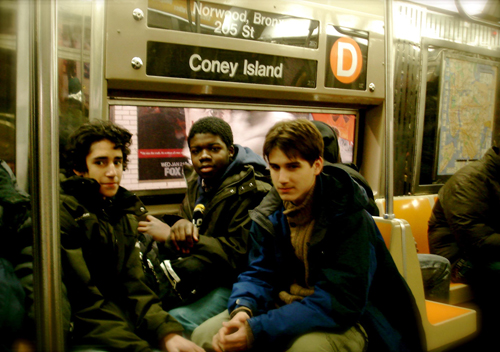 Abraham Moussako, 10th Grade


The election of Barack Obama in some ways is kind of like the election of Ronald Reagan. As far as they are on the political spectrum, they represent a change candidate riding the wave of a large grassroots movement. We didn't do a mock election but our school newspaper published this report about the election and they found that eight percent of students supported John McCain. Eight. I'm hoping that kids take politics more seriously now and I do hope that Obama will repair America's image in the world.




James Caldwell, Crown Heights, president of BUILD

My plans are to attend the inauguration. I do not have a ticket, but that really does not matter. I just want to be there to be a part of history so I can share it with my family because never in my wildest dreams being from South Carolina, working in the cornfields of a sharecropper's son, did I ever think that I would witness this day. America's a great country.

Mamadou Diallo, the Bronx

In my retail store, Dialo General Merchandise, we sell t-shirts, handbags, hats. We bought Obama t-shirts for this week. People are waiting for change. They are struggling so they really want him to succeed. Even though the economy is kind of dead right now, they are excited. I'm from Africa. Guinea, which is on the west side. Guinea, Conakry. I will watch the inauguration and even record it so if I get a chance to go back home, I will bring the tape with me. When I bring the tape home, it will prove to them that if you work hard you will always succeed. It will give more energy to younger people because that can happen in America.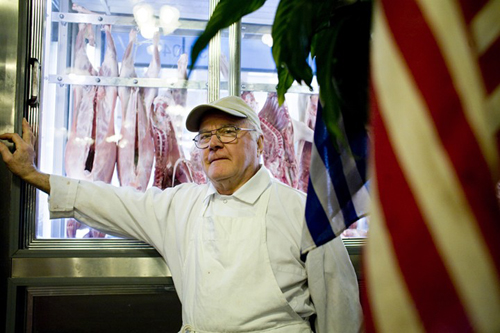 Vasilios Gatzonis, Astoria, Acropolis Meat Market

I was born in Greece. I opened this business with my father-in-law 38 years ago and I'm still here. I've seen many presidents from Eisenhower to Obama. I wish him very big luck cause he needs it. The country is in a lot of trouble. I can't understand how this country came so low. The poor guy goes there with a broken banks. All the banks. Where is he going to find the money to do what he promise. But even the small kid can understand that to be a president you have to have to have lot of people behind him. He has to support the people behind him, and I hope they are more honest so that the country can see better days. The inauguration is only one night, to celebrate having a new president. The problems are not going to be solved from only one night. It is only a happy party. This is not to watch. I'm going to have a nice double drink and go to sleep. [Laughter] I just wish him luck.

Kirk Newell, the Bronx

My wife had gone on the internet and applied for tickets through Chuck Shumer's office. But unfortunately we only got two tickets, okay? And the tickets were given to her best friend, Vivian Seegay. Vivian Seegay: "I just want to say to my grandchildren and my great-grandchildren, I told you that you can be whatever you want be." Alright so Vivian said she wanted to take my wife. I have no problem driving them down. This is something I never thought I'd see in my lifetime, it is also something I will be able to tell my grandchildren about — that I was at the inauguration of President Obama.