Can Obama Make a Post-Racial Society Reality?
WNYC Guest blogger: Young Jean Lee
I'm a Korean-American playwright/director, and I've spent the past two years working on a black identity-politics show called THE SHIPMENT (you can read the Times review here). Nothing excites me more than a masochistic challenge (my artistic mission is to make the last show in the world I've ever want to make), and the goal was to collaborate with a black cast to make a show that addressed racism against black Americans in a way that a jaded and defensive audience couldn't dismiss. Usually it takes me a year to make a show, but this one was so difficult that it took two. I worked on it for a year and ended up throwing out everything I'd worked on and starting over from scratch. (I documented this second process in a blog).
I mistakenly thought that the biggest challenge in making the show was going to be the fact that I'm not black. Bizarrely, that ended up being the least of my problems. As soon as the cast knew that the show was going to be collaborative and that that had full creative agency, they were on board and my race never came up as a problem. When we did the show (first at the Wexner Center in Columbus, OH and now at The Kitchen in NYC) there wasn't a single audience member, black or white, who brought up the fact that I wasn't black. Maybe it's because the show never attempts to achieve any kind of cultural 'authenticity' (whatever that means).
One of the things that came up again and again in rehearsal was this idea of a 'post-racial' society. None of us felt that we are remotely there yet. As an Asian-American (and I certainly don't speak for all Asian-Americans here), I can go for weeks without being reminded of the fact that I'm a 'minority', but I can count on experiencing some form of racism (hearing offensive comments on the street, having to watch white people laugh at racist caricatures, getting clueless remarks from people I know) at least once a month. For my black cast members, a lot of them had to deal with this kind of racism on a daily basis. People always complain about how race is always framed in terms of 'black/white' in the U.S., but you've gotta admit there's a huge difference between having your parents immigrate here by choice and having your ancestors dragged here in chains on a slave ship.
Anyway, when I started the show, Obama hadn't announced his candidacy yet and people were a lot more reluctant to talk about race. A lot of people were desperate to believe that race was no longer an issue because political correctness had taken over the universe and the minorities had won. Post-Obama, suddenly people were talking about race more openly than ever before. Everyone was forced to acknowledge that race was still an issue. The cast and I agreed that the show needed to introduce a note of real hope, since we were all feeling it.
I know a lot of lefty types who have had the same kind of surreal experience of the Obama campaign that I did. After growing up with Reagan and two generations of Bush, I've always been incredibly cynical about the U.S. government. But during Obama's campaign, I listened to him speak, and for some reason I believed him. For the first time in my life, I felt hope for my country. I believed that things could change for the better. I would get emotional just seeing his face. It was like discovering I had multiple personality disorder.
I fell in love blindly, was transformed, and got my fairy-tale ending on election day. I brushed off all criticisms of Obama, thinking: 'I'll support whatever the guy had to do to get himself elected.'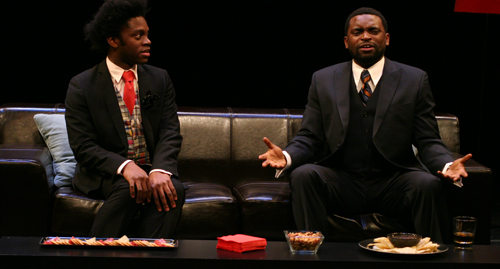 Now, thanks largely to the Rick Warren debacle (which I'll write more about closer to the inauguration), I'm feeling a little more like myself. I see the huge weight of expectation on Obama's shoulders and don't see how he's possibly going to manage. And yet there's a part of me that still has high hopes, that can't wait to see Obama stun the world again.
As for the whole race thing, I'm a little nervous that now that Obama's been elected, people are going to start saying, 'We don't have to worry about race anymore because we have a black president and he says we don't have to.' We don't really live in a post-race society, and presumably Obama knows that better than anyone, so I'm curious as to how he's going to frame the race issue as he goes about tackling the roots of structural racism in our country (if he ever actually manages to get around to that, what with everything else he has going on). I'm a little worried that Obama's 'post-racial' rhetoric is going to give white people an excuse to start denying the existence of racism again.
Young Jean Lee has directed her plays at the Public Theater, PS 122, HERE Arts Center, Soho Rep, and the Ontological-Hysteric Theater, and has presented her work at over 20 venues around the world. She is working on an adaptation of King Lear for Soho Rep (which will open December 2009) and a new musical for Playwrights Horizons with music by Mike Doughty. She is the artistic director of Young Jean Lee's Theater Company (www. youngjeanlee.org).