Madoff: A Jewish Reckoning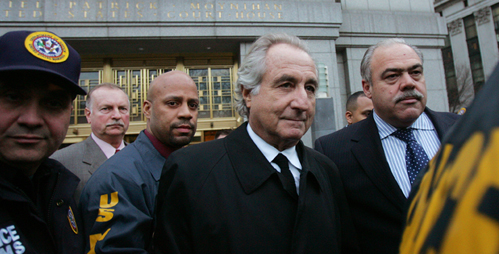 On Thursday night, at the Yivo Institute for Jewish Research, there was an overflow crowd for a talk entitled 'Madoff: A Jewish Reckoning'. For two and a half hours, a group of New Yorkers sat and listened to a panel of divergent views reflect on Bernie Madoff and his impact on Jewish people. It has been widely reported that the disgraced money manager used his contacts within the Jewish community to attract investors to his alleged Ponzi scheme. WNYC's Lisa Chow reports.
Simon Schama
One of the pre-eminent narrative historians of our time, Schama is an author whose works include Rembrandt's Eyes and Two Rothschilds and the Land of Israel. Among his many areas of expertise is the longstanding and complex relationship between Jews and capitalism.
Note: The last minute of Schama's talk was cut off because of technical problems. As soon as WNYC receives the full audio, it will post it online.
Michael Walzer
A political and moral philosopher, Walzer is a professor emeritus at the Institute of Advanced Study at Princeton and co-editor of the quarterly Dissent. He has thought deeply about the practical application of Jewish ethics in a modern economy.
William Ackman
A member of the Board of Overseers at YIVO and the former Chairman of the Jerusalem Foundation, the C.E.O. of the hedge fund Pershing Square Management is a businessman/philanthropist. He has played an active role in calling to account Wall Street public firms guilty of criminal business practices.
Michael Steinhardt
In 1967 the pioneer hedge fund manager founded Steinhardt, Fine, Berkowitz & Co. A Jewish philanthropist, he co-founded 'Birthright Israel' program and is chairman for the Steinhardt Foundation for Jewish Life.
Mort Zuckerman
The publisher of the Daily News, editor-in-chief of U.S. News & World Report and real estate investor is, unfortunately, intimately acquainted with the Madoff case. Active in Jewish communal life, Zuckerman is a past chairman of the Conference of Presidents of Major Jewish Organizations and has advised Israeli prime ministers and American presidents on matters of Middle East policy.
Q & A with audience members