NYPD Divers Rescue Crash Victims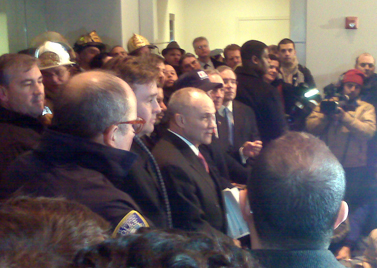 NYPD Spokesman Paul Browne gave the following account in an e-mail message to WNYC' s Bob Hennelly:
'Just after the plane hit the water, NYPD Harbor Divers Detectives Michael Delaney and Robert Rodriguez deployed from Air Sea and Rescue Helicopter 23 into the water just off of the Intrepid and rescued two [women] who were in the water near the plane as it drifted swiftly south on the Hudson by placing one of the women on board a NY Waterways ferry and the other [on a] US Coast Guard launch. Then both divers climbed onto the wing and entered the plane which was still afloat. They stood in the center aisle and could see no one on board.
'Delaney said that from the air, as he prepared to enter the water, 'it all looked very orderly, the plane's crew appeared to [do] a great job.' Delaney described passengers calmly on the plane's flotation devices that deployed at exits waiting to board ferries being used for rescues. One woman in the water appeared in distress, however. So rather than wait to don his scuba tank, fins [and] mask, Delaney, jumped into the water wearing just his diver suit, swam to the crying woman's side and placed her on the NY Waterways ferry. [Rodriguez] in full diver's gear swan to another woman and placed [her] on board a US Coast Guard vessel.'
--NYPD Spokesman Paul Browne