NAACP: Historical Audio Files
Tuesday, July 08, 2008
On the eve of the centennial convention, WNYC looked into its archives for some historical perspectives:


>> Marian Anderson on the Lincoln Memorial, April 9, 1939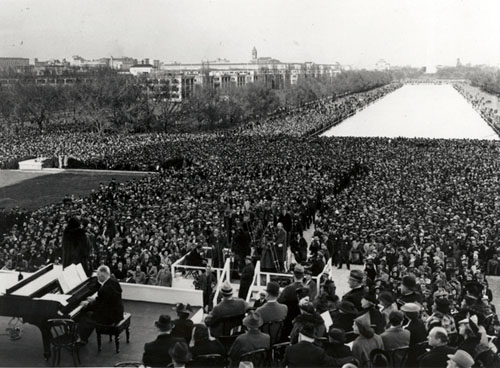 On Easter Sunday, contralto Marian Anderson gave a concert on the steps of the Lincoln Memorial.
Anderson had initially hoped to sing in Constitution Hall, but the Daughters of the American Revolution (DAR) denied the use because she was black. As a result, many resigned from DAR. The NAACP, First Lady Eleanor Roosevelt and Secretary of the Interior Harold Ickes arranged for Anderson to perform on the steps of the Lincoln Memorial instead. The open-air concert was both symbolic and popular: 75,000 attended in D.C. and millions more listened in on the radio.
America (My Country, 'Tis of Thee)
Gospel Train
Ave Maria
Tramping
>> NAACP Executive Director Walter White, 38th Annual Conference, June 29, 1947

'The NAACP came into being 38 years ago because decent Americans just could not take the evils of mob violence and racial bigotry. We carry on today because we just can't take the gouging out of the eyes of a Negro war veteran by South Carolina policemen who was speedily set free. We just can't take the acquittal of men who have taken the law into their own hands and thereby lynched not only American citizens but the law as well. We just can't take the denial to any American citizen of the right to work, to vote, to live outside a ghetto, to share the privileges as well as the responsibilities of citizenship solely because of the color of his skin.'
>> President Harry Truman, 38th Annual Conference of the NAACP, June 29, 1947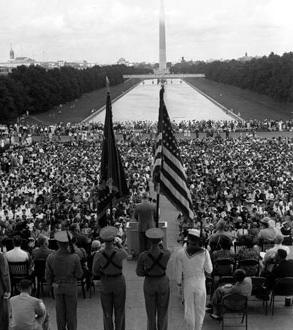 'As Americans, we believe that every man should be free to live his life as he wishes. He should be limited only by his responsibility to his fellow countrymen. If this freedom is to be more than a dream, each man must be guaranteed equality of opportunity. The only limit to an American's achievement should be his ability, his industry, and his character. These rewards for his effort should be determined only by those truly relevant qualifies.
Our immediate task is to remove the last remnants of the barriers which stand between millions of our citizens and their birthright. There is no justifiable reason for discrimination because of ancestry, or religion, or race, or color.
We must not tolerate such limitations on the freedom of any of our people and on their enjoyment of basic rights which every citizen in a truly democratic society must possess.'


>>W.E.B Du Bois, NAACP Co-founder, excerpt of lecture 'Socialism and the American Negro', Madison Wisconsin, 1960
'The NAACP organized in 1909, added to the program of the Niagara Movement the realization that the fight for freedom could not be carried on by Negroes alone but by a national movement which united Negroes and whites. They emphasized the role which prejudice played. A prejudice often unconscious but nevertheless effective. The NAACP made a nationwide fight against the horror lynching and mob violence. Then more and more began to concentrate on the legal aspects of race discrimination. The fact that the Negro was pressed because the constitution of the United States was not being enforced. This fight had unprecedented success and culminated in 1954 in the unanimous decision of the Supreme Court against segregation. But during all this struggle we knew that something still was lacking. If we hark back to the cry of the French Revolution, liberty, equality and brotherhood it was clear that there was not and could not be liberty of individual action under the great industrial organization which was growing up in the world led by the United States.'


>> Medgar Evers, NAACP State Chair, May 29, 1963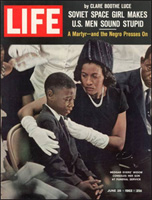 "This demonstration will continue. We will have a mass meeting tonight, and after the mass meeting, we will be demonstrating even further, on tomorrow. So then this will only give us an impetus to move ahead rather than to slow down. We intend to completely eradicate Jim Crow here in Jackson, Mississippi."
>> President Lyndon B. Johnson asks for passage of civil rights bill, 55 years after the founding of the NAACP, November 27, 1963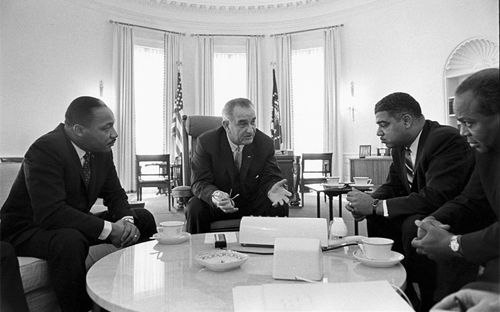 "All I have I would have given gladly not to be standing here today. An assassin's bullet has thrust upon me the awesome burden of the Presidency. No memorial oration or eulogy could more eloquently honor President Kennedy's memory than the earliest possible passage of the civil rights bill for which he fought so long."
>> NAACP Executive Director Roy Wilkins, November 27, 1963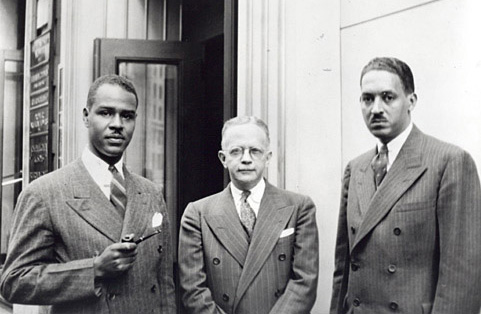 "Now, it is a fact well known to Negro citizens that the issue of equality for them has run deeply through our national political and economic life in the past decade. The haters have crawled out, just as they have done at other crisis periods when race was involved. For many a reason, real or fancied, personal or philosophic, these people have spilled and spread the venom of racial hatred. Menace of a more insidious and more vitiating nature has come from those who use the race haters as the vanguard for their own schemes. They plot and work to alter our Constitution, the charter of freedom for all the people; to discredit the democratic processes, including the United States Supreme Court; to distort and pervert the ideals of the West, including their twin cornerstones of individual liberty and equality before the law."
>> NAACP Executive Director Roy Wilkins, November 29, 1963
"I would say that the Negro citizens of this country will demonstrate in places, on such issues, and in accordance with such local conditions and problems and attitudes as they happen to find. And if they ifnd reasonableness where they are, in approach to their problems, there'll probably be no demonstrations. If they find unreasonableness and stubbornness, I think there will be demonstrations. And if the Congress continues to postpone action on the civil rights bill, as though a man had not been murdered in Jackson, Mississippi last June, as though four little girls had not been killed in Birmingham, and as though our President had not been assassinated in a climate of hatred and violence and extremism -- if the Congress continues to be impervious, then there's nothing for citizens to do except to demonstrate."
>> Thurgood Marshall discusses the role of the federal courts and 'Liberty under law and equality before it', December 1963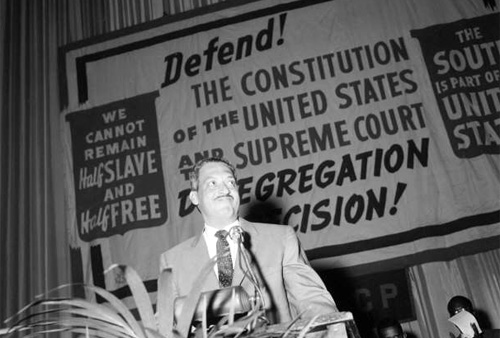 'I believe the balance between finality and justice had been properly strung. Personal liberty is too vital a thing to be subject to deprivation accept in accordance with the highest possible standards of fairness and decency. The record of the federal judiciary in the area of criminal law enforcement both federal and state may be viewed as the most striking example of its greatest function the protection of individual liberties against encroachments of government power.'
>> NAACP Executive Director Roy Wilkins, July 5, 1966

'The only possible dividend of black power is embodied in its offer to millions of frustrated and deprived and persecuted black people a solace, a tremendous psychological life, quite apart from its political and economic implications. Ideologically, it dictates 'up with black and down with white,' in precisely the same fashion, that South Africa reverses the slogan. It is in fact, a reverse Mississippi, a reverse Hitler, a reverse Ku Klux Klan."
>> A. Philip Randolph, 1966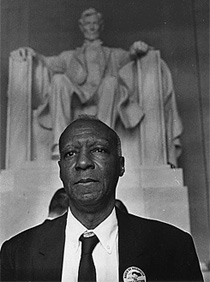 "What can be done to right the wrongs of the Negro people of this country? What can be done to bring about social and racial justice, and fulfill the promises of American life for all our people, both the black working poor, and the white working poor?....It is our fervent plea, for strong voices to be raised, from all areas of our society, out of varying traditions and interests, to arouse the conscience of our land, in order to achieve, in fact, that which has already been won in law, and what always has been in the hearts of good men, equality, justice, freedom and human dignity for all men, regardless of color or country."
>> A. Philip Randolph, May 7, 1969

"In my life, I tried to abide by the principles of democracy, non-violence and integration. But there are some today, particularly among our black youths, who would question the validity of these principles in our ongoing struggle. I urge them to reconsider their position and to engage with me in a reaffirmation of these fundamental principles. We must reject confrontationism and together reaffirm the necessity for democratic means of political protest. We must reject violence and together reaffirm the power and the wisdom of non-violence."
Thanks to WNYC Archivist Andy Lanset
More in: