Artist Harvey Pekar Dead at 70
Comic book author Harvey Pekar, whose autobiographical comic, "American Splendor," was made into an Oscar-nominated movie in 2003, was found dead at his home today. He was 70.
Pekar was a comic pioneer. He focused on the lives of ordinary people, rather than the superhero-obsessed comics that had dominated the industry. His 1994 graphic novel, "Our Cancer Year," detailed his battle with lymphoma.
The dreary cover scene shows him sprawled beside his wife on a snowy curbside with shopping bags on the ground. "Harvey, forget about the groceries, honey. Let's get you inside first," she says.
Pekar never drew himself but depended on collaborations with artists, most notably his friend R. Crumb, who helped illustrate the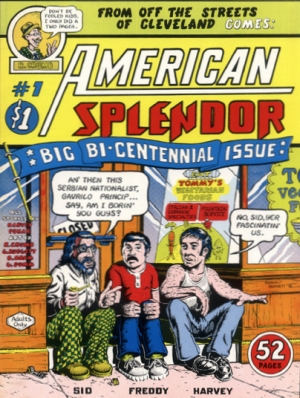 first issue of the ironically titled "American Splendor," published in 1976. It was made into an acclaimed 2003 film starring Paul Giamatti.
He spoke with WNYC's Sara Fishko, along with actor Paul Giamatto, and directors Shari Springer Berman and Robert Pulcini, back in 2003.
In 2006, Harvey Pekar told WNYC's Leonard Lopate that the release of the movie version of "American Splendor" changed his life.  He came out of the interview, he said, "there were these three guys out on the sidewalk that had big color photographs of me and posters. They wanted autographs! Wow!"
Pekar had been suffering from prostate cancer, asthma and other conditions. According to his wife, Pekar had gone to bed about 4:30 p.m. Sunday in good spirits.
The most recent issue of "American Splendor" was released in 2008.