Resist Much, Obey Little
Thursday, October 30, 2014 - 10:39 AM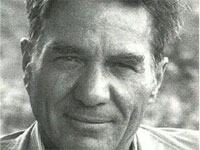 (wikipedia)
Pulitzer Prize winner Galway Kinnell dies at the age of 87.
Established in the year 2000, the New York Public Radio Archives are the station's physical link to its rich and storied past.

More
Nearly fifty years ago, Galway Kinnell read Walt Whitman's "To the States" during a rally protesting the Vietnam War.  In 2003, on the eve of the United States invasion of Iraq, Kinnell was reminded of Whitman's words again.    
I think particularly of his words "resist much, obey little" -- don't do what people tell you. Don't believe what the government tells you to believe...test it against your own instincts, your own sense of what is right and what is practical and what is responsible and refuse to do what seems reckless and actually not in the interests of our own country.

To The States
To the States or any one of them, or any city of the
States, Resist
much, obey little,
Once unquestioning obedience, once fully enslaved,
Once fully enslaved, no nation, state, city of this earth, ever
afterward resumes its liberty.

Galway Kinnell from the Academy of American Poets
The Walt Whitman archive
More in:
John Passmore is the Archives Manager at WNYC.