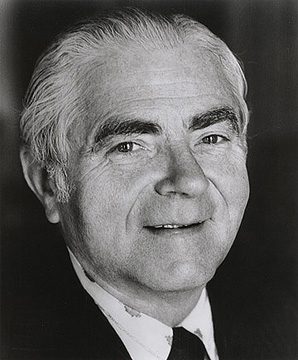 Summary
This episode is from the WNYC archives. It may contain language which is no longer politically or socially appropriate.
Beame, NYC Budget Director, answers questions.

Marvin Sleeper moderates.

Panelists: Jim Farrell, Larry Lipsitz, Lawrence Barrett

Questions:

Expense budget provides for the daily housekeeping needs of the city: salary, supplies, food, etc. Capital budget is a list of public improvements which the city expects will be implemented in the following year. An expense budget is spent without going to the Board of Estimate. Capital budget items require Board of Estimate approval. Capital budget money is obtained through borrowing. Expense budget money comes from state aid, real estate taxes, and non-property taxes. Confident the budget will be balanced without any increase in state aid or taxation. Increase in real estate taxes would be due to the fact that more money would be needed to run the government. Up to a constitutional limit, which we're currently at. Taxes from horse tracks should be given to the city, not the state. NYC should be treated the same as any other county in the state. Real estate taxes are based on an average from the past five years, not the current value. Raising real estate taxes doesn't necessarily discourage development. NYC's tax rate is in the middle of all the cities of New York State - 4.02%.
Audio courtesy of the NYC Municipal Archives WNYC Collection
WNYC archives id: 72301
Municipal archives id: LT7576
Transcript
This is a machine-generated transcript. Text is unformatted and may contain errors.
What is the greatest financial need of the city how soon before our expense budget goes over the two billion dollar mark will the city ever have to resort to an income tax for the answers to these and other questions listen now to the campus press conference in which the editors of college newspapers interviewed prominent personalities in the News Hour moderator for this transcribed program is Martin sleeper award winning reporter for The New York Journal American here now to introduce our panel on tonight's guest is Mr sleeper Good evening and welcome to another edition of campus press conference our guest tonight is must Abraham beam New York city's budget director at the moment Mr Beam is juggling the biggest problem facing our time and that is working out a balanced expense budget for the coming fiscal year last year it took some one billion eight hundred sixty three million dollars to run the city Mayor Wagner missed the beam have said that this year will not run more than eighty million above that but even that high cold make it the largest budget in the city's history so let's find out how Mr Bean goes about figuring out how much the city needs and where he finds the money to keep our town solvent he to question him tonight our campus press conference reporters Jim Ferraro the photo lexigram Larry Lipsitz of the N.Y.U. squared Journal and Lars Barrett of the Columbia Graduate School of Journalism and what about the first question from you Jim filed almost a beam exactly what is an expense budget. Well German expanse budget is one which provides for the daily housekeeping needs of the city the payment for the operations of salaries supplies food and so on which is necessary to run the every day to day. Activities that is a different from a capital budget a capital budget is really not a budget as such it's merely a list of items which the A list of public improvements which the city and expects will be advanced in the Cup the following year it. Differs from an expense budget in that the expense budget once adopted becomes an appropriation and is spent without coming back to the Board of Estimate for for their action whereas to move any item which is in the capital budget such as a school or hospital or any other public improvement it is necessary to go back to the Board of Estimate and get their authorization for money for an appropriation Now where is that you get that money from that money is obtained from borrowing whereas general expense budget operating money is obtained from three sources from as a state A and real estate taxes and what we call non property taxes on the subject of state aid in real estate taxes or Waagner say that he can get along you can get along without additional state aid without raising any taxes except property taxes this mean that we can accrue expect a new property tax increase in the near future while Alonso I would say that at this stage it's a little difficult to do it to come to any exact answer honest for this reason that the tax rate that you on directly have reference to depends completely upon what the assessed valuations are since it's determined by the. Biding the assessed valuation spy the amount of real estate taxes which are necessary to be ready so obviously Antonelli Now what the assessed valuation czar going to be for the next year we can't determine the tax rate and that will come in the latter part of the spring but increased property tax is a possibility well everything is a possibility but the mayor has said that he hopes and it appears very encouraging that there will be substantially a balanced budget within the existing tax structure with outdated without any increase in state aid other than the normal formula increases which come about through out the whole stay now what would an increase in real estate tax append on a half hour how would that come about if we do have an increase why would we have to have it well if there were an increase in the real estate tax and Mr sleeper it would be primarily due to the fact that we would need more money to run the city but of course as you now you cannot go beyond a constitutional limit and frankly at this stage we are practically up to that constitutional limit so the only way we can get more revenue from real estate would they if they. Valuation of the properties increased generally and most usually through new construction. How much how close are we to a constitutional government all right so. Not much more than about a million dollars within the constitutional limit now one of the chances of getting some of the state aid from Albany as I understand it we're looking for some one hundred forty seven million dollars over a curried of five years and in other words at the end of the five year period we should be getting on forty seven million dollars more than we're getting now if they go along with our entire program what's the chances of us getting some of that of course we should divide this hundred forty seven million really into to play into two pots that's the flavor one of which represents certain types of taxes which the state collects but which the city failed it is entitle to because it renders the services and the state renders little or none towards it that accounts for about eighty two million of that not exactly five represents the state a now. As to what hope there is of getting it and that of course is basically a problem which we hope to wrestle with the Republican state legislature the mayor is going to make the usual strong fight for these items because it's based on equity equal treatment with the rest of the state and I'm Fanous and I might like in passing Mike this observation that it within my memory and the memory of most. Of the people I have been associated I'm associated with I don't recall that any program which has been sent to the States has received such almost unanimous. Support from the public press and the editorial writers of the various metropolitan newspapers we hope that their thinking will permeate into the Republican state legislature could you cite some of these city given state tax services. Yes Jim. For example we have the parimutuel tax VAT tax which is as you know our tax on horse racing which is levied at the track. Was once the city's packs up I'm told nineteen thirty six we had part of that we had originally in nineteen forty eight that tax was levied and we got five percent it was subsequently taken away from us at the rate of rapprochement a year so that by January one fifty six we had none of it now it's after feeling we're entitled to that we ask that it be restored at a graduated price of one percent a year to get back to fab our reason is very sharp and we run the August services to these tracks we run the police traffic the streets take them and shag sanitation well in our services which are necessary and the state run does little or nothing and they're probably fail at that revenue rightfully belongs to us but the drug will be sitting get back some of grant money in the form of the state aid which we finally get each year well and must the sleeper to labor that and say does it get bad back. Isn't necessarily accurate. In essence what it would amount to then would be that if you say we get it back then it means that we are paying or a lot of the state aid which we're getting actually well the revenue the state gets it gets more various sauces it doesn't say now we're getting are going to give the parent mutual back to the city. The point is that the responsibility that the state has is their responsibility for meeting the requirements which they have and the obligations and the happy local government the city shouldn't be expected to shoulder that responsibility by surrendering or having taken away from it revenues which properly belong to it for that matter the strike can come along so well now let's take a sales tax and then give it back to not only New York City but give back to other communities as well in other words take I felt packed and right and say let's give it back to the whole state that isn't dangerous or is there any tax that we have now or in the same category that they give back to us now there was a time when the state back in one nine hundred forty six up until nineteen forty six where we had. We received from the state a proportionate share of certain taxes like income taxes and there's news corporation taxes now in one nine hundred forty six the state in place of those taxes took them away and then place gave us a park capital a tax now that car capita tax was given to all communities as well however that has been a frozen amount inflation has taken place since then we're getting six dollars and seventy five cents for per capita in price of the money we surrendered in taxes yet the taxes we surrendered as house as sensitive to inflation that they've increased tremendously and if we have that those shared Paxil back we would be in a much better financial position correctly from Larry likes it and projected tax reduction if I may do you think there is a possibility or a three tax reduction in the future years with three five years. Well we always Larry hope it's always. And time than a administrator to try to. Run a government out rubbing as many cracks are sometimes necessary now protect the elderly with respect to the auto use tax I want to call your attention to the fact that the city has. Requested in its program to I've been a bad way to be treated the same as every other county in the state which gets from the state a share of the license fees and gasoline taxes which are collected by the state the city of Najaf is the only group of counties that doesn't get we're entitled to it and the mare in the program to Albany has said that if that money is obtained as we are entirely get it he will at that time ask for couple it with the repeal of the auto use tax this is the absolute condition the repeal of the or use tax that is the. Condition which is contained in the legislative program if you remember our kindness to being when the last tax reduction rise in New York. Offhand I don't recall I might make this observation to you that by the same reason I don't recall offhand any time in the last ten or more years where our expenditures have reduced what I was my shin has not been present I was we've been able to get a slight reduction in spite income taxes when the state expenditures haven't been any smaller. As a very good question and a launch and the really the answer is I think. That the state happens to have the kind of products which are. Sensitive to one freshman which one of the Lamb with inflation at the same time inflation a car such as in contact the person on the cooperation business taxes now those taxes have ground tremendously. In the last eight or nine years in the state kept pace with inflation obviously when there's inflation people line more money when they are in more money to pay more taxes but the greatest part of the city's income comes from the real estate tax now real estate tax rises behind inflation because it is based not on what the real estate values are this year but on an average of the past five years could you tell me are low in the past five years and we get back to a lower amount if we had the state's pipe of taxes I think we would agree and I match my stance sounder possession would you then recommend allowing all bashing some of the present three taxes and substituting an income tax or corporation tax now I would be a passed on income tax on top five things and federal income taxes and that's a non don't drain on the average Rucka. Well I mean. I want to get this and. That's very true Mathabane But what about these great big lumps of money that the city. Coming increases in teachers' pay the city workers pay for the increases in career and family planning on little increases and I pay little by Perignon a little increase compared to the twenty and thirty thousand dollars that teachers' salaries take each year if we're not going to getting increased aid say in five or ten years when it be almost mandatory to have some form of income tax so that we can get that type of money or that kind of money for a big salary raises when I'm asleep but that's a little bit of an athlete question because it presupposes the fact that. We will have all of these increases but not presuppose that the spiders kind of I'm right and responsibility. I'm going to work and so finally given a little bit haven't we haven't given up and we are as to my Randi Kaye going to press a strong as ever if not stronger and we have a mark more sympathetic administration and we hope that we will get the necessary equity and treatment if we. And I and she'll win the next question. Directly question whether or not the answer if we get what we are entitled to and what we shall surely hope that all the citizens of the city support us. And we know that there is a tremendous amount support that for that which we have sought from the state I can assure you that we no fear of any income tax still unable to last to give the and the increased demands that may a car in the future in the various services just how we fear that if the answer will is there much of a chance of this particular legislature doing us a giving us assistance Incidentally I listened to the program only last Sunday at which. At which the Republican speaker appeared and I was rather pleased to hear him not roll out for example the specific item of of tightening our share of them out of their core revenue do you think that one hapless one that they would sort of break the ice on well I wouldn't be surprised and I hope so and I know the governor has asked for that and he asked for it last year wasn't given in the year before and I'm sure you guys he will probably big at least I sincerely hope and I feel confident he'll be consistent enough to aspirate again now if we get that how much will it bring in approximately in the. Ten ten million and then if we get that you say we can get rid of the auto use tax that five in the not ten dollars tax that is the program of the city what is what is the other use tax amount to it for the past nine. Now let's take a step further supposing that a Republican legislature stays absent for the next five years and over that period we don't get anything like one hundred forty seven million dollars would you say in at the end of five years there might be a possibility of an income tax I wouldn't say anything now because you're only changing the yes the question to is a policy question now let me just point this up that the. Expenditures of the city in the next years are always something which would depend upon the revenue under the city operation we prepare and submit a balanced budget we are practically required to do that and we live within it so that whatever money there will be available that is the amoun