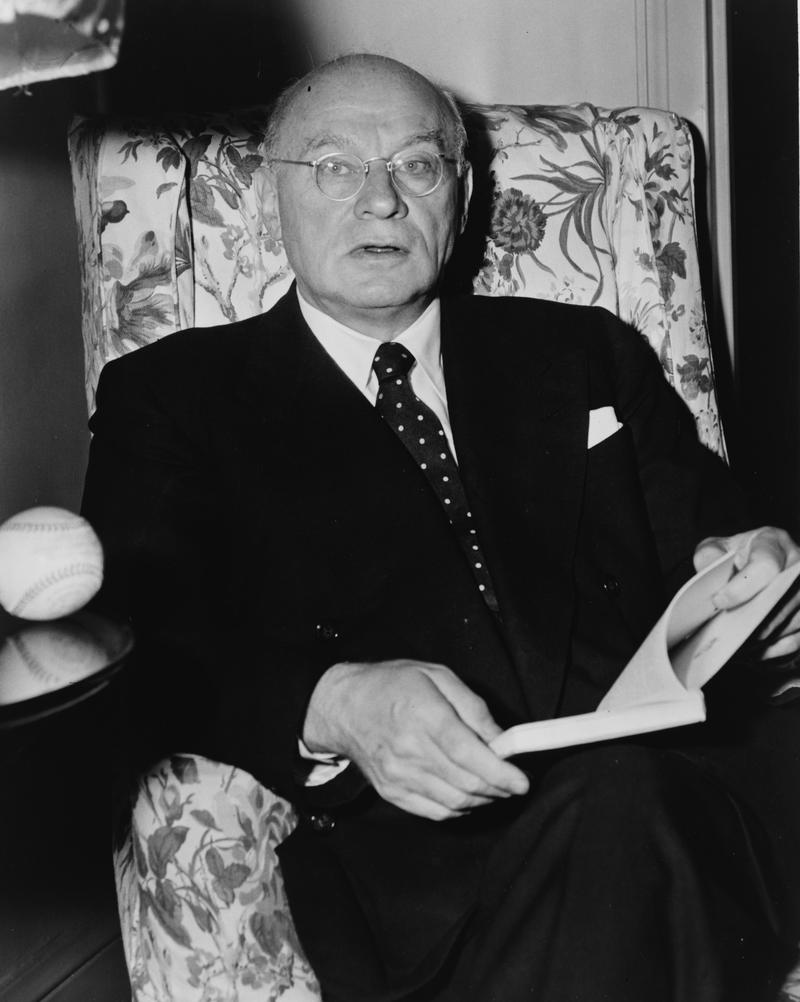 Summary
This episode is from the WNYC archives. It may contain language which is no longer politically or socially appropriate.
Congressman Celler answers questions from high school students.

Moderated by Marvin Sleeper.

Panelists: Linda McGhee, Anne Langenheim, David Fleming, and John Tannehill

Questions:

The US has inflicted punishment on Israel by terminating loans and technical aid; it is proper to do the same to Egypt until the megalomaniac, Nasser, lives up to the assumptions that Israel had to rely on before removing troops. Sanctions should be used against Egypt as they were against Israel. Egypt doesn't allow passage through the Suez Canal and violates armistice. We've given kindness to the oil industry, but they up the price of oil. Problems in the Middle East will not affect the US supply of oil. Israel's oil pipeline. The Eisenhower Doctrine was a warning to the red nations that we'll not stand for aggression in the Middle East areas.

Supreme Court decision that organized football is big business, and therefore within the anti-trust laws. Went on to say baseball is a sacred cow. Restrictions on organized football are illegal but the same in baseball are not illegal.

Small business, anti-trust law enforcement.

Immigration laws are too stringent. We should treat all races alike. Change immigration quota system so there is an overall total (250,000/year), standards set up to determine the needs of the country and reunite families. Should bring in skilled workers to satisfy the needs of the nation. We should recognize our needs first. In New York, we dreadfully need tailors. We should open our hearts to other types of refugees, like Jews ousted from Egypt. The President has made no effort to open our doors to them.

Integration in the South: you can't ramrod certain change like this down the throats of people in the South. This is revolutionary. It will take a good deal of patience and wisdom in the enforcement. The mere passing of a bill doesn't bring about the change. Example of prohibition. The South has to be educated. Living habits have become engrained in the people. Rabble rousers and demigods.

His bill sets up a Civil Rights Commission composed of 6 members, appointed by the President, to make a study of this question. Sets up a Civil Rights section in the Department of Justice. Strengthens the old Civil Rights laws passed after the Civil War. Strengthens the power of the Attorney General. Prevent voting rights being taken away. It will undoubtedly pass the House and Senate and on its way to the President within 90 days.

As near as possible, Ireland is free of religious prejudice. NYC is fairly exemplary of the doctrine of freedom of racial prejudice. Example of himself.

Mayor Wagner's snub of King Saad (?) was invited to the country by the President; hopefully some good has come out of the visit. The snub wasn't improper.
Audio courtesy of the NYC Municipal Archives WNYC Collection
WNYC archives id: 72298
Municipal archives id: LT7568
Transcript
This is a machine-generated transcript. Text is unformatted and may contain errors.
Should the United States government for. This country do you think our immigration laws are too stringent do you think it was a good idea and they lag. Do you think it will be before the South is fully integrated for the answers to these and other questions listen now to a special edition of the campus press conference one in which delegates to the annual Columbia Scholastic Press Association will interview a prominent personality in the new as the moderator for this transcribe series as Marvin sleeper award winning reporter and columnist for The New York Journal American here now to introduce our panel on tonight's guest is Mr sleeper Good evening and welcome to another edition of campus press conference our guest tonight is Congressman Emanuel seller Mr seller really is one of New York's elder statesman he has thirty five years as a as a member of the House of Representatives from the eleventh they deal in Brooklyn His voice has always been heard in Congress when the legislation on civil rights immigration banking laws and other legislation comes up to protect the little man is usually in the vanguard of those introducing new legislation for the good of the many we are changing our usual procedure tonight of having our college editors interview Congressman sellers tonight we have four high school editors who are in New York attending the Columbia Scholastic Press Association convention they would pick from forty six hundred student journalists representing five hundred schools in thirty states states they are Linda McGee of the Fort Smith senior high school for Smith Arkansas and lying in time of the Lawrence High School a found with Massachusetts David Fleming of the friendly Senior High School of Finley Ohio and John Tannehill of the Bismarck high school in Bismarck North Dakota and how about the first question from you and. Do you believe. That this country. I don't see what else a nice stage could do you must reflect that the United States has inflicted considerable punishment on Israel in the following way that on a go she ations for Israelis application for the loan of seventy five million dollars from export import bank or terminated ALL point for technical and was stopped to Israel and Israel couldn't buy any. Any of our surplus farm products which she had been purchasing a considerable advantage to herself or the economic aid the only economic gaiters thirty million dollars was terminated she got not a penny has gone Israel's or that one could not real say with considerable part of Beijing's the punishment meted out to Israel and none meted out to Egypt and for I think it was perfectly proper and is perfectly proper for the United States to continue to hold the assets of the Egyptian government at that age or passage in this country and to take greater whole him until this megalomaniac Nasser cocksure scratch and lives up to. The assumptions that Israel had to rely on and before she withdrew her troops from the Gaza Strip now I'm Sharm El Shaddai Congressman cellared Do you approve of the program of secretary of state dollars and President Eisenhower in handling the Egyptian Israel situation no I do not I think it was most ineptly handled and we have the the proof or the pointing now the Israelis withdraw their troops under certain assumptions that the National would not go back into the Gaza Strip now I insist upon going back Haley's or the exclusive right of players excuse or should. Administration is already indicated in the Cairo radio show Graham is confirmation Iraq that he will not allow the Egyptian role not allow Israeli troops in the Gulf through the strait should turn around and so that Israel could use that's actually help part of the last and has denied and continued and he has continued to deny the right of passage of Israeli ships to listeners can now well I the other day must drive on how our announced that he was going to stop aid under certain conditions how do you interpret those certain conditions what I think he and I had in mind there you in his television address that he would invoke sanctions against Israel I'm not Israel would withdraw troops Israel did withdraw the troops and she had expected that. The assumption is not use the word assumptions advisedly. She had she had shown that go the things would happen and I've indicated but apparently not happening and oddly a sham shaker Dr players were given to Israel by the United States through an Israeli ambassador a ban of course they cannot be made public but I'm quite sure they were given a knowledge apparently there's a reneging of a promise do you think something like our sanction should be used against Egypt and I think sanction regime should meal is. A job is a give does not there are a pall HAR And a bargain and eighty eight Europe for example violates the treaty in eighteen eighty eight concerning free passage through the Suez for all nations if you can change and it continues for I dare believe your honesty against Israel despite the armistice I think unless you manage or wage Shang change must involve. Question from David Fleming do you think the age should be stop to Egypt and if so why for the same reason I've indicated is why Shanklin should be invoked against her I don't think we should reward people who flout see a village of mankind is expressed in the United Nations if your parish and been. Condemned Cheryl chime urged by the United Nations directly to the passion your resolution by the Security Council in one thousand nine hundred fifty one. Because she denied the passion your vision or a reception cargo through the canal and you continue to deny that passion. Now what about our attitude toward big business here regarding oil do you feel that the United States is helping to protect the oil interests by conducting a policy they are well I want to say firstly I I am not against big business partner strain I'm only against big business when it tries to arrogate to itself too much power I remember the line in and mash Shakespeare's Measure for Measure it is wonderful to have the strength of a giant but it is Cherry use it as such now you mention the early industry we've given to all manner and kinds of privileges and kindest consideration to the letters we give them a depletion allowance of twenty seven I have to send they can deduct willy nilly from their income tax returns twenty seven hapless and I'd like to get that privilege and so would you and so do all these young people around this table in addition when they made their consortium showed him with reference to the supplying of oil to the European nations we freed them from we freed them from the operations of the antitrust laws we've given them every possible consideration and then they try to round and they increase up the price of oil and they're guilty of a guy Audi's probably of a million of a billion dollars from American users or gasoline and crude oil and let alone the vast increases that will have to be paid by the foreign uses of oil now that that doesn't show a decent. Social Responsibility had to the nation and that's what I complain of vindictiveness as using one's giant strength like a giant and I'm opposed to the question of a man lying in line yes or. Do you believe that this trouble in the Middle East is going to affect our oil supply. I don't think it need to affected that actually because even if Egypt continues her intransigence and continues to keep ships and tank us from going through the sure way Israel is building now I hate huge pipeline from here last too high for sure that. Can be tankard to the Red Sea to the point to be lasting across Israel to the Mediterranean Sea of that that would be a bypassing of the show was so that it's a good thing to be able to do that shit in the future we don't have to rely exclusively on the Suez do you think if all of the the recommendations you have made thus far. To be made by the United States the sanctions and cetera et cetera that this might lead to war I doubt very much. The Eisenhower doctrine and I think. Which will Congress pass. It is a warning to. The red nations notably Russia that we will not stand for any aggression on Russia's part in any of the Middle East areas and I would use our own forces of national sorry to stop such aggression I think that's sufficient I will be sufficient to deter Russian questions to let them again Congressman fellow I'd like to know your opinions concerning baseball and I trust. Well. That's a real switch a Supreme Court recently made a decision rather anomalous decision where the Supreme Court said that organized football was business big business and therefore it organized football was in within the four squares of the and I trust lawyers and therefore restrictive covenants amongst the owners of the various football teams were prohibited. And then they went on to say that baseball however was a sort of a sacred cow baseball had gone on for years and know and Congress hadn't taken any action on to make baseball work come within the purview of the an interest law was there for the Supreme Court was not going to do that and therefore they felt unless Congress would act that baseball was exempt so you have the very strange situation not. The restriction is that you find in organized football are illegal but the wrist same restriction that you find in no other night is baseball are not illegal they make fish of one and the fall of another well what do you intend to do about it are you going to introduce any legislation to try to put baseball on the same footing with Yes I have I have often I've been zero to put. Organized Baseball which involves Incidentally over one hundred million dollars a year compared to football what what what's the football take I don't know exactly what what Paul what the intake and football is I don't think it's as much as that but anything it involves one hundred million dollars can't be game to mean a hobby or a man's sport and therefore a baseball is a business it's big business and. Therefore the. Baseball should by statute I think rational statute be declared. Business and subject to the antitrust laws and I brought the offer the bill a lot of fact and it comes before my own committee the committee on the dish area which I'm sure I am and the not far distant future will hold hearings on that Bill what do you think the chances are of it passing I think the sentiment of the country is changing some years ago I don't there wouldn't be a chance for that building pass but when you consider some of the actions of the of the owners and particularly Mr Ford Frick there's our baseball who wants to put the clamps on the expressions of opinion of even the owners why I think. Public opinion is changing you know Mr Frank the other day shows that he already is. The owners and the players should not even discuss that Supreme Court decision well of course the restructure thing is a First Amendment providing for free speech even as are a pool bar or a being also Bob of baseball which I will style Mr Ford Frick can't get around that and. The players and the owners are very clubs would be just foolish if they wouldn't discuss that decision are you going to invoke this free speech amendment out of Mr Frank when I'm doing it now how about a question of help we've heard a little about your views on big business what do you think about small business I know that small business in my own town of Bismarck North Dakota is on the downgrade what should we do about it well I have a number of bills in Congress which I think will help small business. There is a great wave of Major if you read about mergers every single day in the week. And these mergers enable the larger companies to become larger and monolithic and they pressure on small bit is more and more and. The bill that I have in mind on which we are holding hearings now would provide that before there can be a merger where the result would involve more than ten million dollars The Department of Justice and the Federal Trade Commission shall face receive notice of the merger so that he or the show that either one or both of the departments can take action to prevent the merger as it is now the department Jonah get the information after the merger had been her consummated is very difficult to unscramble e eggs it's better to try to prevent the eggs from being scrambled for them I don't think there's been an appropriate than vigorous year of prosecution of the antitrust lawyers by that a popular justice issue in one thousand nine hundred fifty that was passed the center on time merger act which if what you're probably in for us would have prevented many of these mergers but I think that a popular justice not only in a Democratic administration but this present Republican ministration have been very derelict and have not enforced properly not occupied had been enforced I think small businesses would have a better chance for their work full force Why Dolly do you feel that small businesses have suffered under the Republican administration was one of the Democratic of I don't want to grade it they've suffered more or less under either administration but small businesses suffer because of lack of prosecution that road I mentioned question from you David Fleming the you think our immigration laws are too stranded. I don't think they are truly strange in this sense we allow into the country about one hundred fifty four thousand immigrants a year that. Way but most of that one hundred fifty four thousand and the Gratian is allotted to northern and western Europe of the hundred fifty four thousand England gets about sixty eight thousand I join a twenty five thousand and Ireland seventeen thousand Island and England. Sent hardly any immigrants to this country so practically all is quite a number to go to waste almost one half of the entire quota numbers in the immigration fabric actually go to waste all the other countries get the balance of our immigration pie they get mad slivers of the pie grease for example I guess about five hundred and. Italy gets a small quota and the countries that want to send us emigrants our unable to do so and thousands upon thousands of people are anxiously waiting at the consulates and endeavor to come to this country and for that are Asian and I believe the whole immigration law is at fault and that we should do away with these quotas a polarizer based upon what is known as national arrogance will give favorably sway favor the people of the racists and the laws in the west of Europe had that is the area in ration we we place discriminations against a people from the south and east of Europe that is against the Latin graciousness rather gracious well that's contrary to the American conception of a quality and I think in that sense see how large to a stranger and we ought to treat all races alike because in my book one man is as good