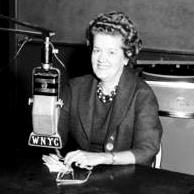 Summary
This episode is from the WNYC archives. It may contain language which is no longer politically or socially appropriate.
Baumgartner, Commissioner of Health, answers questions about the department.

Marvin Sleeper moderates.

Paulette Singer, Penny Fox, Jim Farrell, Bill Beecher

Questions:

Fluoride strengthens the enamel of teeth and makes tooth decay more difficult. One part per million is the right amount to have in the system. There's no real danger point because you couldn't drink enough water in a lifetime to hurt you. Some water supplies have 17 parts per million, and those people do get spots on their teeth. Engineers know how to regulate how much is put in the water, much like chlorine. No cumulative effects. No adverse effects anywhere on the body. There are a lot of people who are against things in general. The safety has been conclusively proven. Some towns have been using fluoride for generations. "One of the few experiments God has done." Artificially fluoridated water began in 1938. One Department of Water Supply chemist is against it, but hes the only opposition. Nine cents per person per year. Half a million dollars to put the machinery in place. It is not mass medication. A lot of things interfere with personal liberty - vaccination requirements, stop lights. Those people can go to private schools or buy bottled water. Wonder drugs have come out of the same institutions now backing fluoridation.

Salk vaccine update.

Tuberculosis problem is much more important. It's something you can do something about. There are at least 10,000 people wandering around the city with the disease. Mobile units to screen people.

Cancer studies: trying early cancer screening.



Audio courtesy of the NYC Municipal Archives WNYC Collection
WNYC archives id: 72291
Municipal archives id: lt7080
Transcript
This is a machine-generated transcript. Text is unformatted and may contain errors.
About Gardner When will fluoridation come are you satisfied with the way the self-acting program is going in New York City do you think we will need a referendum to get bored Asian in the city what is New York City's greatest health problem for the answers to these and other questions listen out to campus press conference in which college editors interview prominent personalities in the news here now Bob transcription to introduce the members of the panel and their guest is your moderator Marvin sleeper award winning reporter for The New York Journal American Mr sleeper Good evening and welcome to another edition of campus press conference our guest tonight is New York City's commissioner of health Dr Leona Baumgartner Dr Baumgartner was appointed commissioner when Mayor Wagner took office a little over two years ago but the MIT commissioner is known only come lately to the health department she started one thousand years ago as a district health officer when for years she had moved up to direct the Bureau of child hygiene it was largely through her efforts that maternity and child welfare services were modernize and expanded she's responsible for the prenatal Well baby and school health services that are now an important part of the health department since taking over as health commissioner the two biggest problems she's had to cope with was the saw cracks in the program and her fight to have the city water Florida dated as a means of helping prevent tooth decay so let's find out what the up to the minute developments are fluoridation Salk vaccine and anything else she has on a mind here to question her Pulitzer her at the N.Y.U. square Journal penny Fox of the Hunter College arrow Jim Farrel of the forum RAM and Bill Beecher of the Columbia Graduate School of Journalism and how about the first question from you Penny talked about God knows exactly what relation does floride have to to the ten. I'm glad you're outside because I find as I go around most people don't even know what fluoride is it's a substance that occurs in your body it's there now it occurs in food the food you ate for launch it occurs in the water supply and all water supplies what it actually does is that it gets you take it and then it comes up to your teeth and there it strengthens the end them all of your teeth and makes it more difficult for tooth decay to occur if we use for or right in our water system how much of it will be needed one part per million is the right amount to have in your water system lot of the arguments that are bandied about town are talking about when people have more than that in your water system the right amount is to have one part per million because if you drink water that has one part per million and then you have less to seek a well the danger points in the amount of stories Well we've put it up there isn't a real danger point because you couldn't possibly drink enough water in a lifetime to hurt you but we would want not much more than one part per million in the water supply there are some water supplies that have say seventeen parts per million and there the people do get some spots on their teeth but nobody's suggesting having seventeen parts per million in the New York City water supply Well actually would you control the ratio of flooring to water oh that's a very simple business everybody all engineers know how that's done is done just the same way we put Cloran which is as you know you're a good college person very closely related to fluoride a chemical substance and we put Carne in the water every day we put fluoride in the water just the way we put current in the water a certain definite measured amount goes in and out of that doesn't fluoride have a certain cumulative effect so that after several years it stays within the body adding the more you take it in it does not. We have a test that fluoride to prove harmful to any other part of the body no there's never been a subject that's been a thoroughly investigated business and there is universal agreement among the scientific organizations and institutions the top flight scientific people that have studied this that it is an entirely safe thing to do and it doesn't hurt the body where do you find your opposition that. Well I think there are a lot of people that are against a lot of things you member the. Kinds of things there were when we had them and even as a section the laws that came along there some people are Dems things in general as a safety even conclusively proven definitely has been use and actual practice in any place for longer than a ten year period Well there are towns in in the United States and throughout the world but particularly towns in the United States which have actually been studied in terms of whether the people are well or not that have had it for generations you know darker Rivers the head of the rock star in stupor medical research one of the great institutions in our country is a member of the Board of Health that studied this very carefully and we're talking about it one day to the mayor the mayor asked that question and Dr ever said you know Mr Mayor there's one of the few experiments a god has done through for us you've been doing it for generations because there are people who for generations have been drinking for I for a day had water that's a terrible word Incidentally I call it fortified water because it's a lot like fortifying the the milk with vitamin D. or it's a lot like God horrifying the brand Well along those lines people have been drinking it for years have those statistics to show the people have been drinking it for years have less tooth decay than those who have and right now they have no other physical illness either of these over the ten year citation but you name in order Have there been any artificially Florida a to expire artificially water in Florida and water began about nine hundred thirty eight but there's no reason to feel that there's any difference between naturally fluoridated water an artificially flurried a good water even the opponents say that there is no difference that you don't feel that they'd be any possible genetic effect or treat which time has not demonstrated as yet now I don't think that if I did as commissioner of health I wouldn't recommend it in the Board of Health would recommend it nor do I think all the scientific and medical organizations would recommend it there's Because I mean there's an impressive list of organizations in favor of foreign aid and sorted in water the Department of Water Supply gas electricity here in the city is very strongly against it why well I think. One person a chemist in the department who has some questions that he has raised about it I've been unaware of any very strong. Official resistance on the part of the Department of Water supply electricity Incidentally the water departments in all of the other cities are you know formally for this is the American Water Works Association in terms of its safety and the question you ask a moment ago Bill about can it be done safely How do you regulate it all the experts engineering experts say you can do it all expensive would be well it would cost about nine cents per person per year that's about seven hundred fifty thousand dollars a year estimated an annual expenditure and then it would cost over half a million dollars or so to put it in to begin with that is to put in the machinery that would put the stuff in the water that your partners to this so that it is mass medication and you are not. To be subjected to mass medication do you feel it is a mass medication I don't think it's mass medication I think it's a good way to see to it that a lot of children have better teeth and less to think and I don't think it substantially interferes with personal liberty you see this is a real question they're asking does it interfere with personal liberty Well a lot of things in our society do you can't go down here and walk across the street with a red light or you can drive too fast that George can't go to a public school in New York City without being vaccinated now the people who feel that they don't law to. Have their children don't want their children vaccinated they can go to a private school of people who don't want to drink for David Waters and buy bottled water and have to smoke things they don't have to drink it I don't think it's math medication at all Dr Ben gotten a has the decrease and to decay in the tested areas then as great among adults as among children well it depends let's be sure that we understand how it operates. The teeth you know are formed as the teeth form and girl in the mouth both the baby teeth and the permanent teeth they lay down and now they grow and they have and them are around them now it's in the end them all that gets tougher when you have the right amount of fluoride that you get the real protection against a tooth decay if you get fluoride in the drinking water any time up to about twenty years of age that is as long as your teas they're being laid down you will have some effect from it obviously you're going to have a better effect if you start early or people in their sixty's are going to have less to stick a is if we start in Florida dating the water now. Children after eight or nine or ten years old it's definitely been shown to have less. Carries less tooth decay if they get for a date and water for example in the Kingston Newberg study which is the one very close to us here youngsters that were eight years old when the study started eleven years ago had fifty percent not sixty percent but fifty percent less decay by the time they were seventeen so it still helped them. And we know what last because there's been studies of people forty five to forty five years of age and if you once get found a now malign your teeth through drinking for a dated water then you have protection for the rest of your life this I'm over twenty believe it or not and I'm perfectly willing to get the city water in New York for a date it is a kind of a gift we can make to the kids that are growing up right now some of you here will believe you can still benefit and these are all very convincing arguments why do you think them at the Board of Estimate and the City Council have not gone along with you on making this a lawful episode I don't think they have gone along the top I think this this kind of a question takes the time for people to understand that I think it's important for people to understand what is the isn't water. This is a matter of health education and I think we need a time to have people really understand the facts about it do you think we might need a referendum of the young voters to get this for them I would see why I think it's a it's an expensive even to commerce and way to go about a thing like this well as it stands now at City Hall I'm around there every day it looks very much like it's going to a referendum because the city fathers don't want to take it as their responsibility to have it passed by a body of eight men on the Board of Estimate and it looks like it's going to be thrown into a referendum and from what I understand the male against fluoridation is pretty heavy looks like they're going to have a referendum How do you feel about that if it does well Mary pointed out that I've often on about how things feel around city hall and I found out something happened differently after that as far as I'm aware and I've certainly been fairly close to the situation there's been no decision made a tall I think also the question of Melbourne for a day Sion is very interesting I talked to Mrs Roosevelt the other day and she said there are two subjects that she can guarantees to write her column about and get more mail on and thing else and. Always the same kind of male as the people who are against things and they're against There's a section that is any kind of animal experimentation the Gannett thing that is brought us the cures that we have for so many diseases and added so much to our medical knowledge if she mentions the word them anything that has to do with the animal experimentation at all or if she mentions fluoridation the water supply she gets the same letters in the same amount of mail and more mail and I mean one other subject than what you say that there are no groups who oppose fluoridation for specific reasons even medical financial or other reasons but it's only people who oppose things in general that are giving the trouble so I think the people that are against fluoridation now are sincere people who don't understand the facts and who do feel they're against it I think the thing that is significant here however is that when we look at science in general and medicine and the wonderful gains that have been made whereby we all benefit. Take the soft Eckstein take the wonder drugs these of come out of the very kind of science a very kind of institutions in the kinds of organizations that are now backing fluoridation these discoveries and things have not come out of the groups that are against river section or against fluoridation also I think the group well I know one committee that consists of a father and two sons that's a committee against fluoridation and I think these people have every right to their opinion if the issue does go to referendum the Dr Baumgartner do you predict success for the referendum. I don't predict anything do you think it's likely that it will succeed or do you think it's likely that it will fail if the voters well on the places there been not very many places that have had a referendum actually cars I think the thing that's important perhaps to realise is that there are something rather like thirty five million Americans and twelve hundred towns in America that are drinking for they that water right now and there have been relatively few that have had have had referendums is it referendums or referendum I I don't know about half of have gone for it about half of my gone against it I don't know what kind of evidence that is has your department planned any campaign in the event that it does go to that stage or referendum stage Well it's our department's responsibility always to try and bring the people the scientific facts that's what we're the Department of Health for that's the reason you have a Board of Health would you anticipate any concerted oppositional allies of the A's opposition to amendment number one in the last election the road building Amendment I would think that there are You mean from the trade itself sort of thing. That was a particularly strong group from somewhere I would suspect that there'd be a good many people that would organize against it yes I think one of the interesting things is however that the doctors the dentists the ticker the deficit a lot of people don't understand that the dentists around in favor of this thing one actually it's probably going to run us and fewer patient