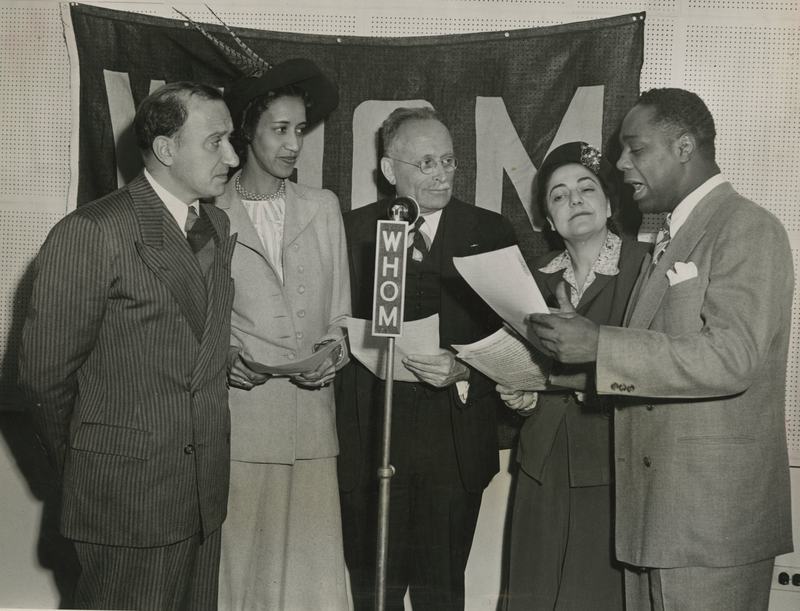 Summary
This episode is from the WNYC archives. It may contain language which is no longer politically or socially appropriate.
Abrams, of the New York State Commission Against Discrimination chairman, answers questions.

Marvin Sleeper moderates.

Panelists: Paulette Singer, Larry Barrett, Jim Farrell

Questions:

State Commission Against Discrimination was set up in 1945 to check discrimination in employment.

Explains the methods of investigating and acting on complaints.

Instances of Negroes not engaging in training because they know they won't be accepted for employment. Employment for Negroes in railroad industries.

New York City is one of the most tolerant cities in the country, if not the world.

A person has the right to discriminate in his personal life. But this right ends when you begin to step on the rights of others. At the present time, we should see what success they've had in housing.

A club with any public influence will not be allowed to discriminate. Example of pools.

President's recent civil rights proposals are too little and too late.

Example of a chain of dynamitings of Negro churches that were stopped when the FBI became involved.

No positive leadership taken at the executive level. Maintenance of moral atmosphere. The thought of disobeying a Supreme Court decree came up because of the talk of gradualism and the executive faltering.

Governor Harriman believes in the integrity of the Supreme Court decree, that it's incumbent upon the executive to get behind the Supreme Court decision.

Audio courtesy of the NYC Municipal Archives WNYC Collection
WNYC archives id: 72277
Municipal archives id: LT7064
Transcript
This is a machine-generated transcript. Text is unformatted and may contain errors.
Commissioner Abrams has New York State done an adequate job and wiping out discrimination Well the Democrats lose the Negro vote is civil rights becoming a political football in New York State for the answers to these and other questions listen now to campus press conference in which college editors interview prominent personalities in the news and by transcription to introduce the members of the panel and their guest is your moderator Marvin sleeper award winning reporter for The New York Journal American here is Mr sleeper Good evening and welcome to another edition of campus press conference our guest tonight is Commissioner Charles Abrams Mr Abrams is a top man of the New York State Commission Against Discrimination the commissioner has a long distinguished record in the field of civil rights particularly in the housing Feeley is headed up several United Nations missions is the author of urban land policies and problems a world report on housing made for the United Nations Mr Abrams has been very much in the headlines these days last week he was attacked by a leading Republican as being too much of a zealot and who said he was unfit for the job Mr Abrams replied that if being is as well it was being very zealous in his job well then he was one he also reported that the statement was irresponsible politically and charged that it was reprehensible the battle stem from the Republican controlled legislature is cut of thirty eight thousand dollars in the budget of Commissioner Abrams department so let's find out first hand from him how the controversy stands at this moment here's a question commission Abrams are Paulette's singer and Larry Barrett of the N.Y.U. square Journal and Jennifer of the Florida RAM And how about first question from you Larry mission right exactly what are the functions of the state commission against women Asian. A state commission against discrimination Larry were was set up in one thousand nine hundred forty five. To check this criminal actions in employment because of the sharp migration of negroes and also American citizens from Puerto Rico. Discriminations in employment and upgrading and in the discharge of employees on account of race color and creed were becoming marked and a state law was passed under which a five man commission was set up and any aggrieved person who claims that he was not employed because of his color or race or creed could complain to the Commission on the commission would then here is grievance and and call in the employer and if it found the probable cause of discrimination and the commission would then try to conciliate or settle the case and if it couldn't be settled then a hearing would be called at which proofs would be taken and if the discrimination was then found an application would be made to the court by the Commission to have the discriminate or cease and desist in his discrimination that's roughly how it works I might say Mr sleeper that they budget cuts against which we fought was not thirty six thousand alone that was one part of it but it also included a cut of one hundred one hundred eighty six thousand dollars which was submitted by the commission as a supplemental budget and which was also not allowed Are you satisfied with the commission has sufficient powers and facilities to carry out its job and it hasn't today it was a very experimental and groping. Organization when it was set up and considerable progress has been made but. Today with the vast changes that have been that have taken place and the. Migration of Negroes to the state there are about a million today and some five hundred fifty thousand Puerto Ricans and with the fact that the discriminations exist for so many people. Not so much at the entrepreneurs level but very often at the level of personnel managers and at the level of unions and at the level of tradition. Because of these increased grievances and also because of increased concentration in industry which in which today in New York State one tenth of one percent of the industries employ thirty two percent of the workers because of all of these factors the commission sure David's going to function properly have adequate funds with which to make the proper investigations and hire the experts the economists the labor specialists and also initiate investigations into discrimination to prevent discrimination rather than wait upon a laborer who comes in and files a claim against a billion dollar corporation and says I want my rights adjudicated and have the whole thing investigated on the basis of this complaint I think that these complaints are essential but that in a in essence the function of the commission should be preventative that is we should try to prevent discriminations and in the main educate people against them and work with employers and have industry wide investigations to find out why discriminations exist whether it's at the hiring level or at the union level or at the traditional level or excuse me Commissioner. Sexual doing these things well you've been a factual only to a very limited extent the law doesn't give you the power to to initiate investigations and when you find discriminations restrain them it can only happen on the basis of the filing of a complaint by a person who's refused employment so that so that the effect has been limited the very the good you say well you expect to press for more punitive powers. Well it isn't more punitive powers but more powers that would enable AIs first to. Begin investigations and where we find discriminations to restrain them which we haven't got the right to do now and also in the making to give us adequate funds with which to do a job that's commensurate with the new situation how much would you need to do this job well well I think we would probably need about two hundred or two hundred twenty five thousand dollars or additional unless you got about what four thirty five Know About four hundred sixty odd thousand dollars but you see the difficulty with that sum is that when you have a commission of five commissioners and the secretaries and up state offices a good deal of that goes out in in simply paying for the routine services without giving you a chance to hire all the specialists that you need to do the overall job of finding out whether discriminations exist in ending them or just say that the money that is being spent now is being wasted because you can't have any real effect on what's going on I would not say that it's being wasted I would say that that if we had. Fifty percent more we could do a job which would be twenty times as effective at the present time Commissioner can the commission itself initiate court proceedings you know the it doesn't initiate fraud proceedings that isn't the way it works it only goes to the court. After it finds probable cause of discrimination and there orders the discriminate or to desist in his discrimination to this itself without going to the attorney general. The attorney general yes it does it has its own counsel with the attorney general doesn't act for it the attorney general has the right to file a complaint if he finds that there are discriminations but so far the attorney general hasn't filed a single complaint in the ten years of the history of the agency commission happen would you advocate the extension of the work of your commission to field the sides not of employment we have jurisdiction at the present time over public places and accommodations that is there it is barbershops public parks we also have jurisdiction over public housing that is if there's discrimination in public housing we can investigate into it and also this was the most recent addition. Housing aided by the Federal Housing Administration or Veterans Administration and that involves about fifty thousand dwelling units are you satisfied with your present your objection Well I would think that if we could for example get at the source of the discriminations we would be more effective one of our one of our difficulties in in the operation has been that even where employers agree to hire minorities we find that the minorities may not be educated may not be equipped to take to take the jobs. And you can't blame a negro boy for not studying in a trade for which he knows he will not be accepted so that I would say that if there was one agency which had jurisdiction of this criminal action in education. In apprenticeship training. If if that could at least be consolidated or acted upon by several agencies. That it would be more effective Could you give us an example of one field or a negro doesn't take training because he knows he won't be accepted there are various aspects of the construction trades for example where you will find very few Negroes because the negro knows that he will be barred from them more specifically what jobs well the least skilled the skilled jobs is in many aspects of the of the building trades there some of them father and son industries some of them are traditionally white some of them the negro never applied and at the present time where there are no negroes in some of these unions it becomes extremely difficult to introduce them unless a very positive effort is made to break the discriminations now another example of the railroads in the railroads for example you have an employment at the higher levels recently the commission has broken through with the Pennsylvania railroad where we have been able to get on some brakeman and we're having considerable success with The New York Central Railroad which is going to. Outlaw discriminations and in hiring and also instructed personnel to do so. This manual will be released shortly and I think that. This is fine cooperation by the railroads and that will open up an important new field to Negroes particularly in railroad operation how many jobs could there be and I feel for them. In New York state it would be hard to estimate but I mean. Particularly because of recent layoffs in the railroads. But I think it would be many Commissioner how serious is the problem of discrimination in this state compared to other northern states. I would say that New York City is one of the most tolerant cities in the country if not in the world. As far as discriminations in New York state are concerned I believe that you have increased discrimination and segregation in the suburban areas and the friends around us around the largest cities because you have fear of loss of social status loss of neighborhood associations and loss of real estate values in new developments around the city centers or would you then support the extension of your commission as jurisdiction in the private housing I I would say this that at the present time the extension of jurisdiction into federally aided housing covers a great deal of jurisdiction there which we ought to be able to absorb first as far as private housing is concerned well I would say with Judge pound with a lot of the changes ultimately what that age think should be a lot of the question is whether we are prepared for the change. In private housing particularly one or two family houses let us say where you have a close living between an owner and a neighbor. You might have considerable objection to the passage of such legislation at this time on the other hand. There are no restriction is authorized today in hotels which cannot discriminate against Negroes and the differences between hotels and multiple dwellings are fast fading I think ultimately you will see Bit by bit further banning of discriminations in housing but at the present time I would say that the commission has enough to do in doing its job an F.H.A. to housing which incidentally represents a considerable proportion of the total housing in the state well Mr Abrams you said that. If you are commissions jurisdiction was expanded now into. Private dwelling it would upset people who live in private houses well do you think that the state or to wait until everyone is ready for the then nothing but your commission of outlived its usefulness I'm going to fail to take the lead. It's hard to say who takes the lead in these gradual extensions of power. Actually a person normally has the right to discriminate done less in his personal life it's a civil right and a human right until such time as a treads upon another person's rights you can discriminate in the reading of your books in the choice of your food in your associates but the right ends when you begin to step upon somebody else's rights now. Whether. That people are ready to say for example that they want to outlaw discrimination in private housing is is a good entirely different matter from saying do you think the state should take the lead of the state is actually the people in the state will act only at such time as public opinion is prepared to move ahead I would say that right at the present time and this may change within a year or two right at the present time we should see what is the result and what success we have in outlying discrimination in F.H.A. and V.A. that housing which incidentally is private housing that's aided by federal government insurance you believe that the state at any time in the future should step into these semi public or semi private golf courses and Country Club discrimination cases Well this is a this is a problem which has troubled us because many of these clubs so-called clubs are covers for public places for example or you have automobile associations which actually admit everybody but operate as a club. And swimming pools which try to avoid the civil rights law in our jurisdiction because they operate as a club and the person who comes in for an ordinary admission becomes a member. I would say that if it is strictly a private club. And wishes to exclude anybody that perhaps social pressures might be brought against it but not legal pressures because it does not open and it's going to some of these to the public If however it has a public bar If however some of its facilities are public as in the case of a swimming pool which uses the club as a as a device. To avoid the jurisdiction of our commission then certainly the discriminations should not be permitted to persist other such clubs only in New York oh yes the club devices as a device for evading segregation is. Not only used here but in resorts in the whole area surrounding. The resort belt and oddly enough I got a letter from the Gold Coast in Africa where I had a mission for the native nations in which this very question was asked as to whether the club. Which is now run by the British colony. In a crock. And should have the sanctions brought against them because they are excluding. Native Africans. Not a problem I've seen a. Problem arising in Nassau I've seen the problem arise in every resort coming in increasing device to keep out negroes and Jews and other minorities how about New York