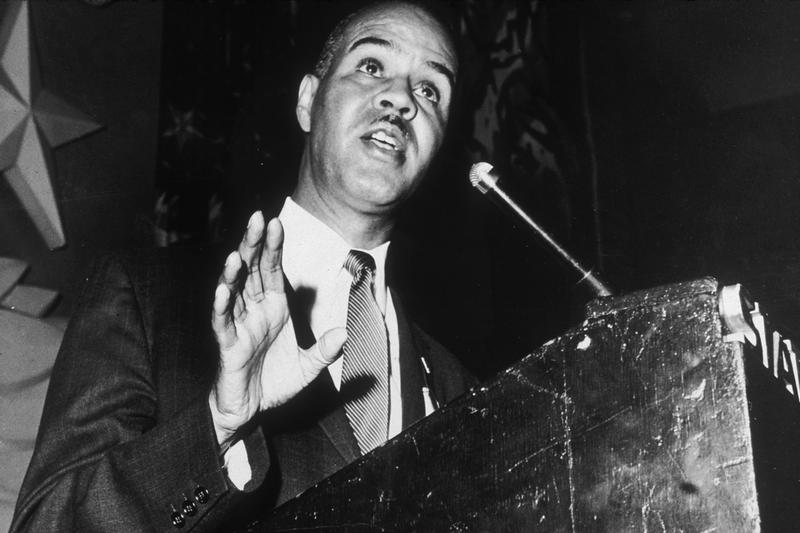 Summary
This episode is from the WNYC archives. It may contain language which is no longer politically or socially appropriate.
Wilkins, Executive Secretary of the NAACP, answers questions about integration in the south, particularly in Little Rock.
Jay Nelson Tuck moderates.
Panelists: Stan Siegel, Henry Kurtz, Ed Stover and Geri Ferraro
Questions:
The situation in Little Rock is changing every day. They aren't sure if there will be troops. The Governor is predicting violence if Negroes do try to attend. Predicts that Arkansas will follow the Virginia plan which calls for closing schools that are integrated. The NAACP can't prevent a state from closing its schools if it chooses to do so. Parents and taxpayers can take action. Evidence in Virginia that some plan to go to court. Recommends the Missouri system or the Oklahoma system, to go ahead and desegregate from top to bottom. Arkansas voters did not come to the polls. Campaigning in Arkansas on integration was on stationing Federal troops in the state. A great many citizens felt that they had to stand up for states rights. If it were left up to parents, you'd see a greater deal of integration. Residential segregation does tend to build racially segregated schools. No plans for deliberate transportation of students solely for the purpose of setting up a non-segregated school. Opposed to redistricting to exclude Negroes. Trade unions open to Negroes. Eisenhower has declared he will enforce the court order, and the southern governors should do the same.
Audio courtesy of the NYC Municipal Archives WNYC Collection
WNYC archives id: 72187
Municipal archives id: LT8235
Transcript
This is a machine-generated transcript. Text is unformatted and may contain errors.
Well Governor for the scrolls of public schools in Little Rock rather than submit to forced integration for the use of federal troops be necessary this fall disappear school integration itself what will be the repercussions of the Little Rock episode and other school integration plans if the Eisenhower administration act too late in the integration issue for the answers to these and other questions listen now to your city station's campus press conference in this discussion the editors of college newspaper as QUESTION A prominent personality in the news the moderator is J. Nelson talk well known news never man and critic here as Mr Tuck in the next few days and weeks the United States of America will be on public trial before the world as we struggle with the greatest domestic issue of our time integration the whole world will be watching us next week as the boys and girls of the American south go back to school they acknowledge later in the fight for integration is the National Association for the Advancement of Colored People and our guest today on campus press conference is the association's executive Secretary Riley welcomes Mr Wilkins has been actively working on race problems for thirty five years from one hundred twenty three until one nine hundred thirty one he was managing editor of The Call a negro weekly newspaper of Kansas City Missouri and since one nine hundred thirty one he has been on the staff of the N.A.A. I.C.P. in the service of the N.E.A. C.P.S. cause he is edited its monthly magazine crisis and has traveled throughout the country making literally thousands of speeches before groups of all kinds it was elected by the association's board to his present post in one nine hundred fifty five to succeed the light water fight here today to question Mr Wilkins for editors of college newspaper. They are Stan Siegel of the N.Y.U. square Journal Henry Kurtz of the Columbia Spectator and Ed Starbuck and Gerry Ferraro both of the Fordham lexigrams and now Henry has our first question Mr Wilkins the Arkansas state attorney general Mr Dennis has predicted that when the schools reopen in Little Rock there will be no troops around Central High School and the seven negroes will not be inside you agreed at the Negro students will not attend and do you feel that if they do it tensions will be needed to keep order I feel that there is a good chance that they will register and apply and present themselves we cannot tell of course because a little rock situation has changed from day to day I asked her whether there will be troops there or not a lot depends upon the situation as it develops in Little Rock last September we would not have said there would be troops but. Mobs gather them and other events took place which necessitated their use doesn't ring Well sir Governor father has predicted a great deal of violence if you go should attend schools now do you agree do you feel that this will be so last September Governor FOV us predicted violence and an investigation by an Arkansas daily newspaper not by us determined that there was no basis for his assertion in other words the violence was manufactured in the mind of Governor Faubus said I'm Mr Wilkins and your opinion will Governor Faubus crawlers of public schools in Little Rock rather than submit to forced integration probably Governor Faubus Well if. The law passed by the legislature authorizes him to do so. It's my guess that. Arkansas will follow the so-called Virginia plan which calls for the closing of schools that are integrated confidently and A.S.A.P. compact that effectively Well since we can't there's nothing we can do to prevent a state or a locality from closing its schools if it chooses to do so however the parents are taxpayers. In those localities can take some action and there is indication at least in one or two Virginia communities that they plan to do so what sort of action Well I think they intend to go to court course there are some variables in the state laws the Virginia law provides that the governor must close a school which is integrated but the governor is then permitted to reopen the school in the interim he's supposed to negotiate to see if it can't be resegregated so to speak but any case he may reopen the school. Parents then can take charge. Stand Mr Wilkins it's been said on good authority that Governor Faubus and hands to pass legislation to provide that no person should be denied the right to receive education because he's refused a class which is in which there is a member of the other race now this is directed at the right people who intend to sort of boycott integrated classes and then reform their own all white classes it's a sort of indirect segregation of schools by those who would desire not to have integrated classes what can be done about situations like this I wouldn't be able to say until I see a demonstration of it. This is an I.D.L. which is thought out currently be either by Governor Faubus or by Attorney General Bennett neither of home is known widely for their ability to think Jerry you mean James Brown in an article in the UK Some time ago to Jesse that integration be started in the elementary schools because as she put it I believe little children haven't learned to hate yet why was in the study in the lower grades instead of in the high school this was a plan of a little rock Board of Education they drew at themselves in one nine hundred fifty five and it was they who determined to start on the high school level the federal court approved it. There are many differences of opinion on this some people say should start in the kindergarten other people say you should start all at once every where other people say should start in the secondary schools. But I don't think there's any formula for myself I think they ought to use the Missouri system or the Oklahoma system which was to go ahead and desegregate from top to bottom. I'm still looking below the fathers and others have called for a calm approach to the school integration problem gov fathers in particular has cited advances in race relations already made not and so why then do you feel that the requests for small delays are unreasonable small delay two and a half years. The truth of the matter is of course the governor Farber says because of the whole Arkansas situation it was not and is not the worst state in the south or in the border states it's a poor state it has poor schools poor people poor natural resources it has made some progress and integration in places outside of Little Rock and if Governor Faubus had kept the state machinery and his office and his person off the Little Rock situation last September it would have proceeded as has Fayetteville in Clarendon Benton County and Hoxsey and a number of other cities in Arkansas Stan. Had any systematic research been made on the student opinion of Little Rock and other words some people said the violence would break out has anyone gone around and questioned the white students on the Negro students systematically to find out whether violence actually would break out among the students themselves it's difficult to answer that now and well the answer is of course no one has made such a survey but if we look over the last nine months at Central High School we find that only thirty white students out of a total enrollment of two thousand were involved in any harassing incidents. In other words some nineteen hundred. And. Sixty or seventy white students took no part in tripping and pushing and shoving otherwise annoying a negro student This would seem to argue that regardless of their personal opinions on the matter. That the overwhelming majority of the white students in Central High School wanted no part of any demonstration of violence this makes me think Mr Wilkins how much my faith was shaken by the race in Arkansas election many of us had believed I think that while certainly most of the South didn't want integration that the majority of people certainly would accept it as a matter of law because a few malcontents making all the trouble but doesn't follow buses Alexion tend to destroy that faith of ours Alysa very complicated question it would take a long time to answer I only try to indicate the first place two hundred thousand Arkansas registered voters stayed away from the polls and didn't bother to vote on this issue a tall This would seem to indicate that they were not stirred particularly by. The second place the campaigning in Arkansas. While generally on on the question of integration was actually on the highly emotional issue of stationing federal troops in our city are you in favor of federal troops being sent here to our state and of course a great many Arkansas citizens regardless of their opinions on integration felt that they had to stand up and be counted against what they call the invasion of federal troops. Moreover there was a good deal of. Literature distributed in the election on a very low gutter level anti Negro anti-Semitic anti Eisenhower with cartoons and all the sort of things calculated to inflame the passions of the people so that while I'm sure that the majority of Arkansas white people are not integration this I wouldn't say that this could be taken as a referendum Dalla the referendum. Said Sir have you called the difference between the views of the younger and older generations in Little Rock regarding integration there is not only a difference in the generations in Little Rock but there's a dish difference everywhere and it's our belief that if the younger generation by and large the students and the recent student. Were allowed to proceed in this matter we wouldn't have near the difficulty that doesn't mean that all of them believe in integration they don't. But it does say. Points to one of the real difficulties in the whole integration picture if the state political machine and the ambitious politicians would leave this matter to school boards to students and to parents will believe you would see a great deal more of integration than you now see Gerry Ferraro and Mr Wilkins of the Little Rock Nine Seven children plan to returning to ten because Central High was a voluntary choice of many teen and the other child not to return. Well out of the nine one graduate so he will not return on or any circumstances that leaves eight and many genes I understand I want to return to New York City and that accounts for her well whether be any other needed children attending to less he admitted to Central High I understand that some are making applications only for Central High but for another high school in Little Rock You can't unring Mr Wilkins to come to come up north so much in New York City I'd like to ask you about the problem here at present time there are accusations by nearly is of what they term residential segregation in New York schools and there was even a plan to transport Negro students to other schools so that the distribution of Negro and whites will be more even now one of you feel that progress is being made in this area and also a second question do you feel that Negro students should be forced to attend the segregated schools white school. Age and of course residential segregation does tend to build racially segregated schools. I don't know of any plans for the deliberate transporting of Negro students out of say their own residential areas to another area simply and solely for the purpose of maintaining our setting up a non segregated school we must remember that we transport many thousands of pupils in New York City for one reason or another during the year and some of the transportation has been misinterpreted as an effort to just bodily harm Negroes out of a negro district and dump them in a white school that I know of no plan of the New York City Board of Education or for any committee of any committee that contemplates this. Yes and there was a voluntary plan served to transport thirteen students in Brooklyn from a phenomenally Negro school to phenomenally white school because of what was on a voluntary basis but I want to know why is would you be in favor of a plan to force Negro students to well go away predominately white school merely to satisfy let's say a certain need readers who wanted this I don't know of any Negro leaders although I guess every third Negro is probably going to happen. But I don't know of any that actually advocate this I am not in favor of forcing them to use the word and that's accurate sense for saying you know Negro are white children to go to to a school merely for the purpose of saying this is a and non-segregated school I feel that the laws to be enforced and no reasonable regulation of the school board ought to be enforced and that negro parents and their children ought not to be made the victims of say discriminatory interpretation or execution of the transfer of privilege for example many northern communities have. Used to transfer a law from one district to another so as to build a white or colored school which they did not transfers to negroes and grant them to whites or vice versa. I'm not in favor of forcing merely for the sake of what the Southerners have made a dirty word mixing. They have staff in the south a federal judge has brought up a similar charge it seems that several lawyers for the Charlottesville Virginia school board want to approve a school district which would take a thirty negroes and Federal Judge Paul. How recently Burke has said that this is gerrymandering the districts of the Negroes can be put in and that this is discriminatory. But you just call it an empty charge or I'm not familiar with the ruling by Judge Paul. We are opposed to. Gerrymandering of it and the abnormal districts are to put that which will produce any abnormal districts Negroes have been the victims of gerrymandering fantastic line that comes up to this corner and goes down to this alley and cut off between the thousand goes down to the next alley and that's where I think the Tuskegee had the most Yeah but just for the purpose of excluding negroes and I were opposed to that type of gerrymandering and we feel that normal school districts should be drawn adhere to and we wouldn't be in favor of gerrymandering districts to favor Negroes any more than we would be in favor gerrymandering to discriminate against us said Mr welcomes a recent survey by The New York Times indicates that no integration has begun at all in seven southern states and deal that's what steps toward the end I plan to take less question supposed to be an A.T.P. as a free agent and can initiate or withhold initiation integration steps in any community this is not so it's a popular misconception. We offer our services legal advice and community advice to any parent or to any group of parents or to any community that wishes to begin desegregation and if any one single parent in the whole state of Alabama wishes to