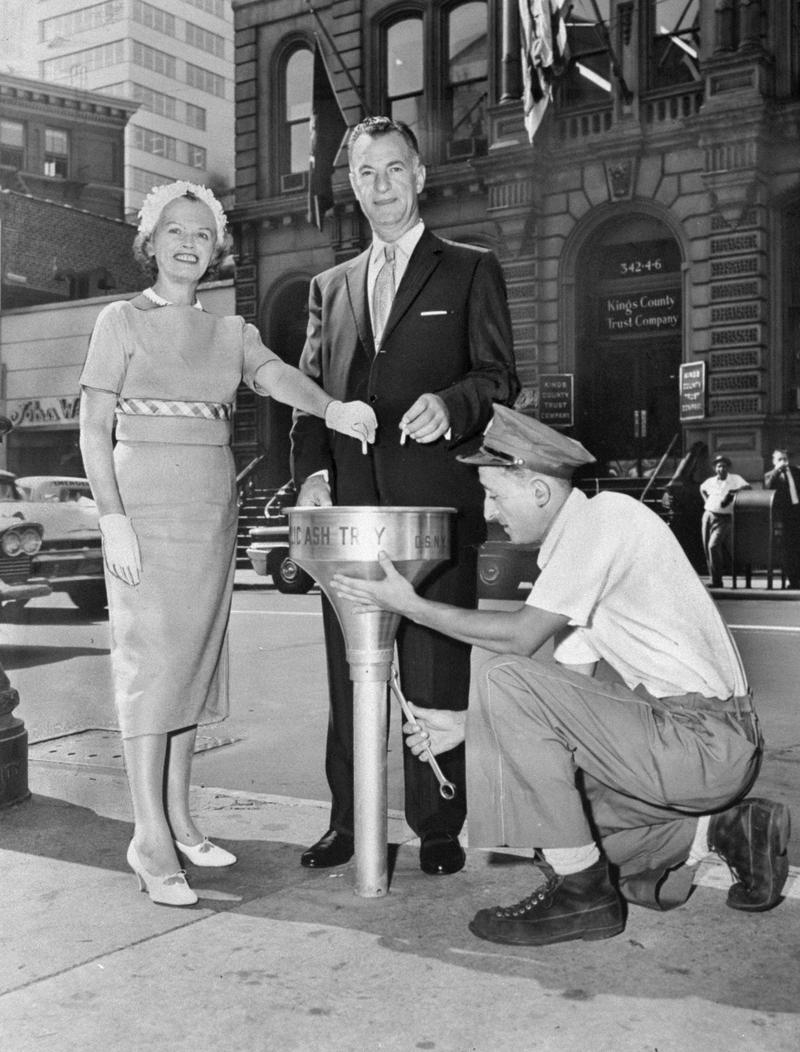 Summary
This episode is from the WNYC archives. It may contain language which is no longer politically or socially appropriate.
Screvane, Sanitation Commissioner, answers questions about the anti-litter drive and other sanitation problems.

Seymour Siegel moderates.

Panelists: Peter Franklin, City College Observation Post; Stan Siegel, NYU's Square Journal.

Questions: How effective has New York's anti-litter drive been?
Will alternate side street parking be discontinued in the near future?

Everyone is cooperating, but some more than others. Midtown Manhattan, high density pedestrian area, will have more litter. Tickets will not be given for throwing cigarette butts on the ground because there are no proper cans. In areas with the proper, experimental cans, a summons would be acceptable. Sanitation patrol officers issue summonses. The Police Department is cooperating. An average of 850 summonses per day. Focus on sanitary education system for children. Pedestrian litterbug, shopkeepers. Dog nuisance, dog comfort stations. Unleashed dogs. Atomic obliteration of refuse?
Audio courtesy of the NYC Municipal Archives WNYC Collection
WNYC archives id: 72184
Municipal archives id: LT8243
Transcript
This is a machine-generated transcript. Text is unformatted and may contain errors.
How effective has New York's added later Drive been well alternate side of the street parking be discontinued in the near future for the answers to these and other questions listen now to your city station's campus press conference each week at this time and there's transcribed discussion editors of college newspapers question or news where they personality Marvin's sleeper award winning reporter and columnist for The New York Journal American is the moderator of the series now to introduce the panel and tonight's guest here is Mr sleeper and this is doubling from obviously today's edition campus press conference ladies and gentlemen last month New York launched an intensive anti litter drive to make our city a cleaner place in which to live and work this unfortunate program startled many citizens with its rigid crackdown on offenders and there are some will feel court summonses and fines are too severe while others feel such penalties are the only course of action and here to report on the progress to date of the campaign is the man behind it sanitation commissioner Paul our school brain who has the gigantic task of supervising the cleanliness of the world's greatest city commission was vain has been in office a little bit over a year fourteen much to be exact but Sanitation has been his business for a long time having been a career man with the Department for twenty one years interrupted only by World War two service on the staff of General Patton and here the end of the commission is good then on the drive and other sanitation problems are up college newspaper editor Peter Franklin of the City College observation post and Stan Siegel of The New York University Square Journal Let's hear the first question from you Stan commissioner Scriven in what areas of the city has the sanitation drive been most effective. Well Stan it's been affected and almost all areas of the city we started out with about two hundred forty eight specific areas or target areas as we call them and we've been moving our force from one area to the next I didn't expect when we started that we would affect the degree of cooperation in these areas which we have and I'm very pleasantly surprised with a high degree of cooperation the result is that we have been able to move our forces through these areas very quickly in other words and in a very brief period of time most of the violations which existed prior to the commencement of this drive have been cleared up and our forces have been able to move to new areas so we're very satisfied with the progress throughout the city pitter commissioner Are there any particular areas that have not been cooperating No no there is not a single area in the city where we have not gotten the cooperation out of course and some areas it's a little more than cooperation you take your midtown Manhattan area rise an example into that area or each day in addition to the people who work there and live there we have our thousands and hundreds of thousands of visitors and trenchant now we're the you have a high density of pedestrian population you're going to get a higher amount of litter but even these people who are a little strange to our ways in New York City in our programs are cooperating. Supposing commissioner we speak about certain of the specific drives that you are now making for instance if a person actually given a summons for throwing a cigarette butt in the street No As a matter of fact Stan I'm glad you asked that question I stated last week that people would not be given a summons for throwing a cigarette butt in the street because we have not provided a suitable means for the disposal of cigarette butts except in certain specific areas of the city where we have and store all these experimental ashtrays Now if someone is standing in the vicinity of an ashtray and discards a cigarette certainly that person should get a summons but mind you let only applies to a very very small portion of the city in the balance of the city there's only one way to dispose of a cigarette and that is to toss it away we would prefer of course particularly for those men who remember their training in the Army or other military services if they would feel strictly cigarettes by tearing the paper down and dropping the tobacco and then throwing the photo up into the nearest waste basket that is a good way to get rid of slavery that's where these are strays in school right now while we have some one each borough miss to say go. In Manhattan we have them on Madison Avenue north of forty second Street and up on the forum roads like the Bronx borough hall section of Brooklyn Continental Avenue in Queens and in the St George area in Staten Island and I am very happy to report that they are gaining great public acceptance where they are being used where where we have them installed the people are using them and the result is that those bus stops and other locations of pedestrian assembly are a lot cleaner today than they were before we installed them. Peter commissioner what about other small violations like discarding a small candy wrapper or a wad of paper are these punishable by fine well yes they are paid around it might seem small or picky own but you have to look at this as an entire picture not just as the single violation or offense certainly a little candy wrapper isn't going to make our city clean with dirty rather with six thousand miles of streets but where you have thousands of people using the same sidewalk if each of them were permitted to discard this piece of paper you can readily see what the little problem would be therefore we do give a summons to a person for discarding the candy wrapper in the hopes that we will deter the many others who might do the same thing from doing it. Go ahead in the first place who'll give the summons and in the second place how many of them have been given Well we have. A special force in the Department of Sanitation patrol and there are about three hundred of those men in addition to those all of my offices in the department the assistant foreman Foreman district superintendents are also sworn in a special patrol in an authorized which you summons us now that's the force that are issuing them the police departments cooperating with us and they also racially summonses as to the number I would say we've been averaging about eight hundred fifty summons a day how that there is of course when you consider that this is a city of eight million people and we get maybe another million coming into New York each day eight hundred fifty summons It doesn't sound like too many but we have been able through published of the to get the message across so that while only a small number of people are receiving the summonses it is widely known that anyone who letter is a subject to the summons and after all that's what we're looking for I'm not interested in bringing people into court I'm interested in saying New York City Queens What effect would you say the campaign has had so far well the effect has been very good must say go we've gotten reports from our field supervisors and I had a personal inspection tours of all the boroughs and we have seen a marked improvement now remember this that we did not start this campaign this in Forstmann campaign without a prior build up we have had an educational campaign going on for almost three years and during this time we have used every available media to disseminate this information to the public to advise them of what their obligations are and everyone who lives in the New York certainly has a stake in the community most of our people want a clean city they want to live in it they want to work in it and they want to bring their children up in it so that we have priests. Seeded this crackdown this and Forstmann crackdown with a very intensive educational program. Also of note I think is the fact that we have been concentrating to a large extent in our public schools on our school children and last year we raised about a million children through our sanitary education system we have short films which we show as a matter of fact your great station W N Y C prepared one of those for us and we show them to the students in the schools we have a short discussion period a question and answer period and we are I think spreading the gospel for a clean city amongst our children in the hope that as they grow up they will become more responsible citizens sanitary education people available to clubs and lodges and groups of that so that you have really anything of that sort yes they are most the Siegal are available for the for evening programs or daytime programs and we're very happy to accept requests for the services of any of our sanitary education people programme chairman to write to you directly may write to me directly that's right Peter commissioner are there specific violations that the department is concentrating on well the specific problems the same of the perennial problems I would say the most serious one right now is the littered sidewalks and again I'd like to clear up something which I think many of us read in the press I don't expect the storekeeper to post themselves on the sidewalk and as a pedestrian drops a piece of paper on the sidewalk to run out and pick it up what we do require though is that the owner sweep the sidewalk each morning get it down clean and then we expect that periodic we during the day he will take a look at the sidewalk and when there is an accumulation go out or have someone go out and pick it up and put it in a receptive now I have had the experience as a matter of fact personally where I observed the storekeeper receiving his. Summons for let it slide walk and he protested that he had just cleaned an hour before now after twenty one years in this business I know when something has been swept and that's going out the Asli hadn't been swept not an hour before the perhaps bored days before but these are things you run into but sidewalks are number one problem number two I would say is the pedestrian litterbug the person who goes along carelessly dropping tissues and sleeker at packages and newspapers and just about any on wanted waste on the streets and sidewalks we've been making a very intensive drive against them I think with some success. And then finally I would say our next major problem is the perennial one of dog nuisances now it seems a little silly to me to be handing out summonses to people for dropping a small piece of literature on the sidewalk and still permitting in our day and age dogs to commit their nuisance in these public streets. Most of the letters I receive from the public have to do with this dog nuisance and imploring the to do something about it and we have something in the works now and I hope that in the near future we'll be able to announce something on it stand well what sort of progress has been made with the plans for dog comfort stations and so on where things stand I have met with. Members of the various organizations interested in dogs in the New York I've also met with the veterinarians Association some dog trainers and we have had some discussions leading toward a solution to this problem now suggestion was made we have had it over the years to construct some kind of dog comfort station and I'm not convinced that this is the solution to the problem but in the interests of determining if this is a practical approach we are going to build one and we are going to one store one and then we're going to study it from a practicability point of view and also an economic point of view and see if there is an application citywide for this type of installation Now if this doesn't work if this is not the answer and money of a suspect that is not the answer we then have to think of something perhaps more drastic and I'm talking specifically now about requiring the owners of dogs to contain the nuisance created by them on their own property that would mean that a one family home on homeowner the same as I am would have to restrain his dog on his own premises and clean up the mess the dog makes without the imposing this hardship on the rest of the community many at home are not dog owners and for the apartment dweller it means that when they house break a dog initially upon acquiring it and once they get it house broken they usually do that by paper training it I would say they could continue or should continue perhaps to have the dog paper trained in their home and let it commit its nuisance in the home rather than bring it out onto the street where people have to walk they get in and out of cars children play in the streets and they track this filth into their homes and into their father's cars and so I think something has to be done with this problem this is a serious one when is this the. Comfort Station likely to be constructed and possibly within the next two weeks Mr Siegel summons is presently given to people who refuse to curb their dogs in areas where signs are so posted Well yes as a matter of fact during this drive we have issued or I would say eight or nine hundred summonses to dog owners not only for not curbing their dogs but for promoting their dogs to run unleashed that's also a violation to have unleashed dogs not only may the dog create a nuisance without supervision by going on a sidewalk or someone else's property but they are just downright dangerous in many cases to be permitted to run loose in these neighborhoods tape recently there was some mention of using non police personnel to hand out tickets for parking with the spring here in the summer coming in is going to be an increased workload on the sanitation department are there any such plans to help with this workload you mean Peter having the civilians in other words other than just sanitation working on a Terry violence no I don't think so because we're dealing in a different area than the park or in the case of the park or it's I think Commissioner Wiley's recommendation or suggestion was that. Civilians be authorized to hang the parking tags on illegally parked vehicles now that's a little different because a car usually doesn't talk back but when you are costing someone for a violation of a law there you need something a little more than a civilian because you will have. A lot of Donnybrook so I'm sure because these are not happy people when they receive a summons. Now it talking about plucking. Some misunderstanding apparently on the part of the public to let this rule to its side of the street parking regulation would you like to explain the yes Mr Siegel my budget on July first one thing fifty eight where our fiscal year commences is going to reflect a savings of a little more than one million dollars a year in personal services and also in other than personal service costs. Less money will be saved by ceasing our practice towing these cars illegally parked cars from alternate side parking areas how