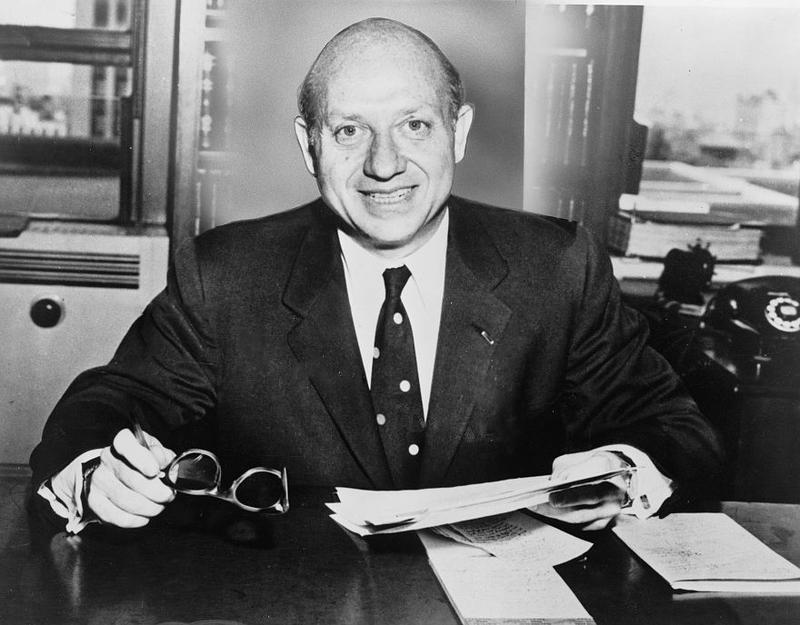 Summary
This episode is from the WNYC archives. It may contain language which is no longer politically or socially appropriate.
Javits, Senator from New York, answers questions about politics and the Republican Party.

Jay Nelson Tuck moderates.

Panelists: Peter Franklin, Stan Siegel, Ed Stover and Jim Farrell

Questions:

Sherman Adams Affair has not hurt the Republican party. Adams admitted imprudence, and it's the President's prestige at stake if anything else goes wrong. Congressman Keating. Eisenhower's work on integration. Needs to show a stronger stance with desegregation. No challenge to segregation had happened until Eisenhower came in to office. Little Rock. The President has made strong personal statements, like sending troops into Little Rock. The US shouldn't fight for the Quemoy and Matsu islands alone. The only basis on which our country would have a right to fight is if this represents the same action Hitler took in 1934. The President has the right to decide whether or not an aggressive attempt on Quemoy and Matsu warrants reaction. Unanimous votes to not recognize Communist China. Recognition of Formosa. It is possible to come to an agreement that Formosa can be Formosa, and the Mainland can be the Mainland, and there can be peaceful competition. Mao Zedong. The Republican Party has got a passing average on its campaign promises. We're on the way back. There's a lot in the domestic economy to be done, but we're not in a depression. We are pulling out of the recession. Desegregation in DC. Desegregation in Little Rock public schools is inevitable.
Audio courtesy of the NYC Municipal Archives WNYC Collection
WNYC archives id: 72179
Municipal archives id: LT8246
Transcript
This is a machine-generated transcript. Text is unformatted and may contain errors.
As the Sherman Adams affair hurt the current Republican campaign as President Eisenhower's stand on integration been unclear should the United States be prepared to fight communist China for the islands of Kmart and mass So what should be the Senate's next world against racketeers in the labor but the answers to these and other questions listen out of your city stations campus press conference each week at this time in this transcript discussion editors of college newspapers question the news with a personality our moderator is a noted editor a newspaper men Jane else and talk now to introduce the panel and tonight's guest here is Mr Tuck Good evening as so often happens in our history this country is currently faced with a domestic political campaign and a crisis in our foreign relations both at the same time so we are fortunate tonight and having as our guest on campus press conference a man who was an expert on both not fiercely honorable Jacob Javits United States senator from New York Senator Jeffords has long been a leader of the liberal wing of the Republican Party and is one of its most popular vote getters it was elected to Congress from New York's twenty first district in one thousand nine hundred eighty seven and he served four terms in the house where he was an active member of the Foreign Affairs Committee and quickly established himself also as a leader on domestic issues. The one nine hundred fifty four was generally a happy year for the Democrats in New York State Mr job it's was elected state attorney general in that year and two years ago he was elected to the United States Senate. Here tonight QUESTION Senator job it's Oputa Franklin's of the City College observation post stands for the goal of the N.Y.U. square Journal Ed Stover and Jim Farland both of the Fordham lexigram and Peter has the first question for you Senator Senator Jeffords has the Sherman Adams affair hurt the current Republican campaign I don't think so and I believe the those who are feel that it has placed in terms of our own state of New York and I really CAN set of the surrounding states the weather situation is generally similar I think are wrong and my reason for saying that is the following I think the people have pretty well accepted the proposition that there was no showing of lack of integrity and items that he himself admitted imprudence that the president considered him as a man whom he wanted to be his own assistant and that it's the president's prestige it that's at stake if anything for the goes wrong and therefore it's been my feeling that the public has been willing to leave the matter at back and in that sense that it is not hurt the Republican campaign Jim Farland your own party's nominee to succeed your current colleague Senator ride in the U.S. Senate seems to believe however that Governor Adams removal is essential to the Republican cause this November any central for what he calls good government do you then disagree with Mr Keating Jim I don't think there's a question of a graying God disagreeing I think it's just a question of judgment thus The Whether it's hard to campaign and as to how a person feels himself viscerally Congressman Keating home I greatly respect has expressed his point of view I've expressed mine I might tell you that I do not consider that so material a point of difference between us as to when any way affect my enthusiastic support of Congressman Keating's candidacy for the Senate. Stans There you go son a jab at several critics of the President Eisenhower has been unclear on his stand on the present integration issue do you believe this is true Stan I don't believe the president has been on clear on a stand on immigration I think he's been foursquare behind the Supreme Court's decision the difference of opinion as Venice to what should be done about it in terms of the executive department I think up to a short time ago the Department of Justice was not moving it completely as vigorously as I should have wished so it did get into a good many cases and we must remember that it got into the Hoxsey case and other cases in which at that very effective work as well as a Democrat scary I that is it's friend of the court position and a little rock case itself but I think in the recent past the Department of Justice has really gotten on its horse in the shown a lot of initiative and drive in that area now as to other things the president could do it's been suggested that he ought to call in a moderate Southern leaders to the White House and that he ought to shell bias personal conferences etc a stronger position with respect to the desegregation issue backing up the Supreme Court now that's a difference of a man's temperament and his method of approach perhaps a fire in the White House I would go up that way Eisenhower does of his wife but one thing we must not forget and that is that nothing like this has happened no real challenge desegregation policies in the public schools no examination of segregation for example in the District of Columbia has happened until I was and how it came along and fifty two and therefore I think we must balance our criticism with the affirmative gains which have been many things stand as a follow up through in the full do think that the remark made by the president recently that perhaps integration is being pushed has hurt the cause to any extent Well when you say is hurt because my answer to that would be no again balancing any such remark against the manifest position which is developed since one nine hundred fifty two when the first when the president first took over I think it reflects his fundamental. Philosophy but he'd much rather have successes in this thing without force one of the force of law the farce of sending troops into Little Rock but the fundamental The fundamental point is that what has happened which is constructive in the civil rights field has happened in the last six years and I think that's got to be balanced against these annoyances out of action and up a personal attitude which you've been referring to in your questions I think that's only fair with lunches like some of those strong personal statements on his part would be helpful and inquiring some of the extremists I think the president has made strong personal statements certainly he made them and then so the governor follows suddenly when he sent the troops into Little Rock it was making a strong personal statement I just don't think the president likes the sound belligerent they doesn't like the pound the table this is the nature of the man originally that's why the American people loved him so much and thought he had such gifted leadership why do you got to take the better with the sweet if you don't like what he does in a particular field at a particular time remember it's still the same man. Stober Senator Jeffords should the United States scares me be prepared to fight communist China and possibly Soviet Russia for the islands of came only and met soon particularly where their strategic existence has been severely question particularly by certain Senate Democrats Well Ed first but may express my gratitude to you for the question quite typical of the law school student because it's a comprehensive question it's also a loaded question may I say that for now I say that in all kindness may I say that for the first the United States nor any part of the free world should fight anybody for two lonely islands in the Taiwan Strait there's got to be a lot much more a lot more involved than just two islands in the Taiwan Strait the only basis upon which our country and the whole free world would have a right to fight is if this represents the same kind of an action which Hecla talks when he crossed into the role or. Way back in one hundred thirty four which turned the course of history all which the Japanese took when they walked into Manchuria Now they may have walked into some little insignificant town which no one ever heard up but the notice was clips of the whole world that this was crossing the Rubicon in terms of world peace that's the only basis upon which we would have any right to act with vigor in respect of come along in massive now as a matter stands now unless the situation can be negotiated out and I hope and pray that it can you may run into that kind of a situation all you may not I think the important thing is that the Congress has vested the president with the all foreign aid to decide according to the Formosa resolution of one hundred fifty five whether or not an attempt an aggressive attempt with force by the communist Chinese on come all in my two marks the beginning of a march by the communist Chinese all over Asia and the Pacific all whether it's nothing but an answer and this elated incident about two little islands in the Taiwan Straits we've left that to the president the president has to make that decision now if we don't want him to make the decision if we want to take away that authority from the president and just leave him as normal authority as commander in chief then the Congress can do less than five taking some other action on the Formosa resolution out of some of that I don't want to sound up skill my answer to whether we should fight for too little islands in the Taiwan Strait is definitely no my answer as to whether we should fight to restrain the beginning of aggressive actions which can jeopardize not only far most US but Japan the Philippines and all of Southeast Asia is decidedly yes and which will be the case what will be the intentions of the Communist Chinese I don't know and I don't know anybody else who does the only thing that I see we can do is three things one the SUV vigorously the negotiations in an effort to straighten out that situation to untie the hands of a policy from whatever strings weighs put on it and that will take congressional action I emphasize not only the. Then section and three get the United Nations into the deal which we now have an opportunity to do by bringing the question up before the United Nations as a threat to world peace in the current session of the General Assembly now I can't and I wish I could you're a young man and if there's any fighting your livelihood though and I might add that I'm still an active reserve officer and I'll be glad to do my part to I wish I could give you more of precise information but the Communist Chinese own allow us to give you more precise information because and because it's very very difficult to ascertain their intentions to say that I must give you my analysis of what ought to be our policy solely from our point of view that's either frankly some of the Javits recently there has been some mention of a proposed United States' recognition of communist China and possibly its admission to the United Nations how do you feel about once the United States recognizing communist China and to its getting admission into the United Nations I would like to answer your question stand with two words one word is no and the other word is now no and now these to my mind of the key to the recognition of communist China and the admission of communist China and of the United Nations and sharp communist China stands indicted the fall of the whole world by the United Nations itself as recently as the last general assembly by a vote of two to one the United Nations refused to admit communist China not the United States not any people who are part of the China lobby but the rank and file nations of the United Nations itself the Congress of the United States has voted on a many occasions and I have joined in those votes unanimously not to recognize communist China not to admit us of the United Nations why because communist China can was the aggressor and Korea she has not purged the south of that aggression she continues to violate the Korean armistice she continues to hold Americans in prison and China she continues to violate the whole conscience of the frame. World and there at the National conduct and this has been called shooting one's way into recognitions and into the UN I do not believe the free world is that weak now I think there are plenty of bases by which communist China could find its way into the UN and could find its way into American recognition but that just doesn't depend on its standing still to what communist China and doing exactly as it pleases including the constant bombardment of these two islands in the Taiwan Strait It means that they do some things as well as the fact that we do something and until such time as we see some developments in that Raghad I say my answer is off no not now speed extent of the Javits and then just to look at the other side of the pick through them do you think that it's necessary for us to continue to recognise a country which many people have said doesn't exist anymore and that's Nationalist China. Well I'm fortunately your premise is wrong because that country doesn't exist more there is a nationalist government on Formosa and that nationalist government has both an executive and Chang's whom a great many people don't like and to leave much to be desired I hasten to add and also has a legislature in the form of the legislate if you want and it so happens to that I have personal experience with that for at the end of the one nine hundred fifty six I was in for most and I actually conferred with the various leaders of the legislative you won the Congress that found that a great majority of those who had been elected to the Chinese Congress on the mainland had actually evacuated the mainland in one island for most of us who are carrying on the legitimate activities of a Congress of the nationalist government of China so that you can't say there isn't anything there and also who are like that the Communists to take over a taping and to take over the whole mainland of China and by want rights after all do we have by a stroke of the pen or a stroke of policy to make the decision that's between the two governments I think there's a lot to the policy of the to China's And I don't believe we ought to throw in on that one by a long sight yet and I think that's fine not throwing in with being very friendly to the Chinese people themselves. This approach of the possibility of Red China earning its way into recognition and admission into the United Nations by fulfilling circle previous condition was earthenware was advanced as a first approached by candidate Hogan in the Senatorial campaign and when he did so candidate Keating immediately opposed him on this boy so this again is another point that fairly apply with you and frankly Keating disagree with to clarify that I don't have to clarify it appalled jam I just don't find in my own view and I say this very respectfully the fact quite bear out your assertion or the fact that I understand that there was some confusion about District Attorney Hogan position on that particular matter whe