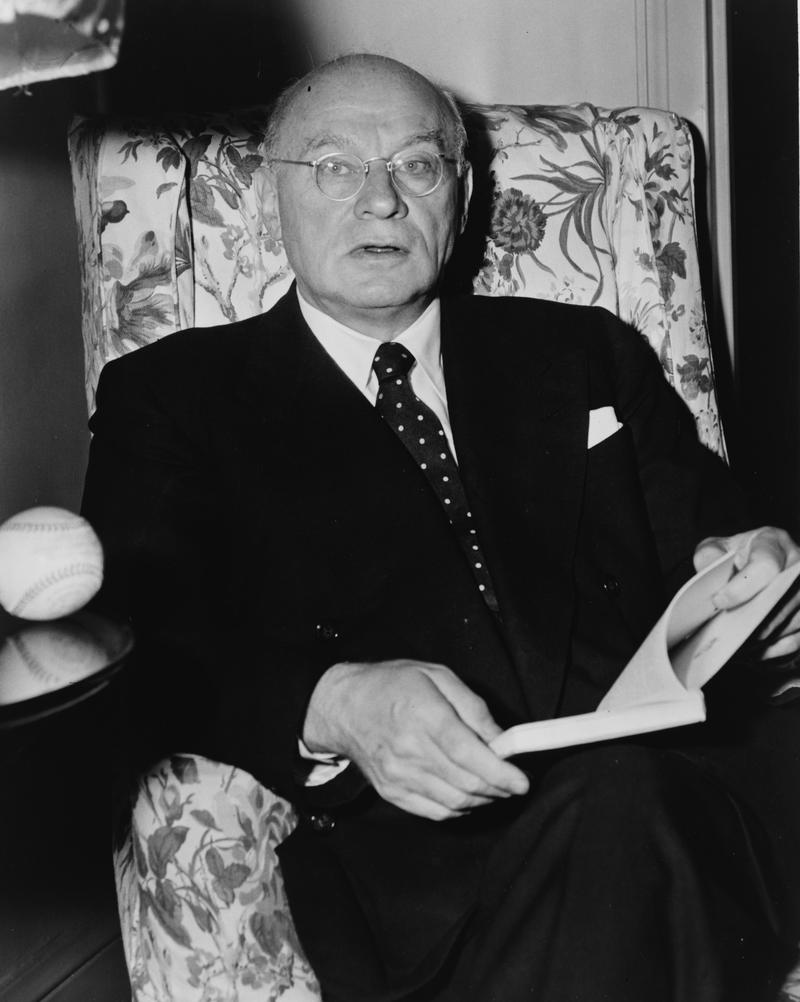 Summary
This episode is from the WNYC archives. It may contain language which is no longer politically or socially appropriate.
Jay Nelson Tuck moderates.
Guest is Honorable Emanuel Celler, Chairman of the House of Representatives
Judiciary Committee.
Panelists include Jack Parker, Stan Siegel, and Barbara Benmolche.
Questions:
Civil rights bill - and "unholy alliance" between Southern Democrats and Republicans barred the Cellar Civil Rights bill from passing through to the House. Celler believes that Civil Rights legislation will pass in the next session of Congress. He is opposed to the United States giving aid to any country that does not support Civil Rights. He specifically mentions Saudi Arabia banning Jewish soldiers. He does not believe Franco's Spain qualifies as a nation that does not uphold Civil Rights.
Southeast Asia and Laos - Celler believes a great amount of money has been poured into Laos, but with little in return. He speaks briefly about India and Cashmere. Discussion of the Soviet Union and "Red China."
Specifically questioned about the book "The Ugly American," which he calls a badly written book with kernels of good ideas.
Responds to reports about Lyndon Johnson holding back appointees until he got the position he wanted in Texas. Calls it "reprehensible to play fast and loose with the judiciary."
Goes on to discuss juvenile delinquency in New York City and elsewhere. Particularly mentions Puerto Rican youths. He says there is no juvenile delinquency in Puerto Rico, but that when the youth come here a "derangement" happens. Recommends works camps for youth - rather than sending them to adult jails.
Celler speaks out gainst the Walter McCarren act. He disagrees with quotas that favor certain races and nationalities. He feels this is discrimination.
Audio courtesy of the NYC Municipal Archives WNYC Collection
WNYC archives id: 72098
Municipal archives id: LT8434
Transcript
This is a machine-generated transcript. Text is unformatted and may contain errors.
What has the eighty fifth Congress to show for itself did you favor just sap you know in the recent primary election is vegetation the answer to the civil rights problem well the answers to these and other questions listen now to campus press conference every Sunday at this time editors of college newspapers question newsworthy personality moderator on campus press conferences the noted newspaper men and editor Jane Nelson talk now to introduce the panel and today's guest here is Mr Tuck Good evening many people believe that it's almost a law that all important committees of Congress must be headed by Southern Democrats at least in those times when the Democrats controlled Congress but there are exceptions and I guess today is living evidence of that because the honorable Emanuel Sela Democratic congressman from of point no further south than Brooklyn and he was chairman of the important House Judiciary Committee his committee handles bills dealing with such important subjects as civil rights immigration all constitutional questions and the jurisdiction of the federal courts was to sell or has been in public service for almost all of his adult life and he has been a member of the House of Representatives for thirty seven years by profession he was a lawyer with offices in Manhattan here tonight to question Congressman Stella Barbara been the Hunter College arrow students a goal of the N.Y.U. squared Journal and Jack Parker of the Fordham student bar association Jack we lead off. Congressman Grayson they lead had quite a bit of publicity publicity regarding the civil rights problem in regard to this do you think that laws can really help solve the problem of this kind of large cannot. Did the Army and strong mentality for the solution of problems is that Jaysus are several rights we need to school and educate people to understand the real meaning of the brotherhood of man and that all men are created equal in the sight of God. In the south of course as a great deal of intransigence and refusal to abide by that principle which dominates all of you dear. Christian civilization. However it's your sensual when there is violations to life say that model law and. Violence and a brace of violations that the government must step in and take the lead and pass legislation. That's what we did in one thousand nine hundred fifty seven when we passed this our civil rights bill that they will go in my name I was chairman of the get a share a committee stared through the House Judiciary Committee the seller several rights they all of nine hundred fifty nine which unfortunately was not passed by the house because of an unholy alliance and I say on holy alliance between Republicans and Southern Democrats it was a pair that. The Republican made a compact with the Southern Democrats unfortunately Actually that's a fact and I said. Well was how I'll support from the civil rights bell and keep it buried and I thank you to Sherry committee and any consideration so you know I had as a Southerner just getting support to the Labor Day on a panel gastritis you want none for. And we are unable to get the same rights bell for the rank and file of the membership of the house or that the House could work its will I say tell me sir do you believe that meaningful civil rights legislation will be passed in the next session I certainly will have that passed I think and the next session public opinion will have Jalen to solidify and and if the Republicans still are reluctant to embrace civil rights legislation I don't hear from the from the grassroots and half Americans tensions and they will be condemned in the court of a national public opinion so I'm quite confident that when January comes in the second session of this Congress begins. We will redouble our redouble our efforts to get a bill passed will get it passed today well in this particular field of civil rights do you believe that the United States should offer aid to countries themselves terminate against American citizens because of religion all right you know why I'm opposed to the United States giving any aid and comfort to. Countries for example like Saudi Arabia which has gone so far as true for us the exclusion of American Jewish soldiers from American bases and show ready Arabia and Aramco which A.Z. and agent of the Saudi Arabian government in the sense that it has exclusive. Growing privileges well during growing private years in Saudi Arabia at the behest of Saudi Arabia refuses to employ in its New York office and anyone who happens to be at the Jewish face and the state. Brought an action rather an action was brought against the state discriminatory commission per se. Had to. Bring showed some sort of a proceeding against Iran Co and because of that dereliction and Supreme Court Justice Henry Epstein and the barriers sounding opinion. The call of the Aramco to blow up and said they had no right to discriminate but beyond that. It would be utterly wrong and afraid with evil if the United States what gives aid financial aid or economic aid on military aid to any country that violates the very fundamental principles on which the Founding Fathers founded our country namely freedom of religion and of freedom to worship your god as your conscience dictates this to sell or would you say that Franco's Spain falls in that category no Franco's Spain I've been to Spain does not prevent their worship by Protestants other worship by Jewish Franco's Spain as their costs are legislated guy made by the Catholic faith but I've seen synagogues and and the boss alone I've seen a synagogue and met drain I would say that the Spanish government doesn't go out of its way to give very much concert or encouragement had to relinquish domination as I was shy and the Catholic faith but they are allowed to practice their faith. Bother well. To get from the Near East to the Far East I was wondering what do you think we should do about the disturbances in Southeast Asia. That's a very direct stationers question and I can imagine you refer to layoffs which has been a costly so-called friend of ours we've poured into layoffs aid to the extent of two hundred twenty five million dollars. If you ask me what we got for that aid I would be I tried to I could only give you an answer with the greatest amount of difficulty. That means that they are low ations have gotten one hundred dollars per capita from the United States and yet we have very little show to show for that aid I believe that the State Department know is responsible for the granting of that aid have been quite derelict in their shame to what at that aid was probably better put too but beyond that not only because of the difficulties and why Osh which has witnessed the in creationism of the communist jokes from you know others and north and Vietnam and probably Communist troops from Red China and I we have the situation in Tibet which was a dreadful. The chim of the red communist aggression we have the attacks rather we have the invasion of. India by Red Chinese troops. And you know I said in Asia northwest frontier province of India and in the province of Kashmir which is again. An example of communist aggression. And the like of all that I mean I would sternly advise that when President Eisenhower for example visits Russia that he should go father east and pay a visit to narrow Who is the premier of India and discuss with him some of the problem is that perplexed narrow and the good people of India perhaps there would be they may have faculty visits that land would tend to soften the situation there. Well do you think sir that such a visit would have any effect upon India's neutralised position it is between the western kind of world I think India has somewhat veered from how to neutralise a position. The. Indians under the leadership of narrow and big question on many on who is India's representative present at the United Nations have continually. So out to walk a tight rope of neutralism but in the face of this aggression on the part of communist China it is difficult to apprehend how they could be neutral and as a matter of fact in the house of the people that is the parliament of India and narrow he's made some very caustic comments against. Communist China and has practically accused them of the invasion of India and has accused him of the invasion of India and sovereignty and has indicated that unless China would mend her ways and continues to have our troops stationed there India would have will have to take some stronger measures in that regard so that I can't conceive how that would be any longer deemed neutralism China may be pushing your India right and wrong in the well I am but certain sense I hope that's so but I would like to see India suffer because of their own. In regard to the India questions there I noticed in the papers recently that India is still proposing admittance of Red John or into the UN does this still indicate that they are bearing away towards the red communist state well it's hard to for me to reconcile those that that action Mr V. crushed on men and I think on Sunday and one of the panel shows said that he still favored the admission of Red China into the United Nations. I noticed however that. In his speech before the United Nations that he was trying and he was toned down a great leaders a spousal of the cause of Red China and. Narrow I could still would want the Red China to come into the United Nations on the score that red Shiner is guilty of aggression or unlawful incursions into neighboring lands should be more easily brought to book at the United Nations and then otherwise and I take it only on that score does boast narrow and men on justify their own. Admission of Red China into the United Nation State so on the question of Laos you mentioned that quite a bit of aid had gone into that country and no results had been shown for it now what results should be expected to be shelved when the foreign aid is given to a country well. There was a royal lation army and. They apparently were compelled to retreat against the invasion by only a few Battalion of the Communist. We understood in Congress that there was considerable military aid sent into layoffs which military aid should have been sufficient to enable the royal Laotian army had to withstand that pressure and that invasion the time happily that was not the case and for that reason I think that the Congress will want to and acquire very minute play into. How this money was spent and where it went into had the distribution of that mission for us. We did build a power station we set up there a geisha in damage we set up health service and sanitation stations. We planned for the future flood control area but from a military standpoint I don't think that day we can have very much to show because of the success that the Communists had and have had and their invasions and no I say less would not appear to what does appear to show that what is necessary is not more military aid in the form of money but perhaps aid in the form of advice and counsel Well I don't know whether that advice and counsel has been given only want to be the subject of an acquiring addressed to the State Department in that regards. Well while we're on the far east there was a book that was on the bestseller list quite a while ago called The Ugly American Now I was wondering I've read the book and I have some idea of its message although I spoke to before the problem and you said it was a badly written book and I was wondering how many congressmen you know read it or know about it or what it says and how is this in any way affected. The aid given to the Far East and the types of aid given. Well I said to you before I don't know how many congressmen have read it I think despite the fact that it was badly written badly put together a sort of a scissors and paste job it contained Connell's of good ideas for example the authors pointed out that in many many instances to our grave and severe disadvantage many of our ministers and ambassadors do not know the language of the country to which their accredited I think there are ten Rabia no Moslem countries and eight out of our ministers are embassadors of those country do not know a word of Arabic only to understand the language. Dig and barren bastard of a Germany understands French but doesn't understand German iron bastard or France understand German but doesn't understand. Those things will point it out and. You can well appreciate that if you want to stand a language or of the country to which you are going with which you are going to have the official and social contact you can relay more you can understand more if you know the language now I have a bill for example to provide a foreign service economy which would. Place great emphasis on languages so that then you would learn a number of languages that would be appointed to the Foreign Service Economy guess as I and I showed young men are appointed to the Annapolis and to West Point there would be a point from the grassroots we get a we get a. Man a young man and young women from the entire country they wouldn't be drawn from the wealthy classes as it is in the main the case now and I was referencing the Foreign Service. In the State Department and. Since we would get in a foreign service academy emphasized language I take it that in a few years we would have had many many men and women well trained and get going and I and I diverged number of languages and they could be used in the various capitals of the world and be of great help in need yeah spreading of the good gospel of democracy as we know it and they would be better able to understand the moral use the question is and what is happening in the lands to which they were going well I think that's an excellent idea Congressman but I was wondering more if well I remember one of the stories was how a congressman was actually kind of van Gogh's old when he made a trip to see one of the countries and was shown exactly what they wanted to show him you know actually write this sort and the reports they get back are really what happened and I think recently in the papers I read about I don't know who was military though some some higher up were. Making it a dire crime to write right back home that what was happening in the country in which these people were serving that that book undoubtedly. Created considerable stir even in the State Department and they hit upon that page very guy I'll say because the book became a bestseller because people are very much interested in that show because you have very credibly indicated an interest. To Congressman coming back for a moment to your bill about a foreign service academy which also strikes me as an excellent idea. But there's one other question that occur is constantly in the papers at least that says career men often can't afford to ta