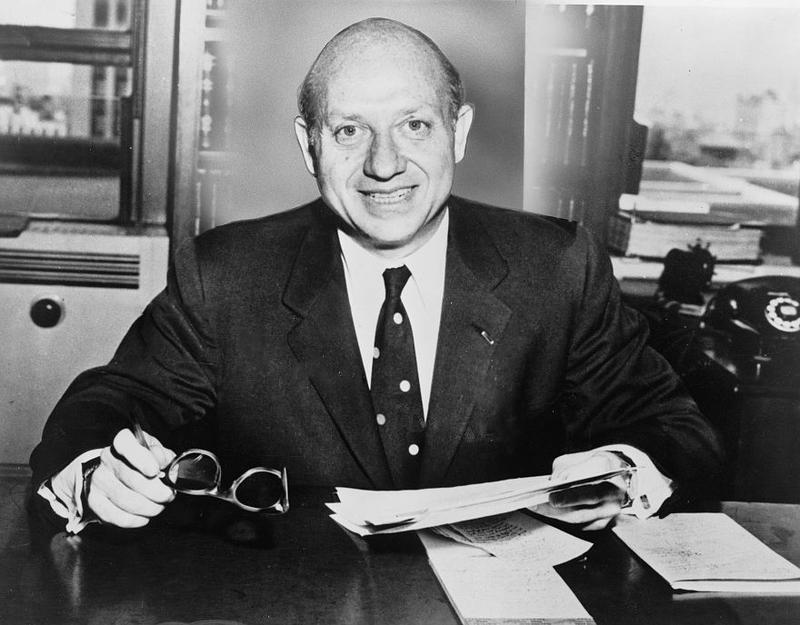 Summary
This episode is from the WNYC archives. It may contain language which is no longer politically or socially appropriate.
Jacob Javits, candidate for US Senate, answers questions about politics and international affairs.

Jeffrey Roach moderates.

Panelists: Geri Triano, Paulette Singer, Larry Barrett, Bruno Wassathiel, and Joseph Gervin.

Questions:

The Republican Party doesn't necessarily lack support among the youth. Youth is attracted to Eisenhower's leadership. The US has to be responsible for showing the world the truth about Russian colonialism, give them a standard around which to rally. The East Germans must be juxtaposed to the West Germans; we don't have the same influence. Better off holding an open door offer to Hungary. Mistaken impression of General Nassir; we've been consistently wrong on the Egyptian dictators. Prevention of the reunification of the Soviet Union, etc., as clear victories for the administration. Strengthen Israel, give the European countries near the Suez Canal money for going around Egypt ($500 million per year). Can't with the Arabs' friendship by appeasement. Continuing to hold out the hand is a possibility if certain conditions are accepted. Advocated that grants for aid to school construction under a federal bill shall be conditioned upon compliance with desegregation. Powell amendment left to a government department to determine if this mandate had been complied with locally: the Supreme Court mandate would create confusion. Courts should set the conditions and hand out money based on compliance. Condemnation of Senator McCarthy. Against a professional army. Litigation over his succession is not probable. Adam Clayton Powell is supporting him on the civil rights issue. "Tammany philosophy": you do people favors by doing anything for them politically. Offered a bill for a national health program in 1951. Stevenson is wrong in suggesting we stop testing the hydrogen bomb. Inspection and control, bipartisan foreign policy. Supports the Eisenhower-Nixon ticket. Will be an ardent fighter for civil rights. Negroes in the foreign service. Refuses to make predictions on the election results. NATO. Responds to criticism that he is not a liberal.
Audio courtesy of the NYC Municipal Archives WNYC Collection
WNYC archives id: 72051
Municipal archives id: LT7587
Transcript
This is a machine-generated transcript. Text is unformatted and may contain errors.
The following transcribed program features a candidate for the United States Senate the opinions expressed are the speakers and do not reflect the views of the station Mr Jarvis Well Adam Clayton Powell support help you does the Republican Party have an appeal to you how can America exploit the satellite unrest will you vote to unseat McCarthy from it so that committee chairmanship. For answers to these and other questions listen out to campus press conference a program in which college editors interview prominent personalities in the news here now is our moderator Jeffrey Roche of the New York Journal American to introduce tonight's guests and the members of our panel Mr Rove Good evening ladies and gentlemen in this election year the New York race for the U.S. Senate seat vacated by Sen Lieberman has taken on as much interest as the presidential campaign tonight's campus press conference is privileged to present one of the leading contenders for that seat Jacob Javits the Republican candidate in the hotly contested race after serving four consecutive terms in Congress from the eighty a through the eighty third Mr Jabot ably demonstrated his popularity in one thousand nine hundred fifty four five defeating Franklin D. Roosevelt Jr for the post of attorney general in New York State the only victorious Republican in the statewide election which brought in a Democratic governor here to question the Republican candidate for Senate on his program and the national Republican platform on campus Prescott respondants Jerry Triano Hunter College our old Paulette singer of The New York University Square Journal Laurie Barrett of the Columbia Graduate School of Journalism Bruno last of the old OF THE CITY COLLEGE observation post and Joseph Garvin of the Fordham Ram let's have the first question from you Jerry Mr Javits and I just completed Paula Hunter and Mayor Wagner polled sixty percent of the students do you think this indicative the fact that the Republican Party does not have an appeal to you know I do not I think that we have a rather large number of people in New York City identify themselves with the Democratic Party the sixty forty division is pretty much the same division which we had in the one nine hundred fifty four campaign and what she was fortunate enough to be successful. I don't feel at this they give about a tall addition to that you must remember that the other states might have just a strong Republican complection on a college test for example you take a state which is strongly Republican like Vermont than a hand sharing might be higher than that I want I would like to say about you and the Republican Party is that I believe that the modern ideas which are expressed by Eisenhower least an effort to think in modern terms in terms of what the private economic system can do for our society as well as what has been the tradition here in liberal circles thinking about only what government can do for our society should attract you and as I've read some polls a very large amount of youth has been attracted and one of the great changes in our national political life has been the fact that the polls now show for the first time that youth is being attracted to Eisenhower's leadership of the Republican Party. But the Javits one of your main campaign arguments has been your experience in foreign affairs what would you have the United States do to exploit the current satellite unrest in Eastern Europe I think the and I think that's a wonderful question I might say Larry and I think the United States has to do the following things one I think we have got to now unleash rather massive I don't know yet to use that word unleashed because we always talk about unleashing somebody to do something to somebody else but I think we have to be responsible for a massive effort to make this count in terms of information to the rest of the people of the world to show that the greatest colonialism is the Russian colonialism and show how it's been keeping these people in subjection like the Poles on the hunger Ariens and what it's been doing to them another thing we have to do is to give them a standard around which to rally not in a false way you may remember from your reading that they fall suspended was erected by the Russian noticed so the Warsaw partisan ends are our people or had the we're trying to liberate Wausau from within that they were going to liberate them from without and then leaving them hanging in the air and the magic Germans who were then in control of Warsaw killed thousands so we don't want to get into that but we do want to give them the feeling that they have deep sympathy and encouragement here and that if they do succeed in getting some kind of a government which is free of the masters in the Kremlin even the communist that we would be prepared to extend to them the same kind of a helping hand that we've been willing to extend extend the Tito under the same sort of why did we extend them a helping hand to the East Germans. The East Germans are the subject well our first place you didn't have the same kind of an uprising in the East Germany and and and you had only in East Berlin but what's more important the math is that the East Germans must be jacks juxtaposed to the West Germans and there we had a counter influence to what the counter influence to keep West Germany in a much better negotiating position for the unification of all Germany we don't not have that countervailing influence and respect of the the Yugoslavia uphold and the Javits at this point would you advocate some sort of aid to the insurgents in Poland and or Hungary at this point I think I would that was covered by my last question Paul that because at this point if you did that you might just be getting thousands upon thousands of them killed I think we're better off holding out the offer of an open door to the west if they can succeed in establishing their own status like Tito that what chance they have of succeeding on their own while I see the after all the Yugoslav there and I think the Poles do because even in the most iron fist a totalitarian country you cannot apparently take on a whole people and if the overwhelming feeling of the people is very strongly that they want some kind of self-determination I deeply feel they are going to get Indeed if you read your papers now I think you will see that the Russian masses are themselves thinking in the same direction even right now the Democrats have been condemning secretaries they dollars for his. First mistaken impression of General Nasser How do you feel about this well I think that we had a very mistaken impression not only of General Nasser but before this administration of general my deep two we've been consistently wrong on these these Egyptian dictators and I will say immediately that in appraising the foreign policy efforts of this administration you're certainly not going to put the Middle East down as a success with the Russians hurdling you know what with their arms sales to Egypt you've got to say this and all fantasy the only way we could have stopped that was by selling arms to Egypt ourselves which would have been much worse but I think in fairness to the political picture you've got to be quite the following the during the trauma agistment administration we lost China the free world suffered the greatest loss that it ever known and during this administration we've suffered or a virus in the Middle East I think comparably they're still way ahead in addition you've got to tell it up their successes the prevention of the reunification of Germany on Soviet terms the Austrian peace treaty the tree S. settlement the establishment of a Southeast Asia Treaty Organization the conclusion of a security treaty with Japan the avoidance of war with respect to Formosa and so on and so on in short neither administration can claim to perfection but on the whole record I deeply believe that this administration has done better than the previous one on foreign policy leadership and let me emphasize I'm all for the bipartisan foreign policy where now talking about only that quality which is brought to the bipartisan foreign policy by the individual president's leadership capability but what can we do to recover lost ground in the Middle East I think the major thing we can do is twofold one to strengthen Israel and of course this is something which I deeply feel is a bipartisan subject and I don't claim any patent on it for me on the contrary I I strongly feel that any effort to make it a partisan issue is very seriously at very still but you asked the question I'm answering it one strengthen Israel two and very importantly give the countries of Europe which may. We have to bypass the Suez Canal if you can't make any arrangements with Egypt as the matter stands now and that's money and enough resources to do it and I've sent to the Senate I would back the program up to what I understand to be its estimated cost five hundred million dollars a year I think it's worth it and I've given an analogy in this when we had the same problem with another dictator and they Mosaddegh in the Iran who cut off the oil our very large share of Middle Eastern oil we kept our shirts on and sweat it out and shipped oil from this continent that is from from Venezuela and from other places and enabled the European countries to get over the hurdle and help them finance it and I And finally most a bag was brought down that took three years but it was done and I think exactly the same kind of thing has to be done with respect to mess with us solution leaves one thing don't you think we have to win the Arabs friendship somehow the winning of the Arabs friendship by appeasement is no way to win the Arabs friendship on a permanent basis we've already shown the fallacy of that. Because our policy in the last few years has been an effort to win the Arabs friendship so that they would conclude a treaty of peace with Israel and pacify the whole area now I think you've got to proceed from a position of holding out the hand of friendship upon perfectly fair and just terms but a fellow's terms are not accepted not throwing in with a piece of me continuing to hold out the hand I'm talking about resettlement of the Palestine Arab refugees use of the Jordan River waters even building of the ass one dam has still possibilities if the proper conditions will be accepted which are only fair and just for the whole free world we're not asking for any special breaks for us to keep the door open and short not to close the door of toll but at the same time not to appease which is what I think we've where I think we made a mistake in the last few years Mr Mr Javits I'd like to get back to the local situation a little bit for a moment in your campaign to get the senatorship What do you think you will you will be able to do that Mayor Wagner won't be able to do in the Senate I think that I will be able to contribute to the Senate great experience especially in connection with the quest for peace and I've given some of the details of what I could endeavor to affect in the House of Representatives I was extremely useful and the endeavored to enlist the whole private economic system in our foreign policy efforts this went for travel it went for technical assistance it went for information and went for foreign investment I worked very hard on all these and achieved the considerable measure of success in addition to that I feel that I have got the fiber and I think I demonstrated it on the House of Representatives to put up a tough fights which need to be put up on things like civil rights and other Israel and other issues like that and especially and deal with this fact I deeply believe in bipartisan cooperation on those issues that is the way in which I was able to help get results when I was in the House of Representatives In short it's experience based upon a a formula which has worked. Incidentally that's true when emigration and one of the great things that I see about all these Democratic party art is especially at campaign time and cloning my opponent the mayor is at that constantly saying just leave it to Watson we'll do it constantly trying to hide a fact for example but with Eastland at the head of the Judiciary Committee you can't get civil rights legislation through the Senate and it was our last. Says that you to quote stand for federal funds going to Southern schools which practiced segregation What is your position on racial segregation in public schools I have advocated and incidentally this is already been adopted by Adam Clayton Powell came out and said he thought it was a wise scheme I have advocated the grants for our aid to school construction which is what we're talking about I'm sure you mean Jerry under the federal bell and I'm confident one will pass in the next year the aid to school construction shall be conditioned upon compliance with local court the craze for desegregation in the public schools my deference with the Powell Amendment which I did not agree is that it left it to a government administrator or a government department to determine whether or not the Supreme Court mandate was being complied with locally and I pointed out that the Supreme Court mandate left the conditions to be ascertained by a local court if you got some Washington officeholder mixed up and saying you're going to run into all kinds of confusion and political pressures and difficulties so I'm for the courts setting the conditions and then conditioning the payments based upon compliance with those court the Crees and where the mayor is completely wrong about this accusation that you mention is that my proposal is not that we wait until a local court punished for contempt because there may be an intervening time between the promulgation of the crate and the time when a school board could be held in contempt of it my statement was that it be conditioned upon the terms of the crate but that the courts make it and otherwise of the local court set the conditions and I think that's exact. Plea in accordance with the spirit of the supreme court's mandate Mr Javits if the Republicans gain a majority in the Senate will you vote against McCarthy's resumption of his chairmanship of the Committee on Government operation I'm glad you asked that question Joe because it indicated it illustrates something that the very deep within you know a lot of people make these grandstand plays like Mike like my opponent the mayor said the other day in a television debate our vote against Eastland Well the only thing that was heard about side of the Lehman's voted against East London he cast exactly the same vote was a report in the paper saying a reporter up on the gallery heard somebody saying No well not that's not the kind of thing I'm talking about I call that grandstand plays and I mean what I've said before and this is nothing new what I said