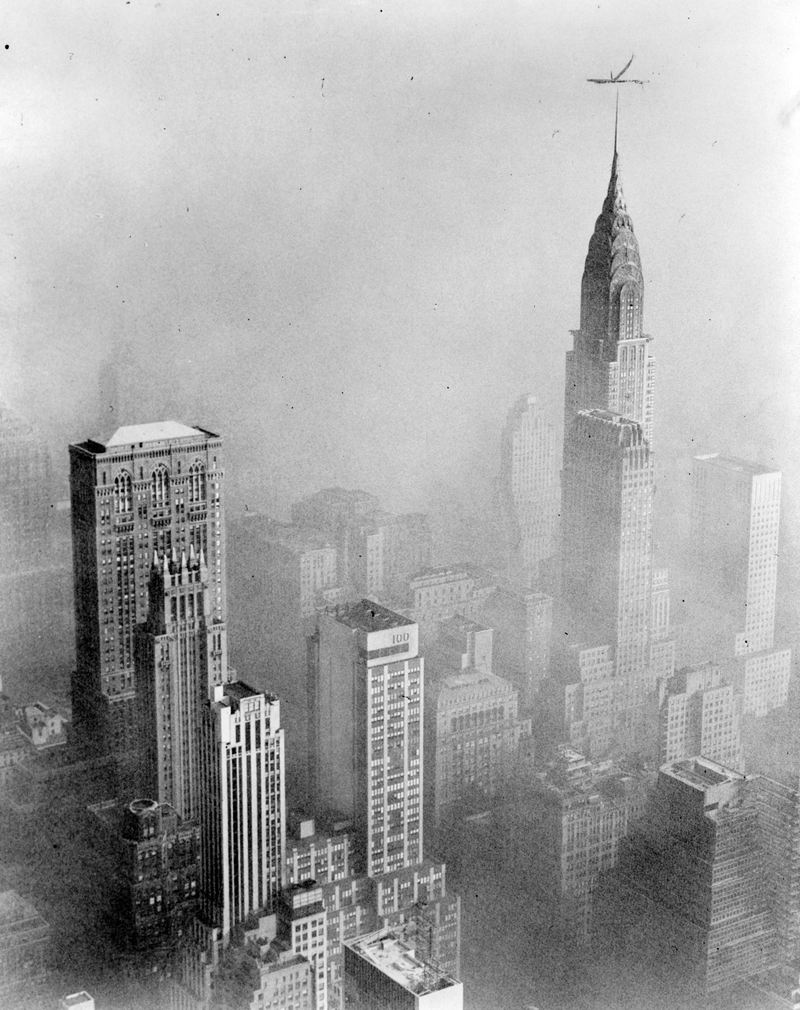 Summary
This episode is from the WNYC archives. It may contain language which is no longer politically or socially appropriate.
Gabe Pressman hosts.

Dr. Leonard Greenberg, commissioner of Air Pollution Control, answers questions.

Panelists: Martin Birmingham, Robert Feinberg, Douglas Kreiger.

Questions:

The function of the Department of Air Pollution Control is to keep track of all air pollution levels. Inspectors look for smoke and fly ash, then make reports. If fuel is properly burned, you don't have waste. Waste of fuel in public transportation. A recommendation to change from diesel to propane fuel for buses. Air pollution coming in from New Jersey. Smog poisoning. Comparison between NYC's air quality and that of other cities: "we don't have anything like the intensity of the problem in Los Angeles." It's illegal to burn an apartment house incinerator after 5pm. NYC is burning less coal and more fuel oil, natural gas.
Audio courtesy of the NYC Municipal Archives WNYC Collection
WNYC archives id: 71979
Municipal archives id: LT6609
Transcript
This is a machine-generated transcript. Text is unformatted and may contain errors.
Commissioner Greenberg is there danger of atomic fallout in New York City is New York winning its battle against air pollution What do we've been doing about the invasion of polluted air from New Jersey for the answers to these and other questions listen now to the campus press conference a transcribed Prize winning program in which college editors and of your prominent personalities in the news to enter duces panel and guest here is your moderator radio and television reporter Gabriel Pressman that afternoon and welcome to another edition of campus press conference our guest today is Dr Leonard Greenberg commissioner of air pollution control for the city of New York our panel consists of Mark in Birmingham of Washington Square College Robert Feinberg of Hunter College and Douglas Krieger of Brooklyn College and now the first question from Robert Feinberg commissioner Greenberg Could you tell us just what the function of your department is. The function of the department of air pollution control is to investigate all sources of a a pollution in Torreon pollution in the city of New York and Britain is under control and so very minimal on the pollute the atmosphere well how do you go about checking the air pollution Well we have a number of ways of proceeding about the question and we have thirty five field inspectors who on patrol all day long and sometimes at night in order to detect violators and when violators are detected. Reported or if it's a second offense they are given a summons and brought to court. That's one aspect of our problem. That problem is more complicated than that of course because in some instances it becomes necessary to make quantitative determinations of the amount of pollution which the source may be putting out into the atmosphere but. This in general is a technique for proceeding on the problem what type of thing that they look for the inspectors Well the inspectors look for smell chiefly and fly ash which pieces of burning paper or such which emerges from stacks and chimneys What do they go Well I think on something I consider violation Well once they have what they consider to be a violation it's doing reported in the office the records are investigated and if there's a previous violation within the same twelve months then the premises are given a summons the court summons have most pensive and cooperative most two years when she says most of the file I could have been cooperative and I married that corroborative they don't like to be cited in court for example last year nine hundred fifty four we got five hundred fifty court convictions with. Seventeen thousand six hundred eighty dollars in court fines for violation of our ordinance question do you have a big enough staff or a systematic check or you just work on a spot check of compliance Well we have a fair sized staff we need about twice as many feel inspectors as we have but within the limits of our staff I think we keep on doing that consistent day to day job I heard that some businesses have been using steam shooting steam through the smoke stacks to conspiracy to conceal the smog this time through this fly ash How do you detect that. Well it's not easy to detect that but I don't think that that's done very frequently because that's a pretty expensive approach to the problem I think it would be a good deal less expensive to control a smoke by proper combustion and save the steam you know wherever you have smoke you have waste smoke bins waste if you will is properly and completely bones of it you get all the heat value out of it you don't have smoke and you don't have waves one of our city passes couldn't muster that that small cannot smell comes to the city passes be eliminated by proper moderate justice and to say that's a waste of your There's no doubt about it our city buses and many automobiles waste fuel. As a great deal of bone valuable material which is discharged in the exhaust but it is not an easy problem to bring this under control. But I think in time I think in time automobile engines are going to be designed far more efficiently than they are today and then this problem will be less and what one of the efficiency now well I think that the discharge of valuable material in the in the automobile exhaust gas runs around seven percent. And this is a waste of seven percent of the fuel our car currently Commissioner you do have a program involving the control of exhaust from buses don't you yes we are working on one of two aspects of this problem you recently promulgated a rule that we have been promulgated a robot we are going to in the near future the board has already approved a rule which we're going to take out on public hearing soon let me explain this when you speak about process you have to be careful because all of us is in the city of New York enough the same some buses a diesel engine buses and some a gasoline engine buses and the technique for controlling the tiller is entirely different we think we can control the gasoline prices fairly well and this is a. New moon which we hope will be promulgated requires Eric which requires them to use humor and reducing devices that's right I'm guessing I mean buses now on a day when one will be promulgated Well I think that'll probably be promulgated within the next officially within the next two months and I'm going to affect shortly after that how about the control of fuel from diesel bus Well that's more far more difficult and we hope that part of that will be achieved by by regulating the kind of fuel the precise type of fuel or diesel buses you if you use a poorer grade of diesel fuel you get more exhaust gas but the diesel bus problem is not a simple one. Mr Birmingham what you want to try to gradually get rid of the diesel buses and carriage companies not to buy them where yes we went one step further Mr Birmingham suggested. To the train to the they consider changing the type of fuel altogether. To a fuel known as propane or mixture of propane and butane this is a field that you use in the country that's bottled you know it under pressure and use it for cooking purposes in the country well that's an excellent fuel for buses it's been used in Chicago and San Antonio can present diesel engines be converted to that yes the buses can be converted over to it at a reasonable cost at cap and how would you distribute it than I mean because by so well you have a gas gassing station just going to have a gasoline station so you would have a gas station for dispensing propane that springs up trucks ninety two How about that well there's really no way it's a compliment this time why is that list as well because. Diesel trucks are source of a large volume of air pollutants this problem is a very interesting and important one and it stretches well away from here to Los Angles as if Los Angeles had a solution to this problem may be a lot better off they are today I think that they need for a solution will probably bring about changes in automobile engines and bus engines so that probably eight or nine years from now we this problem will be so President point butane and I mean the whole air pollution the whole apple or with reference to order more automotive equipment I see that would be the cost that will still exist in other directions or we should all be the cost of this new fuel butane move out of Maine is cheaper than gasoline and even little cheaper than diesel fuel How about this truck situation you say it's hard to regulate it all why is that because the trucks come from out of state are well in many trucks come from other state and. It's hard to find some technique for regulating trucks now it may be that many of them can be converted over to liquid propane or butane but that's a step which is a good deal removed Well so far as buses are concerned we have legal authorities for controlling busses we do not have such legal authorities for controlling trucks well does that mean that once you do control the the busses and the city and I so much expected do that in the in the near future that there won't be any appreciable effect felt by the average person one second not I don't think there will be from or from gasoline buses. But how about if you control all buses you think it will be noticeable Oh I think it would but as I say despite the existence of the trucks the diesel buses are pretty hard to do so the trucks are pretty hard to control they're pretty difficult to bring under control but there are so far as the bus is a concern and the gasoline buses will be brought under control in a very reasonable time and then we will have to keep on working on the diesel buses to see what can be done about them well another the top line for that is the written fairly recently is this atomic radiation as a result of tests of nuclear thermonuclear weapons in Nevada has any of this radioactive fallout reach New York and I did research in proportions. Serious enough to our consideration. Well I think there's no question along but what the regular actor for a lot reaches New York and will in the future continue to reach New York what does that really mean is that mean dust particles that means dust that's contaminated with radiant material I really like that maternal from an atomic or hydrogen explosion that's right but on the other hand I have no evidence I have seen no evidence to indicate that this has reached a level of any significance whatsoever and I doubt that it ever will are you why why is that sir it's too far away Well it's it's too far away and it's diluted too greatly so that by the time it gets anywhere near here it's it's way below an allowable exposure limit Well what is that limit I we don't get too technical but what I was just wondering was this or some way of expressing it in terms of well I don't think there's any simple way that I can describe to you it's usually quoted in the unit known as Rincon. Named after rank in the original discover of X. rays but it's way below what's the what's the danger point. Well the danger point is something like a thousand I believe. Right can see in a year's exposure but I'm not and I'm not exactly clear way that much quite a quite a bit all right said it's very very much below any possible danger level have you as you've been testing it right along our now we haven't been testing it by the long but we've done a few tests on it and we hope after we get into our new laboratory to begin more active work along these lines I think that the way the Atomic Energy Commission doing such careful work all over the country and also in this area we don't have to spend too much time and money on this particular activity but I do think we ought to keep abreast of it and that we will deal and now a question from Douglas Krieger of Brooklyn or commission I heard that the prevailing winds blowing from New Jersey towards New York and New Jersey doesn't have the same strict control as we have what sort of cooperation we've been getting from the Jersey authorities you mean on air pollution in Africa Yes Well it is true as you say the prevailing wind blows from the J.C. side the prevailing wind is westerly generally a westerly wind. In my opinion it brings pollution from the state of New Jersey it brings but the pollution particularly to the borough of Richmond that is Staten Island which is only separated by the author kill from the state of New Jersey's and I believe it brings pollution into the borough of Manhattan and also sweeping across Brooklyn and Queens Now so far New Jersey has not cooperated with New York State in doing anything about this problem. The legislature or the state of New York passed a bill. This year as well as two previous years appropriating a sum of thirty thousand dollars for joint studies with the state of New Jersey. On the understanding that the state of New Jersey would pass an equal amount and this bill I understand has at last passed the lower house in New Jersey yesterday or two ago and is now up before the Upper House in the state legislature I hope it's passed and if it is then sixty thousand dollars will become available to the interstate sanitation permission to do a study of the New Jersey New York problem if it hasn't if it isn't I've made efforts to your interest the United States Public Health Service in such a study and I would continue with the strongest kind of efforts to get the United States Public Health Service to step in and make such a study I am informed. That the public health service does not want to do this unless a request comes jointly from New York and New Jason so they have to caress the state of New Jersey into joining with us and making a request on the United States for the health of the Commissioner do you. Feel that much of New York City's air pollution problem stems from New Jersey a large proportion of well I certainly think that a large proportion in the borough of Richmond and that is Staten Island stems from the K.V.'s how much how much of our problem comes from New Jersey how much of a problem in in the borough of Manhattan in Brooklyn and Queens comes New Jersey I cannot say but I think there's good evidence to show that a large part of the Staten Island problem does come from new js. Well how bad is the situation in New York and I think with Paris and with a city of similar size Chicago or what kind of I beg your pardon I didn't quite hear your question well how does New York's problems can tell with problems in other cities of similar size in that you'll make up of course no other cities equal in size to New York and there was a city I might mention which has such a high density of population as New York has. The county of Los Angeles is very large it is a population now they say of approximately four million but the density is far less than that of New York New York problem is increased by this density is because people on housing and buildings are crowded one so close to the other that F.A.A. sort of pollution exists it contaminates the contents of the apartments in the adjoining buildings and that makes the problem in New York all the more difficult and bothersome to our citizens well have there been any instances of smog quiting such as occurred in Pittsburgh several months ago I mean is this colluded air actually affecting the citizens directly or is it a long time process Well I think that the. Large amounts of pollution has an effect on the health of the citizens who are exposed to it you know I haven't any quantitative proof for that statement in New York City at this moment. But recently a large British report has amazed as a result of the episode they had there in one thousand nine hundred fifty three and it's clear from this report that the high rate of bronchitis and pneumonia from which the British suffer is related to urban living and amp of so in other words you feel that the the analogy could be made in New York City I