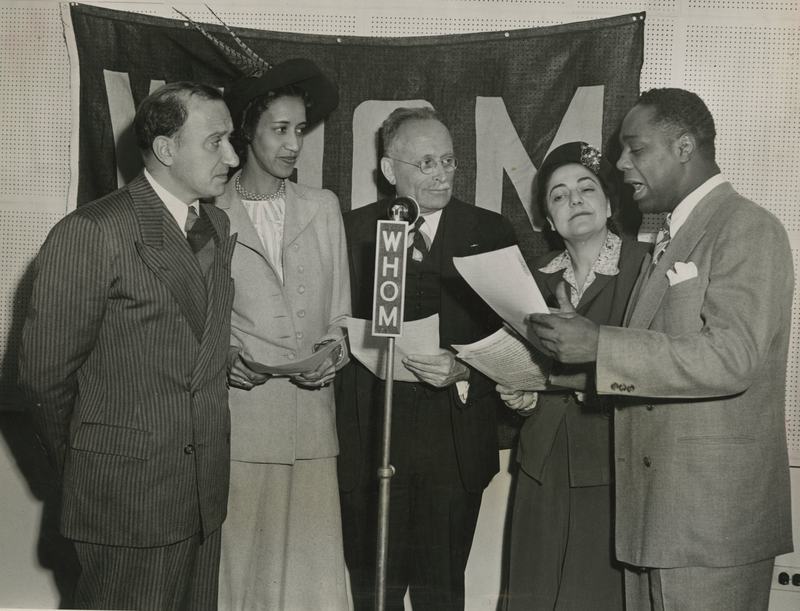 Summary
This episode is from the WNYC archives. It may contain language which is no longer politically or socially appropriate.
State Rent Administrator Charles Abrams on rent control and related problems.

Gabe Pressman hosts.

Panelists: Lawrence Barrett and Martin Birmingham of Washington Square College and Ursula Mahoney of Hunter College.

Questions:

Comparison of living conditions in NYC to those in some Asian cities. Federal rent control. Decrease of Puerto Rican immigration. There should be more English training in Puerto Rico and a preference made for citizen workers to immigrant workers. Loopholes in rent control. One- and two-family houses sheltering 10 - 15 people.
Audio courtesy of the NYC Municipal Archives WNYC Collection
WNYC archives id: 71970
Municipal archives id: LT6605
Transcript
This is a machine-generated transcript. Text is unformatted and may contain errors.
Commissioner Abrams when will rent control and how can the rent control all the tight all of the possible To be fair to both tenant and landlord for the answers to these and other questions listen all to campus press conference or transcribe program in which college editors interview a prominent personalities in the news and hear the way to reduce the panel and their guest is radio reporter Gabriel Pressman Good morning and welcome to another edition of campus press conference our guest today is state grant administrator Charles Abrams our panel consists of Laurence Barrett and Mark in Birmingham of Washington Square College and Ursula Mahoney of Hunter College and now the first question from Ursula Mahoney this driver was recently you were quoted in the newspapers in saying that some of the housing conditions in New York City but even worse than those in Hong Kong people have done Todd was Would you care to comment further on certainly as well as I meant exactly what I said and it's a shocking statement but the fact of the matter is that in most of the places which I visited in Asia and Africa you did have people owning the land on which they built and the climate was warmer they weren't dependent upon paying rent every month or being dispossessed on the streets they weren't as overcrowded and they could build the houses with their own hands and though the houses were slums there was a sense of community here which we seem to lack in the city of New York. And in that sense the the slums of New York with their overcrowding and with the absence of a community and with the destruction of morale and family life. Is considerably worse than some of the slums that I've seen in the underdeveloped countries do you think it's from their running crease in New York City. I think they are and I think they will continue to be on the increase as long as there is not more housing built. And as long as we continue to have the housing famine people will find some way of finding some will find shelter in some way and they will overcrowd in order to pay the high rental because rent control helped or hurt the building of new housing rent control doesn't affect the building of new housing as a matter of fact in this country while we had federal rent control we had the biggest building boom in the history of the country a million four hundred thousand houses built. Yes but is any of this pen where it's needed and moderate or low income no that's another matter but. Rent control doesn't impede and doesn't help the building of low rent housing because the private entrepreneur with or without rent control can't build housing for the lowest income group rent control simply has nothing to do with it but rent control does do this for the lowest income group and that is that holding the line of rent so that they are not exploited during a period when no one can provide housing for them when you see an end to this period when we have to have rent control. I don't know when rent controls will end what. I have done is to approach the whole matter of factually and we're going to have the United States Census appraise areas and if in any class of housing for example in the higher income group or the middle income group there is a vacancy. Which is sufficient to give people a certain flexibility in moving around I left controls from those areas but as far as I can see at the present time rent controls can't be lifted anywhere in the big cities of New York State Well this is the only wartime restriction left over though isn't that why our is rent housing singled out well it's not actually a wartime restriction it happened to have existed during the war but we had rent control in New York State in the twenty's. It's the reason the rent control is here not because of the war but the war is one of the factors which brought red control but it there are a number of other things it's the oppressive situation under which people lead and the exorbitant grants that are responsible for rent control and the war is simply one factor which has accentuated Yes but it is the only restriction of that type in existence today there is no restriction on something like food or clothing of that type and yet there is these are just as basic as housing well as a draft under which people like you Martin are compelled to serve in the army against your consent and that's a worry stricken that survives too and if there was a shortage of food we'd have a restriction of that will go without with or without the. War getting back to the problems farms material used there is that you were quoted as saying that the sixty percent decrease of quarter Puerto Rican immigration is not a boon and may very well prove to be a tragedy would you care to enlarge on my what I mean is that. That the proper Reagan's on their American citizens are forced back into protocol which is an island that is unable to sustain them under its present economy and that part our ego must. Be in a position to. Send from thirty five to fifty thousand Puerto Ricans to the mainland. In order to stabilize its economy. Now that isn't very much very many people and I think that that. It's important that the opportunity is be opened up to the Puerto Rican population throughout the country and I think there are too many restrictions both housing restrictions and economic restrictions against part of Regan's which make that immigration impossible and unless that happens we're going to have a situation where neither party Rico nor New York City can afford these people the opportunities they deserve as American citizens but what are we doing to find these Puerto Ricans decent places to Robin rents they can afford to pay I would say very little as a matter of fact one of the unfortunate things about the situation is that we're even tearing down the houses in which they live we are not providing decent housing for them and I don't think the question is entirely a housing question I think that it has to be approached from a standpoint of. Finding suitable places suitable opportunities for them throughout the country and both of the rural and the urban economy and these are American citizens rather than. Foreigners or immigrants who are taking their chances and they should be afforded large opportunity and that's what it is that what you think is the real tragedy I think that's the real tragedy here of the. Of the Puerto Rican situation and that is that. This. Migration from Puerto Rico to New York. Is not succeeding fully and I think that there's responsible for the falling off of migration that is that the opportunities in other parts of the country have not been opened up to them as they should have been but do you think that we should we should be concerned about such opportunities being opened up to them because conditions you don't think have improved in Puerto Rico sufficiently That's right and in addition to that I believe that that we are extending opportunities to aliens. Such as Mexicans and behave Meehan's when we should be giving preferences particularly in rural opportunities. To our Puerto Rican American citizens where would you say that for lay for that McRaven would you say the city officials hadn't met the proper problem properly I would say it lies in a number of cases it lies partly with the United States' employment service partly with our Congress which is fate you refuse to face up to the situation. Partly to. To the city I'm not criticizing any administration but I think generally it's the fact that most of us being confronted with a situation and we're doing nothing to analyze it because it's a political hot potato what specific measures would you propose Well I would propose a number of things I mentioned all of these proposals in an article in Commentary magazine which is published by the American Jewish Committee and is out this month. On the various measures which should be taken I think for example that. There should be more vigorous training in Puerto Rico in English particularly which is a handicap to migrants. I think also that the U.S. employment service should prefer citizens to a young labor in the United States. I think also that housing restrictions which prevent these people from settling where they wish should be broken the housing situation is a is that throughout the country and prevents them from settling in areas of opportunity for twenty also think that they should assume a certain leadership of their own just as the Negro has assumed a leadership and. Not. Simply. Waver between New York and Puerto Rico but actually take the leadership a man and then in a setting their rights as American citizens to what housing restrictions were you referring Well there are restrictions all over the country particularly in the suburban areas where land is available people came out go to those areas because they're kept out by restrictions they're not written so that you can. Say that there are racial restrictions but they're sufficiently worded to be effective in keeping out people of the wrong race or color of police heard all men are you doing are they they affect all minorities with with different impact I would say that they affect the negro minority and also a part of Rican minority with the greatest impact for creating We've done by the state to alleviate this problem it can be done by the state but it can also be done by the federal government for example if the Federal Housing Administration and all of the other federal housing agencies work to condition a need. To these communities upon their maintaining a democratic housing policy and allowing opportunities to be available to all regardless of race I think that would have an enormous effect. In making opportunity for shelter available to these people astray Burns an essential your job deals with rent control in New York state do you have any ideas for plugging up some of the loopholes in rent control in the immediate future Yes that was in gov Harriman's message there are and there are a number of loopholes in rent control at the present time some of which can be plugged up by administrative regulation and some of which need legislation. For example the constant spiraling in rents on vacant apartments that are increased every two years to the extent of fifteen percent. Has brought increases even now up to as much as fifty two percent of the. Maximum rent and if this continues you'll find that you'll have hundred percent increases through this constant fifteen percent spiral that's one loophole what would cause that constant fifteen percent spiral well when an apartment becomes vacant land on has the landlord has the right to raise the rent by fifteen percent every two years. And what do you think ought to be done about that I think there ought to be a limit on that so that the landlord should not be allowed to charge at least for the next two years more than thirty two percent over the maximum rent. Then there are other loopholes for instance people living in furnished rooms who are generally the aging and sometimes the infirm being locked out governed Irishman's message suggests that dispossessed proceedings be brought when one of these people don't pay rent so that they at least have the protection of the courts not locked out bag baggage and children. Often Also there are many conversions some of them illegal which I believe should be controlled at least for the purpose of preserving the health and safety of the people living in these conversions I refer particularly to these one and two family houses which are really tender boxes and how those fifteen or twenty people of. Keeping warm through these kerosene oil stove and then there are other loopholes which are very technical which cause a spiral of rants the so-called six plus two formula which is self-propelling and its increases and unless plugged up can really cause a spiral with the bombing Ham I What are you going to do with the people that you take out of the terror boxes if you put it. If they're still housing charges where are you going to put where well the whole housing program I think should emphasize first down vacant land and then under developed land. And in addition to that the suburbs should be opened up so that the land is available to people where in other words we have enough land in the United States to house many times the population we have. And the whole population of the United States for example could be housed twelve families to the acre all within view of the Pacific Ocean we could how was the whole population of the United States in a small part of Kansas or New York there's enough space on which man may lay his head and work the trouble is we don't use the space properly why is that. Jurisdictional boundaries of cities that are not extended due to political resistance misuse of land. And failure to develop proper transportation so as to reach land that could be available through a short time distance. Mainly in proper utilization of land particularly around the cities Mr Ames you mentioned the problem of the kerosene or now I'd rented minister it would you plan any program to try and encourage landlords to convert these so yes. There's a lot I haven't the right to. Enforce the law with regard to safety that isn't my job I simply regulate brands but. We do allow landlords to recapture any investment that they make. And if they will convert. To central heating we will allow them to get back their investment by increasing the rents so that the increased rents will enable them to. Receive their investment for central heating within a period of six years I think that's pretty good that's pretty reasonable. During the last campaign with a room governor Harmon said that the fifteen percent increase granted lanolin made at fifty three would be rolled back in cases that. Required it as anything being done on those and how while these cases judged Well there are provisions under Governor Herman's program for. A what might be called a rollback it's an unfortunate term but for not awarding increases where repairs are not made or services and not given then no increases are to be given on the gov Herman's proposals are unless. There unless the repairs and services are maintained in addition to that there are provisions for rollbacks where. Where apartments are not registered or illegally registered or fraudulent play registered in other words the rollback does provide does apply where there is oppression practiced by the Land lot of the landlords argue that their costs since before the war have risen over one hundred percent where their income. Has Risen no more than twenty percent in most cases and that this is why they cannot provide better maintenance Well that's somewhat unfair. That statement because the rent control office does allow increases where there are increased costs. Not in all