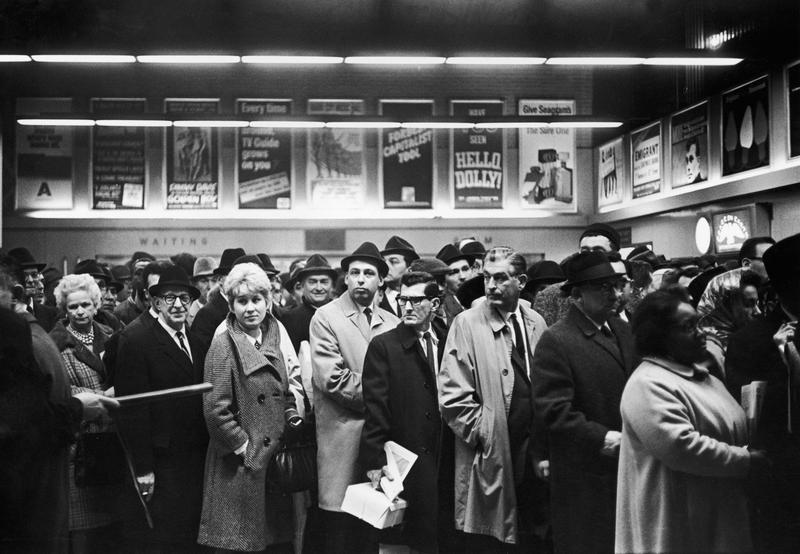 Summary
This episode is from the WNYC archives. It may contain language which is no longer politically or socially appropriate.
From card catalog: Review of day; schools open; fare increase. Timothy Costello speaks of the efforts of city government to settle strike.

Mayor Lindsay's just returned from a helicopter tour of the city. Just because it worked smoothly today doesn't mean we can drive tomorrow. Today worked because of full cooperation of New Yorkers. Tomorrow could be more serious because schools will be open tomorrow. School buses will add to congestion. No further information on the strike. Trial in the afternoon on the contempt of court action. Appeal to employers not to penalize employees who don't show up for work. Hospital volunteers are asked to show up for work. Superintendent of schools, Dr. Donovan makes a statement: schools will be open tomorrow, buses will run. Lindsay corrects his previous statement about hospital volunteers: the request was to be for employees of hospitals.

Q&A: Consequences of the strike on strikers, fare increase. Dr. Costello, Deputy Mayor, says they don't know exactly the economic impact of the strike. Yesterday the strike cost an estimated $500,000.

WNYC reporter sums up the Mayor's statements. Concludes with room chatter.
Audio courtesy of the NYC Municipal Archives WNYC Collection
WNYC archives id: 70665
Municipal archives id: T1714
Transcript
This is a machine-generated transcript. Text is unformatted and may contain errors.
Good morning fellow New Yorkers I've just come back from a helicopter tour around the city of New York with police commissioner Broderick in the police helicopter we traveled all of the borrows. At about two hundred feet altitude and examine the status of traffic and congestion I want to report that the city is in good shape thanks to the cooperation of eight million New Yorkers I'd like to thank all of you who are listening to this broadcast for cooperating in the absence of that cooperation it could have been chaos in the business districts of New York City most especially in Manhattan. This morning it was a little bit tense around seven o'clock or so in the morning and we weren't sure what action we have to take in respect of the bridges coming into Manhattan particularly the East River bridges from the fifty ninth Street Bridge on South Manhattan Bridge way as Bergen Brooklyn Bridge is. That it peaked. At about eight o'clock and it looked as though it was under control and manageable again the fact that it worked smoothly this morning. Does that does not mean that we can afford to let up. The energy here. If it works smoothly it only works believe because you'll miss to New York or get your car off the streets and did not drive it in did not drive it into Manhattan if you change your mind and say things went pretty well yesterday there for I think I'll take a car into Manhattan today I'm talking about tomorrow you'll choke us. The reason it worked is because there was full cooperation and that's a measure of the of the toughness of New Yorkers their courage and their ability to rise to an occasion. The arterial highways looked in good shape traffic was heavy but not critical. I was pleased to see the. Of pedestrians that were walking over the Manhattan and Brooklyn Bridges and the fifty ninth Street Bridge most especially the pedestrians were walking faster than the cars were moving even as late as ten o'clock this morning on those bridges I'd like to thank them for waving to me in the helicopter. There are too many cars early this morning with just a driver and no passengers so if it's critical for you to drive be sure that you pick up your fellow citizens on the way and make sure that there's somebody in a car that can take the car out again and don't come into the congested areas our problem tomorrow. On traffic could be more serious because the schools are opening I've just talked to Superintendent Donovan of the schools fact he's on his way over to this press conference here. And all of the schools will be back on schedule this will require a great deal of additional cooperation on the part of citizens. There about two hundred thousand schoolchildren who normally take the subways most of them are a mile away from the school or a little more a great many of those children will have to walk. Also there will be almost eight hundred buses school buses at work tomorrow so this will add to the problem of congestion most of these are not and the these are not in the business districts of Manhattan or in the business districts of the other areas mostly So it may not be too bad but it still adds to our problem. I am informed also that universities and private schools have elected to reopen tomorrow also and that will add to our problems. Another further report as to where we are in other matters in finance the stock exchange Federal Reserve commercial banks are operating with reduced personnel but also ervice is are available. You tell it these are in good shape the phone company indicates that their staffs are working well in some cases with reduced staff but services are completely normal other utilities. Heat and light and so forth is all right services are normal they are two on food we're in good shape Washington market there's no problem at all major food supermarkets business as usual. Have a report on fuel the oil Institute reports that oil fuels are plentiful in retail areas major stores indicate that their traditional first of year sales will be held later this week rather than in the NE in the early part and they are operating with skeleton reduced staffs as to public events all public events of the city such as official hearings that city agencies and commissions are postponed in the public interest until a later date all city agencies report through the emergency control center that they are operating with their essential staffs. Not to the traffic moron traffic New Yorkers really gave a great impression this morning. Of toughness and courage. So many walk to work. I met as I was I walked from city hall down to the Battery Park teleport to pick up the helicopter I met any number of New Yorkers who had walked in from Brooklyn for example there was one gentleman said he was fifty nine years of age who walked in from Flatbush Avenue in Brooklyn took him two hours to do it but he did it. I should like to thank him for that I continue your group writing if you have to take a car and pick up your neighbors. And don't forget too that now's the time to continue to arrange for staggered hours make your plans to go home tonight those that are working leave it staggered hours either leave early or later than your normal period so that we break up the normal rush hour at five o'clock in the afternoon get out at four o'clock or else stay until five or six o'clock and make your plans accordingly they will be enough you'll hit the usual five o'clock deadline so they will have a bad enough problem at that time so many will voluntarily go ahead I would appreciate it. Many citizens and organizations made helpful suggestions throughout the day for which we are grateful and some of them we put into practice and I say to my fellow New Yorkers again good work I am deeply grateful to all of you. And you've done a good job and I asked Are they asked to the strike itself as to the negotiations and where we are I have talked to Dr fine singer just a few moments ago the chairman of the panel he is at this moment talking with the Transit Authority representatives. And beyond that we have no further information. There's a hearing at two o'clock this afternoon. On in the courts in respect of the contempt of court action. That's a report from the. Corporation Counsel and I don't have anything to add at this moment on that right now the. I have a duck down and see if you put up a chair here. I'd like to ask once again that all employers Please do not penalize any employees who have cooperated with me as mayor and an exercise their civic responsibility by staying home in the event they are employees who really have to take an automobile to work. And same time I want to make it clear that each employer must make his own decision as to who shot and who should not report for work tomorrow that's that's the employer's decision it's his responsibility to make that decision I ask him to go ahead make it and make it in my way in other words rule most people non-essential if you possibly can for another day while a straight hands. Secondly I'd like to urge all voluntary hospital workers all people who volunteer who volunteer their time in hospitals please to try to get to work I am informed by the commission of hospitals that you are needed. There is no problem in the hospitals I want to emphasize but we do need a volunteer help again thanks for your cooperation now here is the superintendent of schools Dr Donovan who has joined us here with this is a moment that he is prepared to make at this time Mr Mayor we feel that education is a very essential activity in the full of tomorrow planning to open all schools day schools afternoon centers in evening schools that means that the regular school bus schedules will also begin to be run again tomorrow. All board of education officers and employees will be at work at the usual time I know that the teachers and principals of the city are going to make a special effort to be into their schools to be see the children on time it means use of car pools and we're going to let the teachers park in the school yards tomorrow so as to keep them off the streets but enable them to get to that destination we think the parents of the city will cooperate we know some children are going to have to walk further than usual because of the lack of transportation but every day lost in education is extremely important to us and therefore with the cooperation of the other city agencies and yourself sir we hope to run full schedule beginning tomorrow. Thank you Doug Donovan I'd like to up like to thank you sir and. That they are that here's a correction it's not to volunteers in hospitals but all employees of hospitals at the commissioner has requested to show up to work. I suppose they can use volunteers also Dr Dennis think it's got all the deputy mayor of New York was here all night long at City Hall he's been heading up most of the of the task force on this. Difficult period and he had about ten of my staff people here all night long also on the phones and whatnot I'd like to take this opportunity to thank Dr Castello and his team of people that have been working here all night long on this problem OK now we are prepared for the best things that that the city this morning was right in August. My press secretary what he client tells me I should repeat the question because it's not heard by the radio and television audience unless I do that question was of is the ease of a of a traffic problem this morning assisted the negotiations in any way I hope they have. I hope that it I will speed them up. Well. For us. No I don't wish to comment on the size of it I do wish to comment on the fact that they are talking and that there are offers and counteroffers being made. They That's a good sign and Dr fine singer is reported to me again as I told you that just this morning that he is pressing them very hard indeed. To get down to the the essentials. Dr fine singer tells me that there is movement and. He thinks he is convinced I think that there is there is a movement in the right direction. He's concerned that it's about its speed of movement and on that he may possibly have something further to suggest later on today but at this moment while he's talking to the trance authority at this moment and undoubtedly with the union right after that there is nothing at this instant to report. That. There. Was. That is right Mr Pressman this question that Mr Pressman ass is am I urging New Yorkers not to drive their automobiles into Manhattan tomorrow and therefore stay home and the answer is yes I'm urging New Yorkers not to use their automobiles to come into Manhattan tomorrow and if there's no other way that you can get to Manhattan except by automobile I would recommend that you stay home. You know what. As soon as it looks right for that and on that Mr Slipper I will. Be listening to the recommendations and suggestions of Dr fine singer and the panel be happy to summon the parties here to City Hall instantaneously on a moment's notice as soon as a it's a bit ripe or. It was here last night and. Stays. Well again on. This question isn't my optimistic am I more optimistic now about the state of the negotiations in the state of the city than I was last night. As I said I am full of gratitude to the people of New York City for cooperating on this problem of traffic and I hope to continue to cooperate and that fashion it was not necessary for us to to have mandatory restrictions on automobiles. Because people voluntarily kept their cars at home. And I hope that will continue as to the Astor the mediations and the negotiations on the strike. I can't say that I'm either optimistic nor or pessimistic at this second. There is movement and there are counter offers and offers being made which was not happening forty eight hours ago. There will be funds available and I'll see to it that this is financed and proper fashion. The mediation panel and they transfer this already they they know the general area. That. The city can go the general area in which you can move. And what I'm prepared to do on this they're they're well briefed they they know where we stand and how far we can go and all I say is on that is that if the collective bargaining negotiations reach an agreement that is fair to the workers and fair to the city and the size of the package and the money impact if that is done we'll be able to finance it. That entirely depends on on the settlement that's agreed to. As I've said all along I hope that we can hold a say or. Some of that depends on the results of these negotiations. I'm not sure I understand your question repeat the question for the benefit of listeners this question is how is the city unable to to do what now. How is the city. Well yes the public authority law requires the subways to be self-sustaining as you know I think it's an archaic law I see no reason why the subway system should have to be on a self-sustaining basis. Because certainly automobiles aren't Washington heavily subsidize the automobiles by pouring money and in the roadways. And as I've said all along I think that that adjustments that are made here financially whether it's fares or anything else has to be done in the context of the integration of the transportation system of New York you cannot talk about fair schedules or about the economy of the transportation system in isolation you must not think of subways in one pocket and buses in another. And bridges and tunnels and automobiles in the third area in taxis in another they should be considered together I believe myself that the revenues from a reorganized transportation system ought to be free to be used for any part of that system by a new authority and as you know I I proposed to put that legislation through as soon as possible that we can do that now the settlement of this strike at the moment can possibly be in the general context of such a reorganization. Well that that determination is reached ultimately by the bargaining parties with the assistance of the mediation panel mediation panel as they move into the into the hard bargaining here will be prepared to make some suggestions I'm sure and. The transit authority is not to about to accept any. Settlement that is unfair to the public that's unfair to the eight million people of New York City because of its size and the union on the other hand will press for an adjustment and wage levels and fringe benefits that is fair to the workers at need what the purpose of collective bargaining. Is ultimately to reach an agreement on both sides that both sides think is fair granted authority figure eight million people is the employer. Of end of the tax payers the union fair to their people the mediation panel can assist in reaching that middle ground by using their good offices and that is a process that you have to go through that's what collective barg