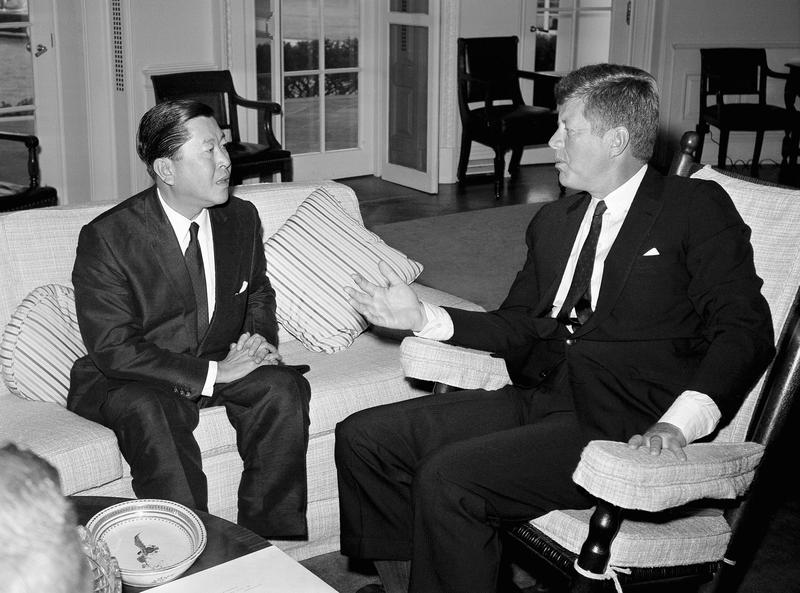 Summary
This episode is from the WNYC archives. It may contain language which is no longer politically or socially appropriate.
From card catalog: Thanat Khoman, Foreign Minister of Thailand, talks about problems of SE Asia: Communism; conflicts in South Vietnam hindering development; role of the western southeast Asia; support of South Vietnam; references to Thailand. Questions and answers.

Host introduces Khoman. "If you read the news, you think southeast Asia is in flames." A new method of warfare, psychological and political means of fighting. Why has South Vietnam reached this state of affairs, a major center of disturbance?

Joe Newman hosts Q&A: Proposal that special force of the UN be formed to resist forces in South Vietnam? What chances are there for success in southeast Asia? For everybody's sake, there cannot be a failure. Neutralism in Thailand? Regional agency to deal with the problems in southeast Asia? Reaction from China if action occurs in North Vietnam?
Audio courtesy of the NYC Municipal Archives WNYC Collection
WNYC archives id: 70445
Municipal archives id: T588
Transcript
This is a machine-generated transcript. Text is unformatted and may contain errors.
It's my very great pleasure now to introduce a man who not only has passed years studying the developing a problem and opportunities of Southeast Asia but has had a very major role in constructive trends that do exist in that area it's my great pleasure to introduce foreign minister of Thailand. Mr Salmon. Distinguished ladies and gentlemen of the press. Distinguished guests. I should like to say that. Every time I come here. I feel more and more pleasure. Last time more than a year ago. I was here. And this year. When Mr Newman contacted me. To come here again. I jumped literally at the invitation kindly extended to me. The limitation was sent to me from bank to Bangkok and I'm sure that Mr Newman has caught the onset very quickly in spite of the fact that Bangkok is half the way around the world. So. You can be assured that I feel deeply appreciative. Of only of your kind hospitality. But especially of the opportunity you are giving me. To come and be in your midst. And to all give me the opportunity. To come and tell the story of Southeast Asia. Well if you. Content yourself. With. Reading. News and dispatches. You may think. That Southeast Asia is inflamed. I hope that my presence here. And the brave look that I tried to put on my face. Will convince you. That we are not aflame yet. And I hope that if there were to be cleansed. We will extinguish it. As rapidly as possible. But I hope at the same time. That you will not take these few words that I have just said as a sign that. We are living in Southeast Asia in the bliss which comes only from ignorance or unconsciousness of the danger and threats. With which many of us are confronted. No we are not unaware that on the contrary. I may said yes and the question to you. That every night before I go to bed. I give into my mind at least a few minutes as how. We can solve the problems of Southeast Asia in the morning again when I wake up. I try to find out whether the night has brought. Good Counsel. In general. The answer that I found use negative. That is to say no wise counsel has prevailed during the few hours of the night. But that does not mean to say. That we are short of ideas. Or you make your nation all we are really you know duty to try to solve and to resolve all the difficulties and dangers. With which the region of Southeast Asia has been beset. The problem. Stems mostly from the fact that SES a share. Has been under foreign domination for a long time now those foreign powers have vacated their left. With lock stock and barrel and battle. And the left evac if a vacuum. Which is very hard to feel. During the many decades. They stayed in many parts of Southeast Asia. They did not take enough. Time they did not give enough attention. To. The preoccupation of trying to train those who. Take their place after they have left their I know at Minister to Congress they are all very skilled. Technicians labor doctors teachers road builders and so on and so forth. So when they left there was literally a gap. Which remains to be filled and as soon as those people left. Those who are nearby under spot immediately start. Filling the gap on the vacuum with their own presence. It is particularly true I think. Of a country known by the name of north we have not yet known I'm not trying to give you the officer name I think it's something like the Democratic Republic of Vietnam lots or something of the sort but official names matter very little. What we know always that it is an element which represents some certain danger. Sarsi session as you know. North Vietnam came into being after the first Geneva Conference held in nine hundred fifty four. Vietnam myself hall was partitioned into two. And divided by and imaginary line called the seventeenth parallel Now whether that line crossed the. Ranges on the. High summits of the mountain or streams that does not matter. What did it matter to those who took part in the Geneva conference on nine hundred fifty four that they were you know how did to get away from Geneva because they stayed there too long they were away from their homes and they start off using that imaginary line but this isn't between North Vietnam and South Vietnam. And it is how not a man came into being. As you didn't know it from the word democratic. Regime in power in North Vietnamese what we might call them or simply a common history regime it's a kind of democracy which. With which we are not just takes about but it's the kind of thing that exists they call it. Rich people's republic or democratic republic it comes to the same thing it means that it is totally terrorism regime dominating the territory now I am sure and there are many evidences and indications which point to the fact that on the eve or even the next day after the Geneva Conference of nine hundred fifty four which concluded. I am sure that in the minds of the people in North Vietnam they thought of stepping into the shoes vacated left by the French it would seem to them natural because the rest of what was known as the French in the Chinese states were in the state of this organization. Organization. And because. Those territories were hardly quit to become independent and sovereign territories backed by the other communist sister nations North Vietnam set as its primary objective to dominate the other part of Vietnam and then lead the south now the most interesting thing is that the North Vietnamese did not think of crossing the border namely the seventeenth parallel and hurled them themselves down down South they found a better way of doing that they make a detour to the west they went first into Laos and then from there. I said where no nasty horse trail there come down to southern Laos and then through Cambodia into South Vietnam urban myths that adopted by did not mean the Mid-East in this connection is very characteristic of the concept of political warfare and also on military warfare all of you I'm sure remember the event which signified the downfall of French and French empire in Southeast Asia the name of the end been food must be still ringing in your ears. Every time we talk about Vietnam every time we talk about Southeast Asia. Well how did this cause such a resound ing victory over one of the major powers in the world namely France. By crushing the French forces that we hadn't been for well cause and as you know the not Vietnamese did not resort to. Kind of a warfare known as. War movement. War movements using tanks and artillery and so on and so forth they use the abundant manpower which they had at their disposal they used mostly small arms but they used the craft techniques of get a lot warfare that was enough to bring about the most resoundingly victory in the history of military warfare the French forces were crushed. France had to withdraw and you did withdraw after the Geneva conference on nine hundred fifty four I talk about all this because it has a great deal of bearing on the present situation. And possibly on the future situation in Southeast Asia and perhaps in the whole of Asia in the first place as I said. Mr the warfare has been Cloyd and successfully so that warfare was of course a couple with many psychological and political means of fighting. And that had achieved the goal that had brought success to those who would like them. Since then those people have been very successful in the employment of this new tactics Mr warfare has been constantly using these methods they use that in Laos they use that now in South Vietnam and they are trying to use my country they tried to start with the first phase of sending. To recruit sympathizers to recruit workers to start political sales call Bill. And then the seven eight The tall and discreet. Propaganda without even once mentioning the word communism the word communist Communism does not appear anywhere in those. Activities. In the infiltration and supposition. Employed by those people. They will those sections will tell the people that the government authorities are no good they don't look after well the people they don't care about the people. There have no desire to see people raise their standard of living while if those people work to come and work with them they would get free tractors they would get free schooling free health service. Free books and so on and so forth that children would be taken care of in the best possible manner they would eventually get into a high post in administration and government. You know case they have told our people that if they couldn't get the tractors they might get the buffaloes free of charge. Buffaloes do not grow all on the popularity. They don't grow on trees they have to be raised and fed and bred but those people are the companies. They claim to have buffaloes with an abundance while in fact they don't even have enough to eat. Well this is the kind of. Message that the I'm right and that of course is the first stage. The next stage would need to stir up trouble at the troubles disorders rebellion and then the nuclear movement would be formed to fight against the government authorities and then the last stage would be insurgency insurgency supported directed equipped led from outside by communist powers not Vietnam or communist China doesn't doesn't matter they are all all the same all of the same well. In Thailand that tried that and we knew enough I attacked me and we had enough for what your police here called The more modest operandi I think that that meant that means I'm I'm not very good with the police matters but I heard ice watched on television and I think that that is. The kind of thing that they are trying to do. And we moved. Swiftly to counter to counter that and I'm glad to say that we have scored very significant very significant success. We have not completely eradicated these illegal activities but at least we are sure that the first face started by the communists in Thailand has not met with success. But unfortunately in other countries nearby. Thailand nearby to Thailand they have achieved some success Laos has been. At very substantially and now the Communist. Laotian groups control more than half of the large territory but the worst is in South and South Vietnam and with your permission I will come to. That South Vietnam of course is the major. Of the storm it is now the place where our concern I was raised in our preoccupation is I direct I know you also are so many things have been written and said about South Korea now recently there have been very interesting interview published by one of the leading thinkers scenes of the United States I have read them and I found them very interesting of course I'm not going to. Repeat those things what I will try to tell you today is a few facts which we Thailand see. In the first place why should South Vietnam have reached this stage of a fast how come that's South Vietnam. Has now become a major center of this turbans. Well. That is exactly the reason why I had to talk about a few things about former French administration French colonial system. Because South Vietnam has been a colony for such a long time and when it emerged into and bend and sovereign nation. It was hardly equipped to proceed to head along the road of independence with what it had. It was not prepared at all for that. Role before that the country was governed by foreign people for the foreigners government and ruled for the South Vietnamese all for the Vietnamese in general or south and not therefore the south side with the means never had an opportunity to learn and still less to experiment with the duties of government they never had any opportunity to do that now since South Vietnam has become independent it has had to face constantly. Major struggles South Vietnam in fact has been at war constantly ever since and even before it became an independent nation so you can well imagine that even though in peacetime it may take a long time to learn about the art of government the I don't. It will be even more difficult to learn during wartime how to govern a country how to minister a country that is one of the major reasons. Why soundscape finds itself in the press and. The press and press predicament. But in spite of that of those facts South Vietnam managed to have. A government which has known it reasonable for a period of stability. You'll remember of course. Which has no one in spite of great difficulties handicaps a fairly long period of stability but then everyone said. Correctly I believe that the average did not satisfy me that's creations and wishes of the South Vietnamese people of course Mr Gore. Committed a few mistakes especially the mistake of bringing of bringing into the government too many of his too many members of his family and especially the female member of his family. I say this with due respect and deference to the ladies will sit here but of course they have nothing to do with government while the lady who happened to be in prominence in South Vietnam tried to exercise talk to much of the powers of government without realizing and accepting responsibility but be that as it may the D.M. regime has brought South Vietnam certain period of stability now it has been toppled. You can well. Imagine in the minds of comparatively simple people. That when you say and when you act. In such a way as to almost role for the government the result is that the faith of the people has been shaken no doubt about that even though the government may be bad the government of that government may have made many mistakes. That result and why the play was that the confidence of the people has been checking now they are not sure whether the government which has succeeded will be a better one apparently they have made it clear that they didn't think that the succeeding Gulf governments in South Vietnam were any good at all and acted accordingly that is the trouble once you are strong some people. The pedestal millions of people will have doubts. In their minds. And it takes some take some time before the confidence start. This is one of the major reasons as I see why South Vietnamese now grappling with the grave difficulties of finding a government which will ensure stability and security in that country. And the other thing is that while I believe as you do. That the government should be in the hands of the civilian people and not in the hands of the military people I am afraid to say to have to say that under certain certain circumstances. The civilians may not be well equipped to undertake the responsibility of ensuring stability and security there is a need for strings and perhaps strong executive Please be assured that I'm not trying. To extort the quality or the virtues of military culture of military governments I'm also I'm also a civilian the higher the highest ran