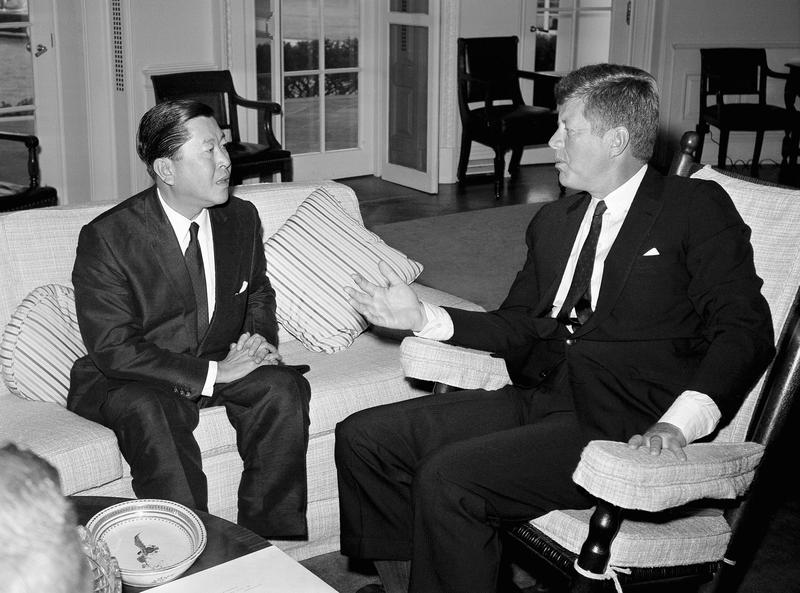 Summary
This episode is from the WNYC archives. It may contain language which is no longer politically or socially appropriate.
From card catalog: Thanat Khoman, Foreign Minister of Thailand, speaks on conditions in South East Asia.

Host, Joseph Newman, Program Director of OPC, introduces Koman. "South East Asia is not quite the Disneyland people may have in mind." Dangerous life in Thailand. Life in Laos. (7:00) (9:30)

A new form of imperialism, ever since the end of the second world war. Specific routes feared for invasion in to Thailand: Laos is the most likely route. Association of South East Asia: solidarity and unity.

After the speech, the host introduces the ambassador.

Question and answer: how do the members of the Association of South East Asia work together? A joint South East Asia military group? South East Asia Treaty Organization. Agreements with the US. Menace from North Vietnam. Relations with Malaysia and Philippines.

Audio courtesy of the NYC Municipal Archives WNYC Collection
WNYC archives id: 70356
Municipal archives id: T376
Transcript
This is a machine-generated transcript. Text is unformatted and may contain errors.
Time a coal mine has been foreign minister of Thailand for some years and as such has made a point I'm selling quite a distinguished career throughout Southeast Asia. He was the initiator of the Association of Southeast Asia a cultural and economic association of Thailand Malaysia and the Philippines at the present time he holds a number of other POWs chairman of the Thai Export Promotion Board and in that capacity will be holding some meetings in other parts of his country during his present state and United States is also deputy minister of national development and chairman of the tourist promotion board. Before World War two He studied the poems in economics in Paris he has a doctorate in law from the Sorbonne in one nine hundred forty one he entered the foreign service in the one nine hundred forty three he was appointed second secretary of the Thai embassy in Tokyo the service charge eight affairs in Washington the New Delhi The first time representative to be set to the newly independent India he also was served as ambassador to the United Nations and to the United States. I have great pleasure to introduce tonight come on the foreign minister of Thailand and an Atlanta. I was there when. Will lead his attitude and the demand of the press. It's not every day that reporters are. This distinguished have members of the press agreed to listen to a report from me and not the reporter so I feel highly privileged that are not to be asked to say a few words. I was asked to make a report on Southeast Asia but when I look around I see that. Great number. Of. You have been to Southeast Asia and perhaps you know Southeast Asia even more than I do. So I feel like bringing coal to Newcastle. Be that as I said may. I. Hope that. You will be indulgent to me because I do not know all the tricks of the trade reporter I suppose they are a few which I am trying to learn and I assure you I will learn to the best of my ability. According to the books on China whole history books and some other books. Appears to be a fairy tale or. Something like it is the land where. Rhinoceros pop up from anyway. Elephants tigers so and so far. Not. To disregard the reptiles. But nowadays. It's not quite that this is the land that some people have in my. Something may pop up from the jump from the jungles but usually they are not right and all strive for elephants their heads off some soldiers. Armed to the teeth of cars with guns mortars and whatnot. It's up to you to judge whether the. Rhinoceros or some other wild eyed the most fierce and more dangerous than what we have to cope with now. So Southeast general remains. A land where. People do not as yet completely joy peace and stability. In many parts of Southeast Asia. Either you in the jungles of Laos. The high plateaus of what was called the player in the shop I don't know what the jobs have to be that but that is the name that there they give the place land of just I haven't seen them myself but I'm told that it's a beautiful land so nice to. Get it picturesque. But like now it's not. Too easy. You never know when you have been there and they land on your. Bed. You never know when the. Hundred and five millimeter Howitzer will begin to roll on. And you didn't know when you when you will be dislodged from your house. This is the unfortunate situation. Both in Laos and of course in South Vietnam. Where people continue to. Be bought and to die. And many more have to die unnecessarily because they are fighting because those who. Do not do not want to state that Homeland. Want to expand that territory that political can control and perhaps also to make. More economic. Laws has been an unfortunate land from the point of view of not enjoying peace and stability it was since it attained its pendants after the war. In number of conferences had to be called to try to settle the fate of that kingdom. Every time there was an international conference on Laos the profits do not go much to the Laotians but they seemed to go to other people who are not from Laos. The first time. They called France's held in Geneva. Recognized that that world interest either that or. The second one only. Two two years ago from nineteen sixty one and that and then they went on to light in sixty two. Outside elements. Exactly those who place themselves under control and subjection of foreign elements have been recognised to have a legal status. I am referring to group called the but. But it allows means the latter allows. The name may sound quite lower ship but I can assure you the group has nothing. In that parts that blood. They are completely subject to. Meisters staying hundreds of miles away. And they are so subservient that musters that. Interest allows only remote. So the question in the south but equally and particularly in Laos and South Vietnam is the question of expansionism. In the form of. Which has been extending. For a number of yes ever since the end of the Second World War. Quite. Understandable why people want to extend their influences and control herself she said. Softly to rich. People. I suspect. There is enough room for everybody more than their lands and culture. Can be a source of. Riches and food and food stuff so. The powers of the countries which faced with the problem of population especially from the east thought that south. Prize. Could extend that control over that part of the world. So that. To extend that influence and control. The whole peninsula of Celsius as. Bad as many resources. Lumber. Iron. Especially. Rice. Abundant that that's right fact if you look at my Thailand they are the men's blood of Christ which as you know is there but food of thousands of millions of people. So in Laos and in South Korea it's a question of expansionism. Of. Actions to secure the control. Not only of human beings who live in that part of the world but. To the resources which are abundant part in that part. And that is why the main objective. Of the Christian parties outside South. Are to secure. The domination of Southeast Asia that is what they have been using on me. Especially the coverage. Of some version infiltration insurgency and. Military actions I believe that they are willing to go that far and use. Limited force to. Help them attain that. Thailand happens to be almost. The only country in the heart of Southeast Asia. Which has been able to maintain. Comparatively large degree of peace and stability. We have done that science too many factors because. Our people are united. People of Thailand I do not under that King who is not only the spiritual strength of our nation. But the valley. Of each and every one of our thirty million people. In the past we also experienced some difficulties because we tried to adopt. Suddenly. What is known as the Western policy system. In nineteen thirty two that was a change of the. From. Into a constituent constitution a form of government but unfortunately the people were not quite prepared. To. Adopt the practice of western parliamentary system had we experienced instability. And important change in the orientation of Thailand took place we agreed to recognise. That. Although we practice. Various tenets and principles of democracy. Because we know of no off no differences of classes we have no class system. No cost either. Each and every one's. For the law each and everyone has the right to enjoy his life his freedom and as you say in the United States to pursue. Happiness as they want to do. At the same time there have also obligations for to fulfill part of the nation part of the society and taught the people. But. We realize that in order to adopt and apply and to practice all the forms of western parliamentary system. We have to have something else than just the right to go to cost by looking. On the Election Day. As we see it. As I have been told by a number of friends in Western countries. Western parliamentary system requires the existence of a good party which. Of substance substantial campaign finance. And offer a number of things especially political sophistication. That we may not fully. But that's why we apply our energy now if it's to build. Basis would infer a sound basis for future democracy in this specially the part known as. The representative system of government. When we can build a good party. When we can organize. Hundred dollars a plate dinners when we have good sources for funds for. Electoral campaigns then I think we will be right to. That form of parliamentary system. That may not be made to last because every ounce of power in the city is being channeled and devoted to the development of the country. As Mr Newman has been so kind to say I have many jobs because they are short of personnel but I consider that my most important job is lest that of a minister of foreign affairs and that of a man who wants to build a good economic system at least some of the activities in the economic field that will bring prosperity and development to my country. I consider that part of my job much more important than even. For the fact that at least it is more creative at least it gives me much less headaches at least I can see the people of Thailand enjoy the fruits of my lady. So. Southeast Asia now in short. Is something like a volcano we in that part of the world may be sitting on it. Without knowing what's going to happen next. But as you look at me I'm not particularly panicky. I'm not completely despondent and especially I have not lost faith. In. The hits and the future of Southeast Asia. In that where I'm somewhat different from some of our neighbors. Who happens to get very part of the coverage I think in this country or anywhere else in the Western world you know whom I have in mind I read this morning again that when C.N.N. said that. South Vietnam was done for. Cambodia maybe it may be done for next. And that may explain why his country refused to sign the Nuclear Test Ban Treaty so so that by and by that action he will not displease his big brother to the east he saw that by creating. By a pissing. And by the joining. The crocodile or the tiger as. He may like he may be the last to be eaten up by either that crocodile or the tiger. In Thailand we have a different approach probably we know the dangers we know the danger will come from the north east of. Time. We know that the danger has been approaching. For some time not only. On other parts of. Asia. We spend some time looking at the map. And we see that form in access. From the north north into South East Asia. The extreme. Western access from the north and northeast. As you know. The area. Where you may have heard that there had been some trouble not very long ago. The other or the other. Might be. In what they call it. In the far north frontage. And the Far East. Between India and Pakistan Pakistan that is possible in relation to. The first one would be closer to Thailand it might be north. That will lead. To South. Into tight. And a fourth one. And perhaps the most accessible. Would of course be through Laos because Laos is not very well organized because lousiest very weak. Office the least possible resistance and besides that as I mentioned to you. There are groups in Laos which are completely subservient to the. So you know. We are inclined to think that the most likely. Route that. Roy in the next move in Southeast Asia. Would be. That the road allowance while we keep. At least as cool and as calm as possible. We are not. Praying. With things. That we can do something to help. Against the tide. Of. Them from north east. We can do it if we are united. Nationally and regionally people of Thailand are united but Southeast not. United. At least trying to do everything we can within our limited means and resources. To help. Create a notion. A conception of solidarity. That is why we have tried our very best to set up that organization called the Association softly. Which is an embryo of solidarity. That part of the world and we shall continue to devote every effort to help and help promote. The. Practical cooperation amongst the nations of Southeast Asia. And we think with cancer seeds. Of the draw of our people Thailand and I think all the peoples in self-interest do not want to live under subjection. They want to be free as we in Thailand want to be free so much so that we have. We have given that notion of freedom to all the name of our kind of our country. I believe we all believe that the peoples of Southeast Asia want to be free and to remain free. And that this wife of difference with our friend Prince you know is that we do not respect we do not think that we are God our last. Thing very much that we care exists and subsists as free countries that we shall do everything we tell you. To that it thank you and. In the and. Mr Minister thank you very much for a very very dramatic statement I think it is no exaggeration at all to say that it is one of the perhaps the most outspoken statement of Frankenstein perhaps the clearest statement by leading spokesman the Southeast Asia regarding the situation in that part of the world I think I can assure you. The moment the strict role of a journalist I can assure you that you're not going to be alone there. While the minister was speaking the ambassador the best of Thailand to bond arrived on the scene. Detainee no doubt by the proceedings at the United Nations on my left is a bastard I am not. And. Now we reach the point where our guest takes questions and answers and as I know he will do. As frankly as he has just shown he can speak right now Dr James Sheldon will take the questions and we hope the questioners will first identify themselves. Thank you John. Will recognize questions first from very pressed table. Most everybody areas press but those who got specific deadlines first Betty Adams of A.B.C.. News Minister you have said that you yourself took a leading part in the creation of the Association of Southeast Asia how do you think that these countries can cooperate and work together when some of them do not even recognize each other. Well I think the best unsubtle of that question is to a competitive situation with the family a couple. Well some of us are married and we know that in our life we have to go through some difficult moments on some occasions we don't or the wife doesn't talk to the husband or the husband doesn't talk to the wife doesn't mean that the marriage just completely wrecked. I think the silence the fact that they're one wouldn't talk with the other he said temporary occurrence. And. There are signs that the silence will be kept as short as possible. In the meantime Isiah will continue to be kept in what I might call the deep freeze for a while. And