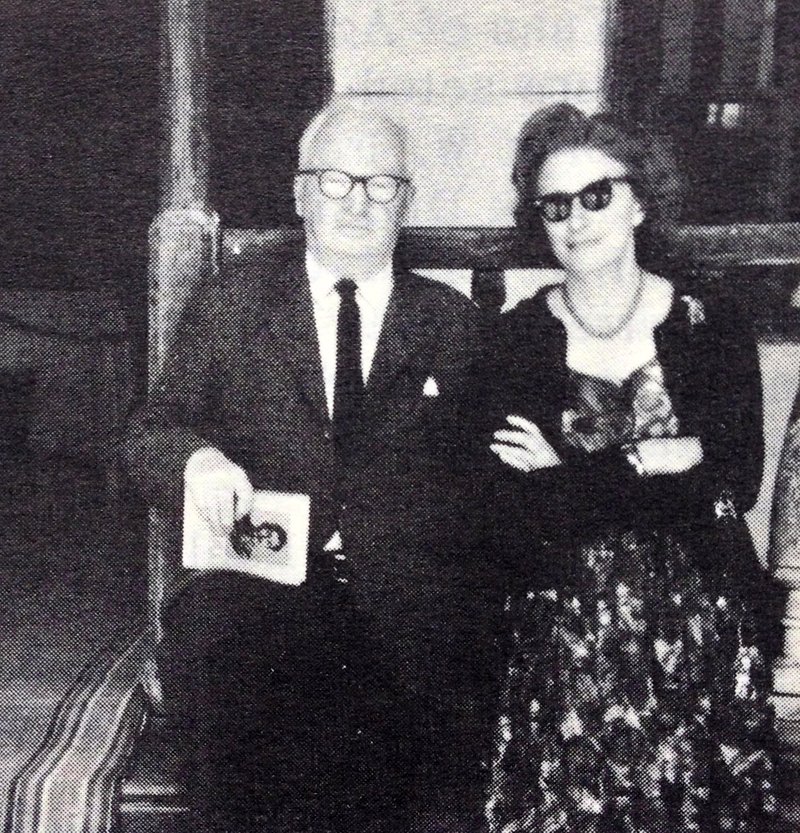 Summary
The exact date of this episode is unknown. We've filled in the date above with a placeholder. What we actually have on record is: 1963-uu-uu.
This episode is from the WNYC archives. It may contain language which is no longer politically or socially appropriate.
Introduction of Russian journalist Isaac Don Levine. Levine's speech missing.

Question and answer period. Levine answers questions related to changes he has seen in Russia. He discusses Stalinism in the Soviet Union and in the United States. He says he came back convinced of the proposition of two cold wars, the first proclaimed by Lenin and the second proclaimed by Stalin.

Levine answers other questions related to the Soviet Union and Communism.

Audio courtesy of the NYC Municipal Archives WNYC Collection
WNYC archives id: 70314
Municipal archives id: T143
Transcript
This is a machine-generated transcript. Text is unformatted and may contain errors.
Before presenting it Eugene Lyons. Who will take over the program I'd like to say that tonight we are having an interim Merican international light night at six o'clock at the beast Rome. With Latin American food and the entertainer will be Pedro Vargas who is called Latin America's being Crosby I hope as many of you as possible be yet be able to be with us tonight and the one other announcement like to make is that next Tuesday at six thirty pm we will have an open house with that the new superintendent of schools Dr Calvin grows as our guest you know will be at seven thirty and Dr Gross will talk about. The crisis in the New York public schools and the fret of a teachers' strike without further ado it's a very great pleasure for me indeed here in the very heart of the summer time to welcome such. An illustrious turnout for our weekly press luncheon. Isaac Dunn Levine is one of our the founders of this club and with the journalist Alliance are a panel that we are indeed thrilled to present to you I know that. Mr Levine is going to tell us a few things which will be making news in the broadcast tonight and in the newspapers tomorrow Eugene line going to take a look. Frenzy arrangements for this luncheon were apparently a little confused were just par for the course and I came prepared in my mind to make a speech the only way they could cut me off knowing me was to make me master of ceremonies. No I'm responsible for the assignment of time and so will refrain. Rafiq temptation to talk about the test ban about Taurus's he's now one of the returning tours a number of other subjects. I think we have a concentrated. Group here men and women to know a great deal about communism and the Soviet Union. But they're getting the freshest information so wonderful thing about information on Russia and communism no matter how much you've read and how much you've written. In there are quite sure in your own mind there waiting for the last man to have come out of there to set you right and we've got him here but before I get to the latest of our arrivals from. The headquarters of Utopia I ought to mention Hadley's that we have here such distinguished people as the group from the American Committee for liberation headed by Howlin Sergeant they're sitting right here they'll soon be out of work all of them as they probably know because the Cold War is all but over the judged by not the content but the tone of the reading you've been reading and they deal with the Cold War We have lately Natalie Hamilton and those. Been. Right up to her pretty neck and anti-communist work most of her. Life and then like paul wall of home I know chiefly through the Christian Science Monitor has done some of the best reporting on the Soviet Union and communism extent and as I. Look around I despair of going any further except to say that one of the most colorful characters that some of us knew in Moscow more than a generation ago back in the early thirties was a photographer by the name of James E. Abbey I can't figure out his age but if my arithmetic isn't right he's around one hundred twenty. But he doesn't look at that he still I think is now in its fourth Bama lay and has and book and still photographing him from San Francisco and I'd like Abby to take about. I'll take the privilege of having the microphone before me to include of former president Bernard Hershey into the panel and says it. Says the panel apparently will have nothing to do anyhow this need to learn new and just in case we don't get around to him I'd like to introduce the one member of the panel who do his own distress I'm sure was not a president of the Overseas Press Club he's only a quibble and of the president of the United States in his own area as Leo turned we all know. And to save time we'll get right down to the. Speaker of the day. I'm afraid he's not going to say anything that will surprise me because I ran into him and Paris a couple weeks ago twice by accident and got a lot of it then I took him over to Pleasantville for a luncheon with our editorial group there and what is normally an hour now and have lunch and stretched into three hours and then we left the thing reluctantly what he can do in the twenty minutes assigned him I don't know but he's pretty good and I can trust him as oh don't you still have at least five minutes I've only started on. As Barack as Barack mentioned he's one of the founding members I remember distinctly There were about fifteen or sixteen of us at the first meetings of the the first gathering of the overseas Purslow but they were going to go and of course a lot of people since then that discover they're there and I think that the numbers swelled about three hundred but there really was only there were only sixteen of that many and he was one of them I'll guarantee. Very little time for questions and the usual procedure is to start the questions with the press table of there are any then the panel hair and then the audience I remember you Paul. I will refrain from asking questions in the stead make just a few very brief Commons number one the your suggestion for transferring the correspondence to a more convenient place because to my mind a much earlier period when certain newspapers particularly the Chicago Tribune couldn't get correspondents into Moscow and so place them out in really good and rigor became particularly among us radicals and liberals almost ace unarmed a synonym for advice over propaganda then I got the mask out and I discovered that the things Reagan was reporting were falls only to the extent that they didn't measure up to the horror that are actually in existence because what happened is they talk to people coming out refugees and what not they tell them about famine about mass arrests and whatnot and these correspondents are always cut in half or by three quarters to make it sound at least. Plausible and short Rieger was doing a pretty good job when you look back and measure what they actually reported and one of the commenters on the first which I visit many times it's a lovely city. I don't think that done meant to convey that the population in Georgia is. Stalin and the communist sense it was always one of the least communist areas. Even than Stalin's time and I find it hard to believe that has suddenly turned one hundred percent a communist I think what's involved there is a psychological search you asian where style and addition to being and this will be in their own eyes because he visited so many horrors on his native. Was also a Georgian I think what they really resent as that they didn't have the privilege of doing him in and I believe it to a lot of Russians. They don't especially like that sometimes with that and you have no idea why Mr Press myself to say no more other any questions at the press table. The question as how about censorship any changes there and down the abolition of censorship was the region why I found the condition of the working press so shocking having abolished the censorship they have instituted me many controls which I tried to convey here in my brief report there is no point in having censorship in an barren area for news. Censorship is useful in a country where you can roam around and pick up suppressed or otherwise little known or unknown important news items and when the government is able to extract from the saw you will every we and give you a desert for news then censorship becomes in itself. Meaning bullish and that is largely largely it can lend itself to debate and controversy. Largely did condition that I found in other words to sum up and repeat the new regime in that I talked to would have welcomed the censorship of nineteen twenty five. We do conditions for getting news every Thursday and to conditions of today without the censorship any more than table. In that case I'll call. Sure. I have the privilege of. Saying a few things and I know to say my license as a moderator will end with a question in which only retard. I hope I don't disappoint Jane by starting with a question and ending with a question I function under a double liability and I conveyed by way of apology I'm not only been handicapped by not having at any point been a member of the Communist Party or in any way even attracted to a lot of ANY point in my lifetime I've never been the. I've just described a state of total ignorance consequently therefore I must of necessity be limited to what it is I've heard what it is I've learned by more remote means. I think I had probably been misinformed maybe only a function of the limited area at which you addressed itself but I had been led to believe and was very impressed by this. Because I share with others. A total admiration for your responsibility. As well as your. Incredible capability. I've been led to believe that you returned from the Soviet Union. With a feeling that there had been significant if not profound perhaps even profound changes and as you know we have been inundated with in recent weeks with the many evidences of. Radical change not only in the relationship between the United States or the Soviet Union but by definition of course radical change within the Soviet Union it is a thing to me that I had a somewhat remote point during the many years that there have been a number of points during the Soviet period and under Stalin in which by any of the criteria by which we measure relaxation there was substantially greater freedom than that which is presently represented by you have to shank all other such profound developments you. It seemed to me indicating in your own experience that in an earlier period your all the conditions under which you the press operated were infinitely free of those which prevailed today and I therefore ask you having listened to your limited data and being impressed enormously by Am I correct in finding or in understanding you to say. That you have returned with no conviction of a significant relaxation of what we have known today for the Soviet state this is a large order I think I am entitled to say to all my good friends your turn to all the other friends here that any inference is drawn up on the basis of hearsay. ABOUT WHAT ARE am supposed to have said here and there. He's not to be given any credence on lists I see in writing or directly on the record the way I'm seeing it here I have come back and up with any sense of profound changes have come back the way an American would come back after thirty nine years and look at New York and Washington or to any other major capital and cities of any given country of course that are changed. Changes of impressions not profound changes so I never said so or never thought so as to the nature of the system I implied when I started that emotion thing that I've fallen in DESERVE IT Union was the working condition of the condition of the working press Now let me see if I can sum up in four or five sentences the thing that has been troubling me since my visit to the Soviet Union Well there's been troubling me. Is the gap between. Intelligent and sober and. Communists in the West on the one hand and between deep roll wish to earn elements that are not to be found in the Soviet cueing and primarily in Moscow on the other hand what has been troubling me is the fact and I call it the fact that we are both living in the stall in Iraq. In the United States and in the West a very large segment of any tight community. Operates sub conscious to begin with and consciously as chief Stalinism was still in its full force in the Soviet Union the Stalin ization is far far from complete and so do they over there are laboring under a similar handicap of carrying a gun in the stalling tradition which is deep into busts of certain elements in the West now that is a statement which requires far more time to analyze and to discuss but I did not go to Russia and I hope no one here would think that ID believing. That the Cold War must go on forever. Or believing. That there is no way out except a nuclear war I went to Russia the way I went to Poland two years years ago when I interviewed good move in an interview which I'm fortunately was never published in Life in which in a series of eight questions I tried to probe the basis for a possible settlement between the two for the purpose of every voice again what route. Or what looked like an eventuality to testify and from that point of view I must say. That I came back from the Soviet Union convinced of the following proposition which may come as news to some listeners a proposition which goes to the heart of the confusion in the West the proposition being not one cold war but two Cold Wars the first Cold War was proclaimed by the leonine forty five years ago. It's a cold war to which course shelf subscribes wholeheartedly and the principles of which he expounds very frankly we shall bury you or we will bury you the second Cold War is the one discovered by traditional for the large masses starving scald war a war of the Between the States a diplomatic war. If one realizes the nature of these two cold war see if one analyzes and separates them then one can arrive. At the I hope for a conclusion that while the first Cold War is insoluble and can go a long. God knows how long until freedom triumphs we hope the second Cold War is capable of solution and must be solved unless we permit people with frozen minds or bigots or room to ticks and we have them the kind of people that had tech Eugene lions in the birch magazine se. Communist God knows what they don't call him agent but I say suppressed and repressed communist if those are included pics then I know no definition of lunacy and if we are going to let these people have the added weight then there will never be an end to the second cold war and I am for ending the second Cold War because a regionally I was never a Marxist I was never going to take the stand that answers Jeanne if I drank the milk of any fell off of earth or thinkers perhaps it was people like her pumpkin and indeed United States it was bound to be Jefferson they were not people who believed in statism and in the state being dissed to preen way of bringing about the best of humanity and so I shall close on this. Well I hope before you leave town I'll argue this first and second call war with you I don't quite see the. Line between them. PAUL Well I've been waiting patiently the first races has any questions like task. Well let me just put of this way some of us are fascinated by the proceedings and are either unemployed or pretend we are. Those who have to go back to jobs or our board and maybe a few will understand quite well if you rise and go out because we should be quitting now. And those that want to remain will keep it on for a few minutes longer. Why don't you come up here and then I won't have to repeat it. I wonder whether the condition of our