Skanska's working for the city.  Who's working for Skanska?  Plus: are lowering steel prices a good thing?
We've been keeping an eye out for the subcontractors Skanska is using as they rehab the Bridge.  I usually check in with the city's stimulus tracker once a week or so.  The tracker is a fairly straightforward way to watch jobs that are using stimulus money.  I noticed in my recent visit that Skanska has registered three new subcontractors:

(above information is taken from the NYCStat web page, which uses frames, so we can't hyperlink directly to it!)
50 States Engineering is a Hackensack-based company.  It's not listed with the city as a certified minority/woman owned business enterprise, but according to their website, the company's president is a woman.  (Other info gleaned from their website:  one of the staff members is a member of the MENSA Society (the so-called "genius" society), another has a degree in theology.)   Ferreira Construction is another New Jersey-based company, and they're listed as a certified minority-owned vendor on the city's website--which will help Skanska meet their 14% minority and women subcontractor requirement. The third company on the list, Underpinning & Foundation, is a (bluntly-named) company that's actually owned by Skanska. 
Who's missing from this list?  During Vice President Biden's visit to the Brooklyn Bridge, we saw workers wearing vests from two other companies: Greenman-Pedersen, Inc. and Sam Schwartz.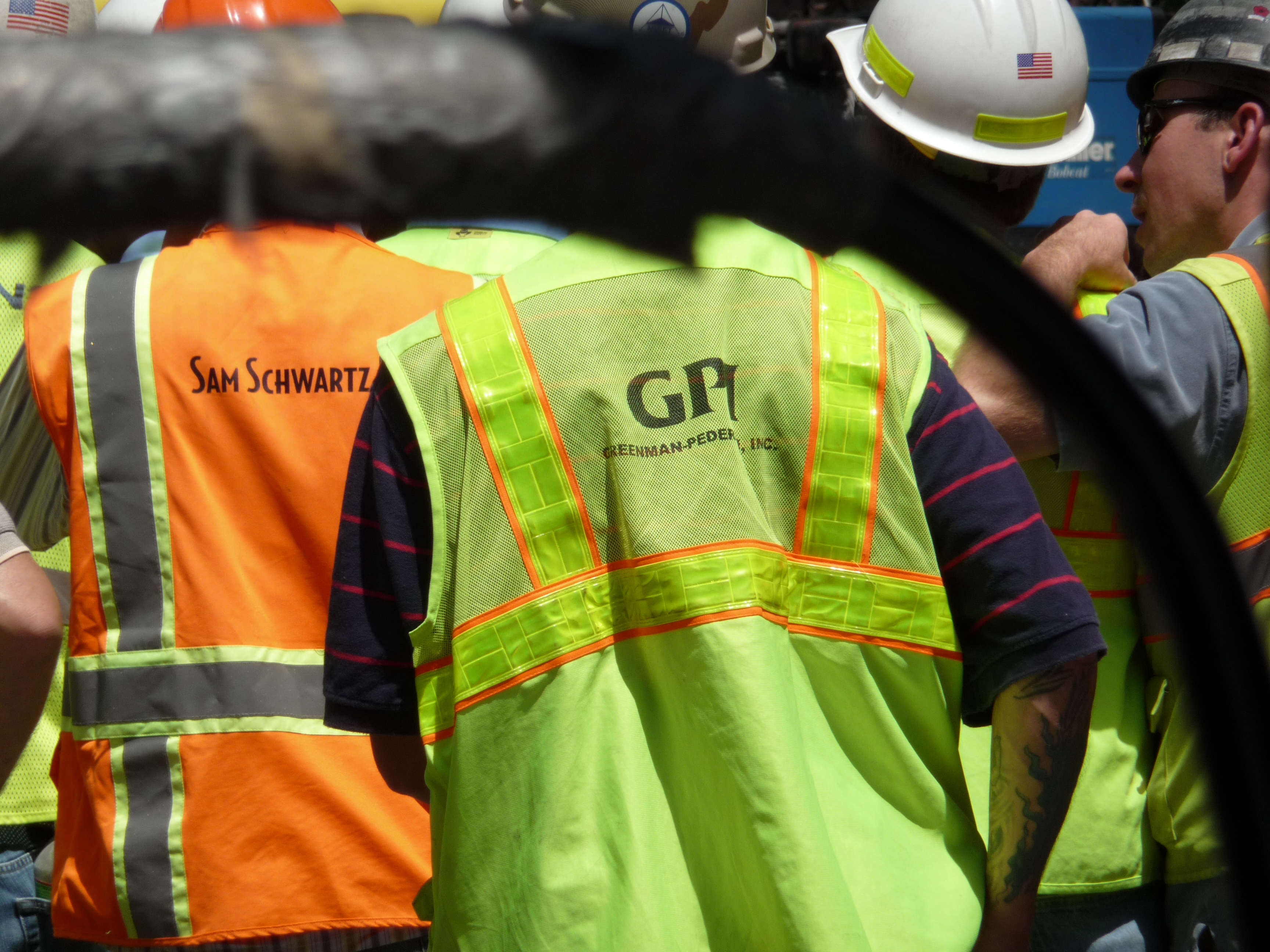 We've asked the NYC DOT why GPI and Sam Schwartz aren't listen on the NYC STAT site; we'll report back when we learn more. 
UPDATED: We heard from someone at Sam Schwartz, who wrote:  "To answer why GPI and Sam Schwartz Engineering are not listed on NYC Stat – it's because both do not work for Skanska. Sam Schwartz Engineering is a sub for GPI and GPI works directly for the NYC Department of Transportation. GPI and Sam Schwartz Engineering are not Skanska subcontractors."
Meanwhile, we'd like to know:  who else is working on the bridge?  Comment below or email us at brooklynbridge@wnyc.org.
Steel Prices Go Down:

There's a story in July 7th's Wall Street Journal about the price of steel, which is on the decline.  This could mean bad news for the economy – but potentially good news for the city. The work on the bridge calls for a lot of steel (one page of the request for proposals mentions 44,373 kilograms of structural steel, which translates into about 49 tons -- and again, that's just one page). Another item in the bid summary is "precast concrete filled steel grid deck panels," which the city engineer estimated would cost about $24 million, and Skanska said would cost about $39 million. Given that the contract provides for price adjustments, we wonder if the city will recoup some money when all is said and done.  The Journal points out that steel prices will have to remain low for a while for the drop to have a lasting impact.   No word from the DOT on what happens if steel goes down, and stays down.