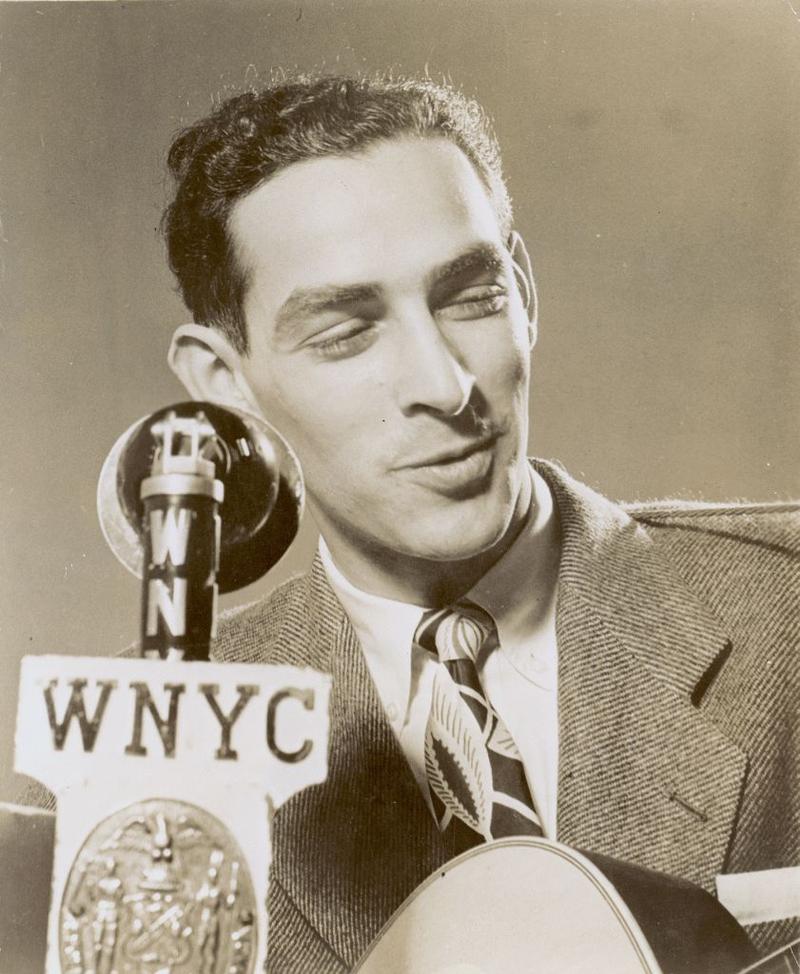 WNYC host Oscar Brand died Friday at age 96. This is a tribute by WNYC archivist Andy Lanset published last year.
Until I met him, I used to think of a barefoot Oscar Brand roaming about the station, a guitar slung over his shoulder, strumming and singing folksongs. That's because when Oscar started, announcers always introduced him as "WNYC's shoeless troubadour."
At that time, his theme song was an earnest entreaty to women of the city to leave their homes and "dance by the light of the moon." 
Sometimes it was "yon Municipal moon," or even "the WNYC moon." But Oscar hasn't done that for some time. While theme songs do change, Oscar's show is still pretty much the same as it's always been, a showcase of folk music talent, and veritable Who's Who of folk music for the last seven decades. You name them, Oscar has had them in the studio, recorded them for the show or just simply played their albums. They include Bob Dylan, Joan Baez, Judy Collins, Pete Seeger, Huddie Ledbetter, Woody Guthrie, Jean Ritchie, and Josh White, to name a few. You see, it is indeed a very long list.
Of course, Oscar has been an extremely busy fellow for the last 70 years, pretty much since he got out of the army. Along with being on WNYC, he's cut a whole lot of records, written a bunch of songs and ballads, been a TV host, an emcee, composed music for a Broadway musical, been an actor, author, narrator, storyteller, musicologist, historian, game show contestant, playwright, children's recording artist, American Music Festival host, Curator for the Songwriters Hall of Fame, an honorary Ph.D. and won two Peabody's, among other awards. One of those other honors is from the Guinness Book of World Records (can you guess?) for having the world's longest-running radio show with the same host.  And if that wasn't enough, rumor has it he's also the namesake of Sesame Street's Oscar the Grouch. Now that's a legacy.

While it would be great if we had a copy of Oscar's very first show, alas, we don't. The earliest edition of The Folksong Festival I've been able to find was recorded for Labor Day in 1946.  You can listen to it below.
Hear Oscar celebrate Folksong Festival's 70th anniversary at 10pm every Saturday in December on AM 820.
More Oscar!
Celebrating Oscar - The 60th Anniversary Special hosted by Leonard Lopate
Classic Oscar from the 1940s and 50s.
Oscar Interviews Bob Dylan - A Soundcheck Reprise