Patriotic Eating: Beyond Red, White and Blueberries
In honor of Independence Day, Last Chance Foods focuses on the red, white and blue — and we're not just talking about that favorite summer confection, the Rocket Pop. WNYC's Amy Eddings spoke with Serious Eats market reporter Ben Fishner about what's coming in at the green market just in time for the holiday.
"The cherries might be on their way out, but things like bell peppers are showing up," said Fishner (pictured below). "Blueberries, I'm happy to report, are just starting to show up at the market."
While there might still be an errant sack or two of cherries at the market, local you-pick farms have mostly closed up shop when it comes to the fruit. This year, in particular, was challenging for some local farms' cherry crops. "We had an extremely early bud break and bloom on all of our tree crop that was due to some abnormally warm weather in the early spring," explained Josh Morgenthau, the farm manager at Fishkill Farm in East Fishkill, N.Y. "We then had a subsequent heavy frost that wiped out our whole crop of cherries." He does point out, however, that cherries are notoriously a high-risk, high-reward crop.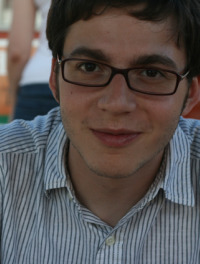 Both Fishner and Morgenthau said eating locally — not the color of the food — is the most patriotic choice for the holiday, and year-round. "It's really win-win, supporting our local farmers...because you come away with a better product," says Fishner. He notes that corn is starting to pop up at the market. "You have more delicious corn, I think, coming from New York State and New Jersey, than you would find in the supermarket shipped in from the Midwest."
Fishner also writes a blog called Ben Cooks Everything, which details his attempt to cook all the recipes from Mark Bittman's epic cookbook How to Cook Everything. Here's his suggestion, adapted from Bittman's recipe, for a red-white-and-blue, picnic-friendly salsa.

Queso Fresco Salsa with Blue Corn Chips
Adapted from Mark Bittman's How To Cook Everything


2 large ripe fresh tomatoes, cored and chopped
1 small onion
1 teaspoon minced garlic
1 kirby or burpless cucumber (optional)
1/2 cup queso fresco (ricotta salata can substitute nicely here as well)
1/2 cup fresh cilantro or parsley leaves
2 tablespoons fresh squeezed lime juice
Minced fresh chile to taste
Salt and pepper to taste
Blue corn chips for dipping

1. Combine everything but chips in a medium bowl. Taste and adjust seasoning. If possible, let the flavors develop for 15 minutes or so.
2. Serve alongside the blue corn chips.