In the Trenches with 'War Horse'
Nearly three years after opening at England's National Theatre, "War Horse" (now at the New London Theatre) remains one of the hottest tickets in London. The stage show is making its long-awaited American premiere at Lincoln Center in March 2011, and Steven Spielberg is set to release a film version in August of 2011.  Based on Michael Morpurgo's children's book, "War Horse" tells the heart-rending story of Albert, an English farm boy, and his hunter, Joey, who is sold by his feckless father to be a cavalry mount in World War I. Albert, still under age, enlists, and sets out for France to bring his friend home. 
Behind this story are some heart-rending statistics—more than a million horses went to war between 1914 and 1918, and few survived. What sets "War Horse" apart from both touching stories about the human/animal bond and the many powerful narratives about the horrors of "The Great War" is its astonishing production, which uses life-size manned puppets to represent the horses. Handspring Puppet Company, the guiding spirit behind the concept, spent 25 years developing some of the designs that make their intricate wooden frames (think Trojan Horse meets bionics) move with incredible power, precision and delicacy.
The result is a story that the audience experiences—intimately and viscerally—as much from the horse's point of view (as in Morpurgo's book) as from Albert's and the other characters.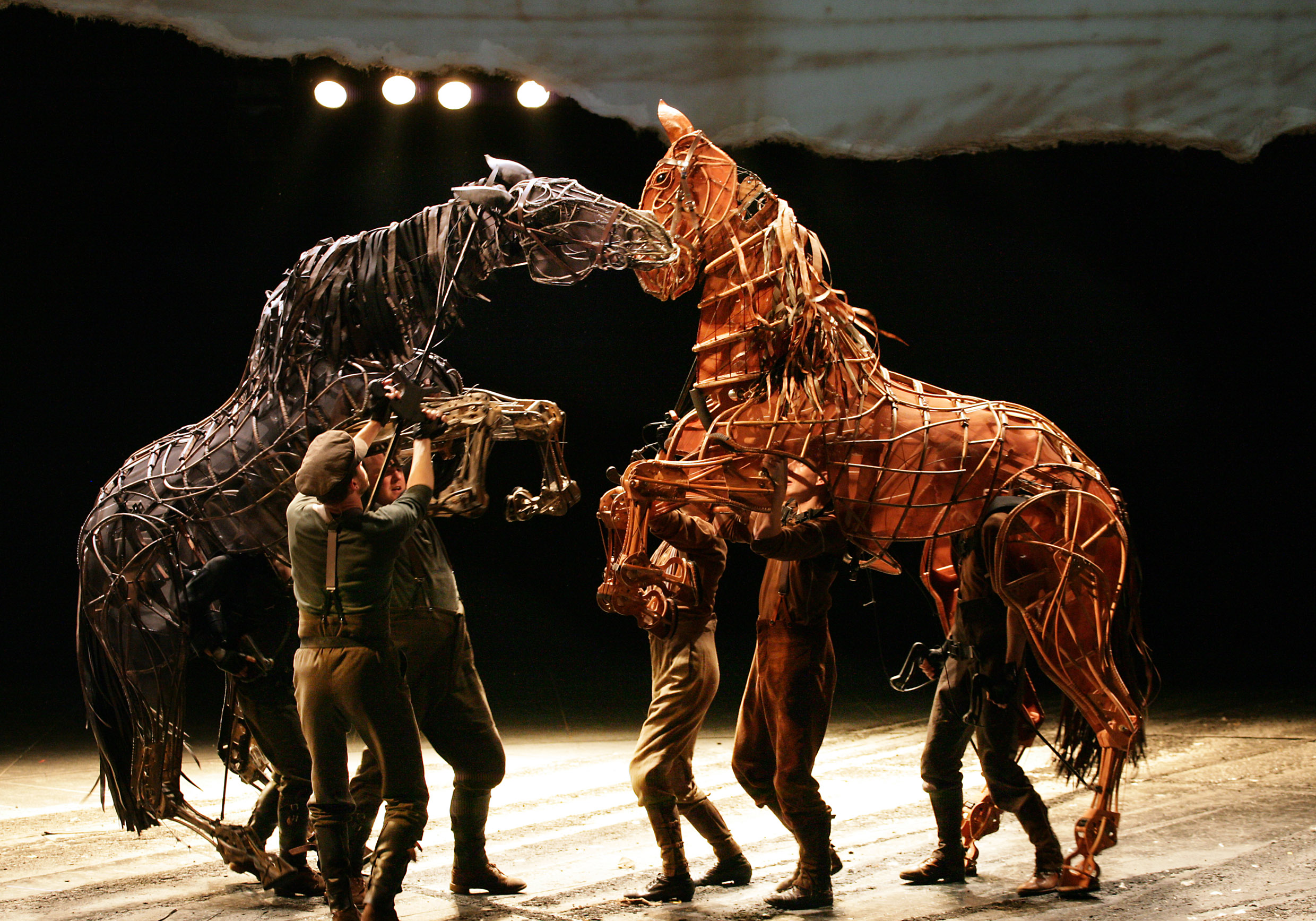 "War Horse" has three principal horse "characters"—Joey as a colt and as a mature horse, and Topthorn, another cavalry horse. Earlier this year, just before seeing an evening performance, I interviewed Toby Olié, a puppeteer who has been with the production since it was workshopped in 2006, about what it means to bring a horse to life.
The puppeteers began with an intensive rehearsal process that involves breathing exercise (how Handspring "connects" their puppeteers, says Olié,), and work inside the life-size puppets. Contemporary puppetry is a sophisticated theatre art—Olié has a degree from the distinguished Central School of Speech and Drama—and Handspring adheres to one of its established tenets: The puppeteers are completely visible and must persuade you to suspend your disbelief entirely with their art. "We describe it like you're anticipating the start of a race.  You're ready to go, poised and waiting for someone to initiate a move. And the most exciting moves are when you don't know who initiated it."
In preparation for their work, the puppeteers had not only concentrated studio rehearsal time, but hands-on experience. They visited farms and watched horses plough, and worked closely with the King's Troop Royal Horse Artillery, a ceremonial unit of the British Army.
Watching maneuvers (and films on YouTube) helped the puppeteers understand exactly what happens to a horse's body when it's in motion, and the work pays off especially in the production's awesomely realistic battle sequences.
According to Olié, playing a horse is exactly like playing any other character—you need to understand both its physical and its emotional life: "You try to strip away the human instinct, because you don't want the horse to become too anthropomorphic."
This identification results in a kind of psychic transformation. When the puppeteers are "in horse," as they call it, they are horses.
Ultimately, what makes this transformation possible is the incredible structure of the puppets. "They're pretty much a real horse," says Olié, who took me on a "tour" of his character, Topthorn. Listen to the audio tour of Topthorn here (and listen to more of puppeteer Olié above):
As we stood back stage at the New London, hints of the production to come were everywhere: A tank floated from the ceiling; the limp "bodies" of soldiers hung eerily on the wall, ready for one of the play's terrific and terrible battle scenes; and bits of the score trickled through from the pit.
An hour later, all these elements came together on the stage, and along with the rest of the packed house, I transported to 1914, and completely carried away by this simple, ultimate tale—a boy and his horse, in a world gone mad.