WNYC's World Cup Culture Guide
As the world turns its attention to the planet's biggest sporting event, it's not all about the games. Whether you are a casual observer or a die-hard fan, you are bound to encounter the music, video and art of the World Cup.
MUSIC
Like all good international sporting events, the World Cup opened with a larger than life, made-for-TV concert. The bill, designed to reflect the diversity of soccer-loving nations in attendance, included the Black Eyed Peas, BLK JKS, Hugh Masakela, and Juanes, among others.
More than a few musicians have put out special releases for the Cup, including amateur producers churning out nationalistic tunes for the (very) unofficial World Cup Song Contest and the biggest industry players.
The official, FIFA-sanctioned World Cup album is called Listen Up!, and it's exactly what you'd expect: a mush of hyper-dramatic, "feel-the-rhythms-of-Africa" anthems and "we-are-the-world" ballads sung  by artists ranging from R.Kelly to Matisyahu, often in awkwardly paired transcontinental collaborations.
The compilation is helmed by Shakira's "Waka Waka (This Time for Africa)," a loose cover of an 80s hit from Cameroon and the official song of the World Cup.
Though it might not be officially official, the song you're hearing oozing out of every recess of the media landscape is "Wavin' Flag," from Canadian-Somali rapper K'naan. The infectiously feel-good song has hit #1 in a number of countries, including Germany and Switzerland. Tellingly, it barely grazed #99 on US charts.
K'naan has tailor-made twelve bilingual "Celebration Mixes" for footie fans in places around the world, from Nigeria to Indonesia. Each includes a different local pop singer and, amazingly, has its own music video. The Arab World version below, features Lebanese superstar Nancy Arjam.
For those that like their World Cup music with a little less overt cheese, The Fader's Pitch Perfect mixtapes might hit the spot. The music magazine has teamed up with Nike to release six mixes, one for each continent participating in the Cup.
Each mixtape features cover art depicting pixilated animals playing soccer and comes loaded with dancefloor-worthy jawns curated by the big names of global ghettotech. They include a cumbia-heavy South America mix put together by Rio-based producer Maga Bo, and a Caribbean-flavored North America mix by San Franciscan globalista Chief Boima.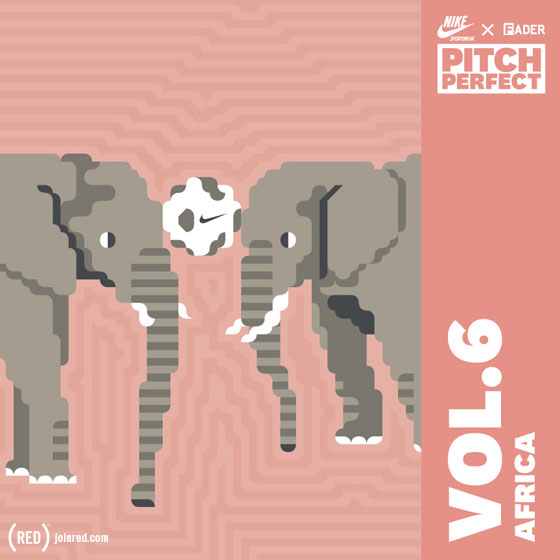 The Africa mix, released on June 11, was created by South African DJ Spoek Mathambo and features plenty of kwaito, the local Jo'Burg rap-techno hybrid sound, as well as a few coupe decale tracks from the Ivory Coast, a tournament favorite.
While you're at it, stop by this blog.
VIDEO
With $425 million paid by stations for U.S. broadcasting rights and a projected $2.69 billion to be gleaned in sales of official FIFA merchandise alone, there are gobs of money to be made on the World Cup.
Sneaker companies are marketing particuarly hard. Nike, Adidas and Puma have all entered the fray with a slew of glossy World Cup-themed ads and some are pretty spectacular. While Adidas comes in close second with its "Celebrate Originality"--David Beckham, Snoop Dogg and other celebrities are digitally inserted into a Tatooine cantina alongside a young Harrison Ford--nothing competes with Nike's "Write the Future."
In the course of three adrenaline-soaked minutes, we see how a misstep by Ivorian striker Didier Drogba lets an entire nation down, how a split-decision by English star Wanye Rooney influences the British economy, how a stylish dribble by Ronaldinho ignites a worldwide dance craze and how the outcome of a penalty kick by Portugal's Cristiano Ronaldo results in the construction of a 15-foot statue in Lisbon. Brilliant.
As far as pure weirdness goes, it doesn't get much better than this Brazilian ad for food processing giant Seara, in which three players from the national team reenact the choreography from Beyonce's "Single Ladies" music video while dribbling soccer balls.
For those in search of more serious fare, look out for Fahrenheit 2010, a muckraking documentary that takes a critical look at the social and economic impact the expensive Cup has wrought on South Africa.
ART
None of the major New York City art museums are doing anything special for the the World Cup, but a few smaller art spaces will be celebrating the event.
Through July 11, Tribeca gallery apexart (291 Church Street) will have an exhibit titled Men With Balls: The Art of the 2010 World Cup. The show is mainly composed of video pieces, including a work by Miguel Calderon titled "Mexico vs. Brazil," in which Calderon reedited matches between Brazil and Mexico to make it appear that Mexico won by a score of 17-0 and a piece by Santo Talone called "Italia-Brazil 82'," which takes the camera movements of the eponymous match and applies them to a waterfall landscape scene. There are also a number of still pieces, among them a spraypainted work by Liam Gillick. Below is a still from a Maria Marshalls video piece, in which a boy practices soccer against a wall, with the ball conspiciously missing.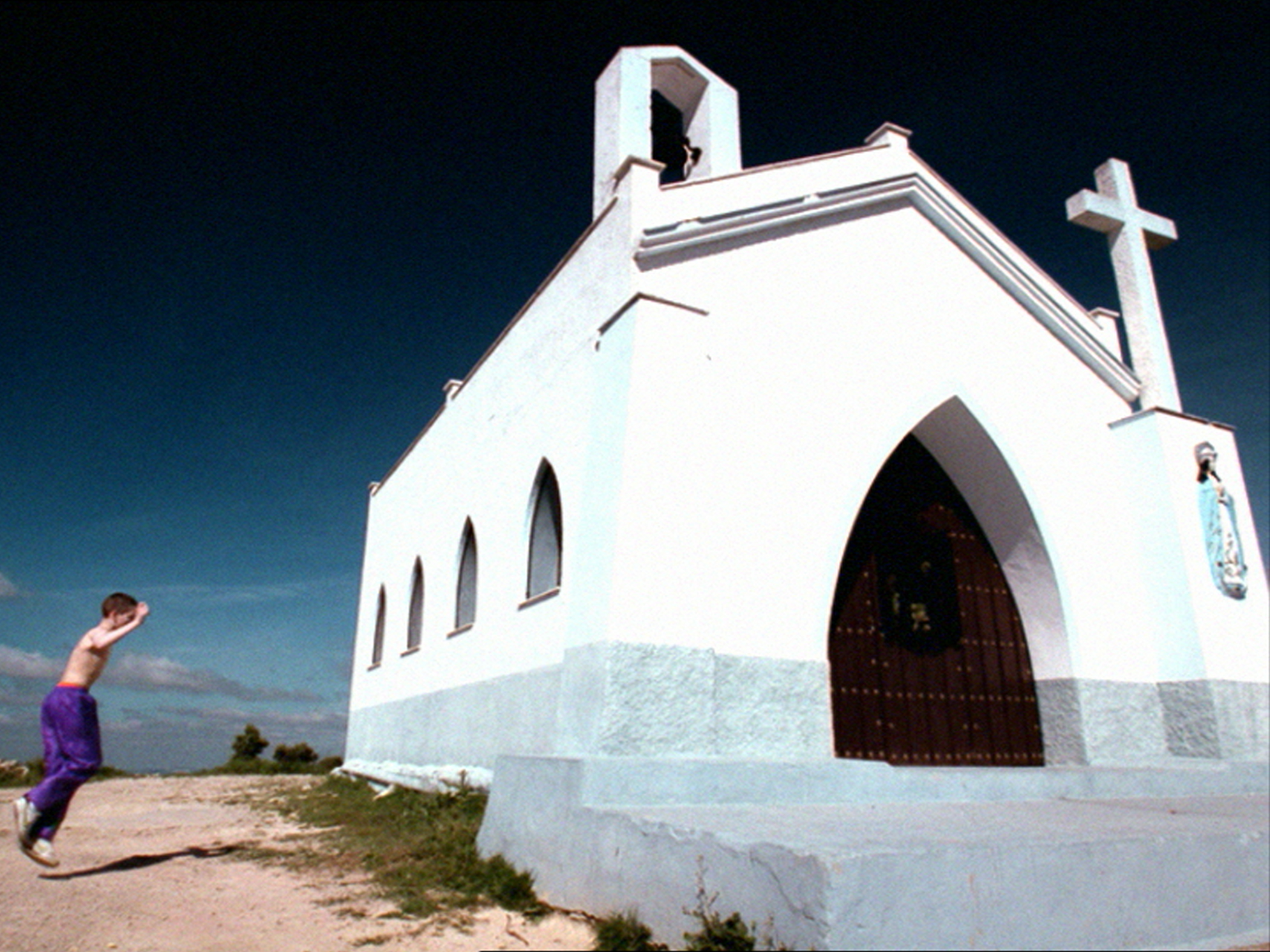 The exhibit was curated by English philosopher Simon Critchley, who teaches at the New School. The gallery will also be showing the games. "What we hope to enact with this show is some experience of being together with others in a group, watching a game, waiting for something marvelous, unexpected and possibly magical to happen," writes Critchley in an artist statement.
Program manager Julia Knight says that apexart will also provide a different kind of space for watching the games. "We're putting the World Cup in a really different context and showing how it has inspired art from around the world." Admission is free, and proceeds from the bar will go to the Fresh Air Fund.
The Jewish Musuem is honoring the World Cup by exhibiting South African photographs by David Goldblatt, through September 19.