If You Unbuild It, They Won't Come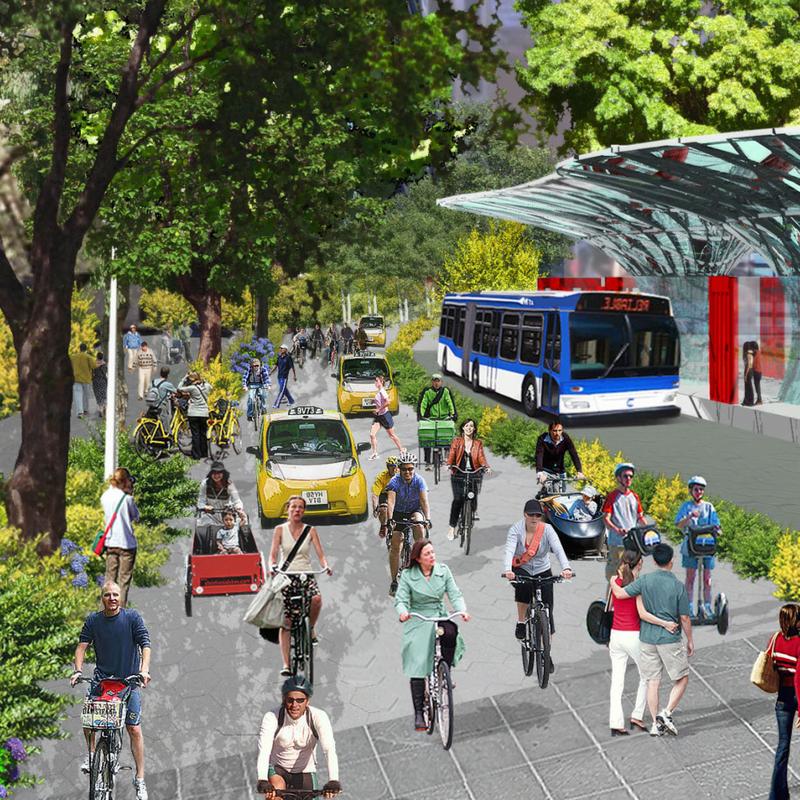 In the last five years, New York has added hundreds of miles of bike lanes and closed parts of Broadway to cars, a re-allocation of street space that has caused no small measure of controversy. But those plans? Child's play, compared to what a group of international planners wants the city to do: tear down the lower part of the FDR drive.
It's a proposal that draws almost immediate – and intense – derision from almost anyone who hears it.
"Terrible idea," mused Bryan Delaney, kibitzing with his wife, Ibelice, the other night on Grand Street near the FDR drive. "Ridiculous," snorted Carmen Gund, a teacher walking three small dogs. "People are going to drive into Manhattan regardless, so why not have as many roads to drive into Manhattan as possible?"
Inside the Bloomberg administration, there's also incredulity. "Tear down a ring road?" said one highly placed city official who didn't want his name used because he was speaking about the plan without authorization. "That will never happen."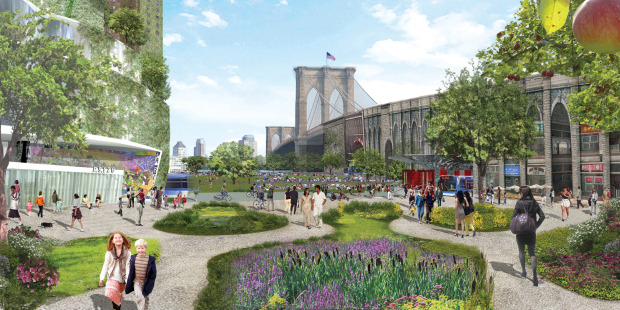 The proposal would remove FDR Drive from the south side of Manhattan Bridge and create a green public space with shops and cafes at the anchorage to Brooklyn Bridge.
But architect Michael Sorkin, who drew up blueprints for a radically different lower Manhattan, is a fervent believer in the "if you unbuild it, they won't come," school of thought. His plans look sort of like a Brooklyn Bridge park, but on the Manhattan side – manicured lawns, plazas, ferry terminals, restaurants, and lots and lots of open sky.
"You would see one of the most beautiful architectural achievements in the history of consciousness, the Brooklyn Bridge," Sorkin said on a crystal clear day in June, standing under three layers of highways and on-ramps to the Brooklyn Bridge. Just yards from the river, only a sliver of it was beautiful between the giant supports for the highway.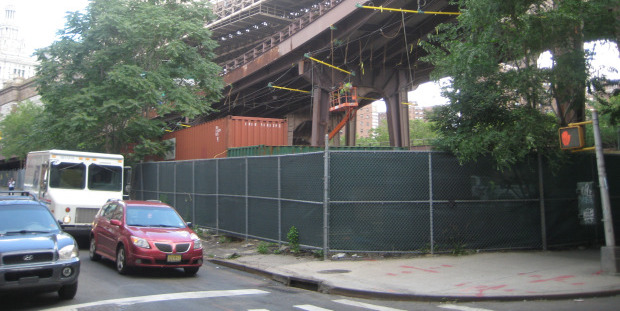 Under the Brooklyn Bridge, 2010
Sorkin's plans are part of an international project, Our Cities Ourselves, an offshoot of the sustainable planning group, the Institute for Transportation Development Policy (ITDP).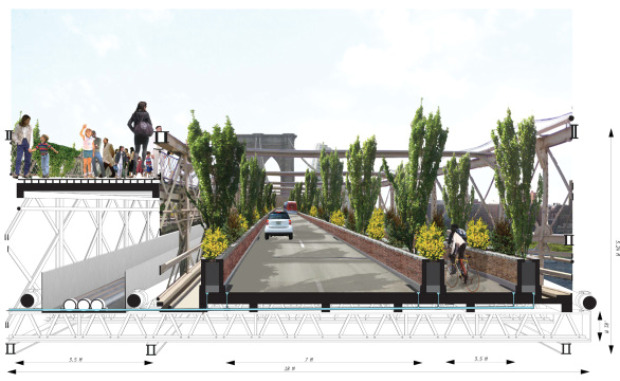 The proposal would create two-way lanes for cyclists on the lower level of the Bridge and free up the elevated walkway for pedestrians only.
The Our Cities Ourselves project asked architects from ten cities – New York, Rio de Janeiro, Ahmedabad, Budapest, Dar es Salaam, Ghangzhou, Buenos Aires, Jakarta, Johannesburg, and Mexico City, to re-envision how those cities could look in 2030, with design that would drastically discourage private car use. "We simply can't sustain the sort of automobile-dominated transportation systems that we have today," says Walter Hook, ITDP's Executive Director.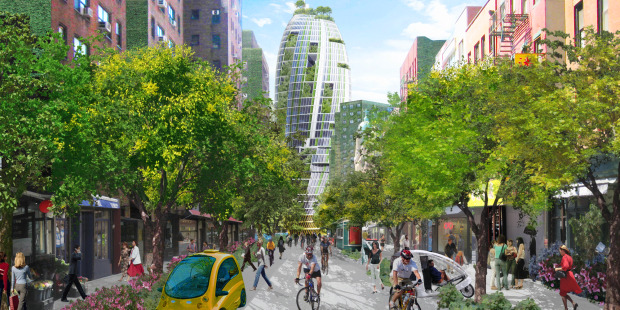 Cyclists and electric cars will have priority.
Our Cities Ourselves includes an international design exhibit that launches later this month at the Center for Architecture in the Village. And while no city officials have endorsed New York's plans, the host committee for the gala opening does it include city transportation commissioner Janette Sadik-Khan and planning commissioner Amanda Burden.
As for tearing down the lower portion of the FDR drive, Hook points to studies of traffic in Seoul, South Korea, and Portland, Oregon, who removed elevated highways in their urban centers, and San Francisco, which lost highway in the 1989 Loma Prieta earthquake. Hooks says not only do those cities look better, but also overall traffic was reduced.
Strangely, New York also had that experience. In the 1970's, part of the West Side Highway crumbled. The DOT Chief Engineer at the time was Sam Schwartz, the traffic engineer now known as "Gridlock Sam."
"People panicked. They said that was Armageddon and that was a period we were still thinking of cross-Manhattan expressways." It was Schwartz's job to track the traffic. Traffic on some roadways was up. "After that we had trouble tracing one third of the people and it wasn't that they weren't coming in. When we looked at transit, transit went up. We had the same number of people coming in, but they weren't coming by car."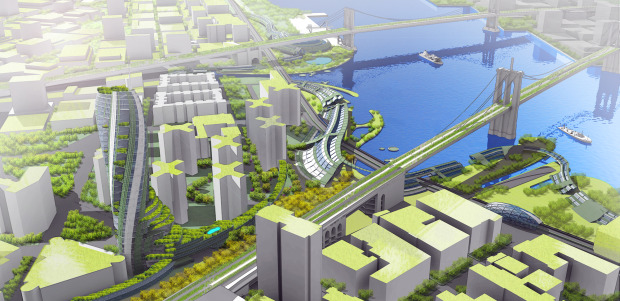 Bird's eye view of Sorkin's "Brooklyn Bridge Remix/Redux"
Schwartz is also on the event host committee, though he says he hasn't fully studied the idea of ending the FDR drive north of the Manhattan Bridge. Neither has Lucius Riccio, now a Columbia prof, who was NYC transportation commissioner twenty years ago, the precise time frame of this exhibit. But, he says, "nothing should be off the table."