Posing With Miranda July: "Eleven Heavy Things" in Union Square Park
If all goes well, you're going to take a lot of pictures this summer.  Artist and filmmaker Miranda July would like to help you out.
"Eleven Heavy Things," the piece she created for the Venice Biennale, will be on display in Union Square Park through October and if she has her way, so will you.  On the shady center lawn in the park, pieces made of cast fiberglass and steel allow visitors to pose on pedestals, beneath headdresses and with their bodies in the sculptures.
The pieces encourage visitors to pose with the sculptures so they can be photographed.  Some of the pieces are decorated with text describing the visitor while others have holes where visitors can put their faces, arms or fingers.
The first morning the piece was on display, it was a big hit with kids as they climbed up and around the sculptures.  Perhaps that's the downside of public art -- the public. Watching a toddler create three piles of dirt on one of her pedestals, July tried to push aside her irritation.  "I did just personally clean the tops of all of them," she said, "but it's fine because that's a child - it's the taggers I'm worried about."
Check out a slideshow of photos from Eleven Heavy Things below!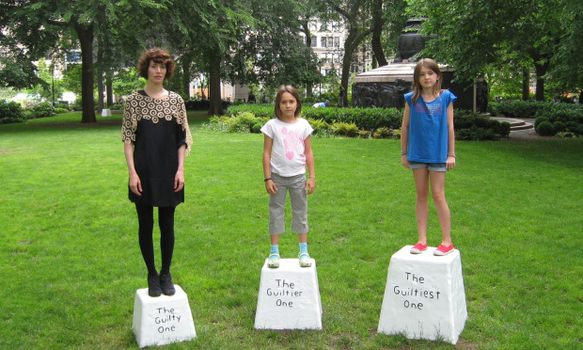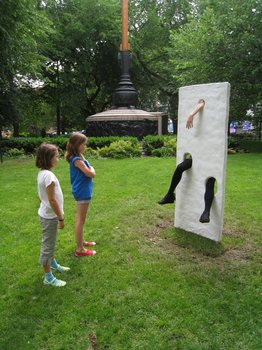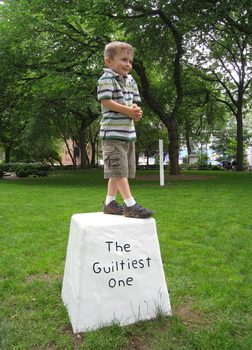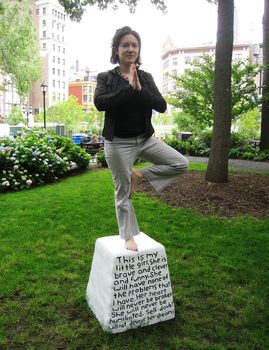 of