Marina Abramovic's Chocolate Lips
Just when you thought the Marina Abramovic spectacle at the Museum of Modern Art couldn't get any kookier, you get a press release in your inbox announcing a cast of the artist's lips made of pure dark chocolate -- and embellished with a lipstick of edible gold.
The dessert will be part of a dinner celebration this evening that will herald the completion of Abramovic's marathon 700-hour staring session in the MoMA atrium. Also on the menu: a 'Gold Ball' (see below), crafted from almonds, black pepper, pink pepper, coriander and honey. The dessert, produced in collaboration with the pastry gurus at Sant Ambroeus and the food-as-art organization Kreemart, comes from a recipe that Abramovic picked up at a Tibetan monastery. (These are generally consumed after long periods of fasting and seclusion.)
All I've got to say is: I want to see these babies in the MoMA gift store. Stat.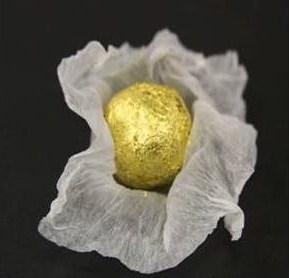 of