I Wanna Wake Up In a Museum That Never Sleeps
There are a lot of places that you could find yourself in New York City at one o'clock in the morning. A museum isn't generally one of them.
But there I was on Wednesday night (or was it Thursday morning?), in the Whitney Museum's lobby, watching a not-so-usual museum public wander in: a clutch of dazed-looking German tourists, a batch of party girls (complete with clacking stilettos) and a baronial-looking Upper East Side gent in the company of an unnaturally attractive young woman. Also in attendance: Lots of folks who, for some reason or another, had not seen the Biennial, and figured that a postprandial visit to the museum would make up for the oversight.
The event was all one giant piece of conceptual art by L.A. artist Michael Asher, whose contribution to the show consisted of having the museum stay open 24 hours a day for one week. (That proved unaffordable, so the Whitney, instead, is doing it for three straight days.)
I have to confess: I had initially been underwhelmed by Asher's idea. It struck me as a bunch of conceptual art hoakum -- as in 'my art is there is no art.' But hanging out in the galleries in the middle of the night was good, nerdy fun. The throngs of tourists that generally jam the place were replaced by a smaller local crowd that gave the exhibit the feel of a neighborhood block party. Rather than rushing through installations as if reviewing a checklist, folks lingered to experience pieces at length. A three-year-old did pirouettes while repeating "wow, wow, wow" before Piotr Uklanski's over-sized tapestry. In the meantime, guards welcomed visitors like carnival barkers: "Come on in, folks. Come on in."
The experience wasn't perfect (does the Whitney have something against benches?), but it was refreshing. Art happenings can sometimes take on a you-had-to-have-been-invited feel, but at the Whitney, anyone can participate and become part of this ephemeral art community -- in addition to becoming, literally, a part of the art. 
The museum is open through midnight on Friday, May 28.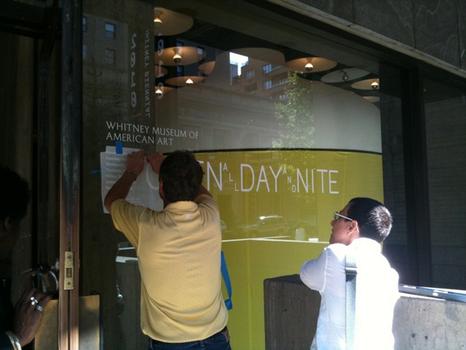 of