Queens County's Local Wine
Queens boasts a culinary landscape that includes everything from the German pilsners at Astoria's Bohemian Hall to bubble tea found in Flushing. Now, Queens County Farm Museum is bringing a new beverage to the borough: wine made from grapes grown right in Floral Park.
This Tuesday, May 18, Queens County Farm Museum is auctioning off its first bottles of the wine. While the 313-year-old working farm is a well-known destination for school children, the museum president James Trent was looking for a way to attract more adults and, in 2004, the museum began planting its vineyard on an acre and a half of land.
The viticultural experiment is headed by Director of Operations Gary Mitchell (pictured below with one of the farm's many animals), who took up the project after attending a vineyard management course at U.C. Davis. The farm grows both merlot and cabernet grapes, since they are best suited to the region's cold, wet weather.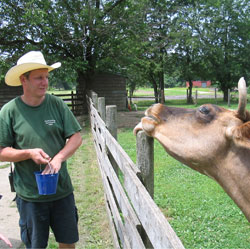 Mitchell explained that the 46-acre farm has particularly fertile soil, since it's at the edge of terminal moraine— the spot where a glacier ended during the last ice age. "It deposited [on the farm] some of the richest soil imaginable," Mithcell says. "The combination of really terrific soil and the mitigating factor of the Long Island Sound, which is nearby, and the particular orientation of this hill and the vineyard, it's actually a pretty good spot."
Over the last six years, Mitchell has consulted a number of local experts, including Stephen Mudd, who has been growing on Long Island since 1974. Since one-and-a-half acres only produces a small quantity of grapes, Queens County Farm Museum's wine also has help from grapes grown on Long Island to the farm's specifications.
For now, Mitchell and the farm have modest aspirations for their wine. "We've had some validation from some wine critics already [...] who have thought it was drinkable, and that's our mission," he says. "We're not out to win awards or to wow people, per say, but we want it to be representative of those varietals from that particular vineyard."
But Mitchell adds that there are possible plans for expanding, noting "maybe we'll be able to plant more vines in the future."