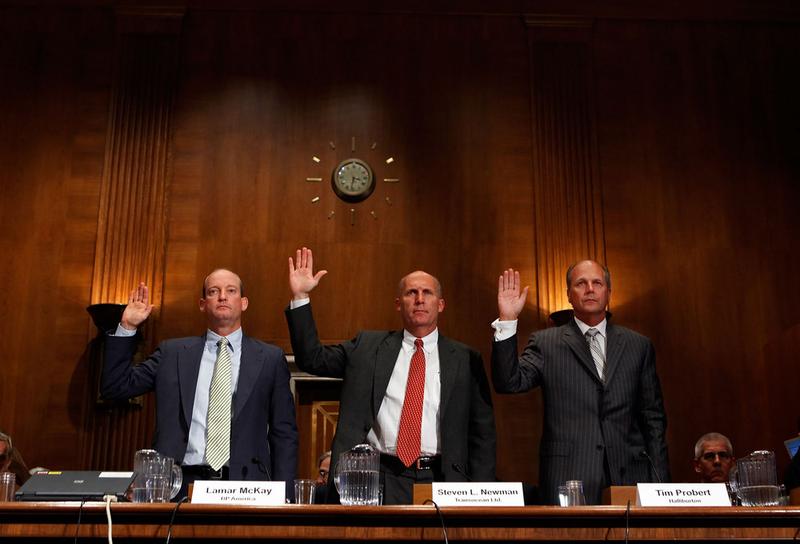 Top executives from BP, Transocean and Halliburton – the three companies involved in the massive oil spill that continues to spew in the Gulf Coast – testified on Capitol Hill yesterday, pointing fingers at each other and deflecting blame from their own firms.
Senators were clearly not amused by all the blame game in full swing. "There's this transference of liability, or finger pointing," Senator Lisa Murkowski (R-Alaska) said. "There's going to be plenty of time to figure out who is to blame, who is at fault."
Senator Robert Menendez (D-NJ) said: "I would suggest to all three of you that we are all in this together, because this incident will have impact on development of energy policy for this country."
Our Washington correspondent, Todd Zwillich, was at the hearing and gives us an insider's look at what happened at the hearings. Lisa Margonelli, Fellow at the New America Foundation and author of the book "Oil on the Brain: Petroleum's Long, Strange Trip to Your Tank
" lets us know if those Congressional hearings will actually lead to any real change.
Margonelli also weighs in on the decision announced yesterday by the Obama administration to split up the Minerals Management Service, the federal agency whose job it is regulate offshore drilling.
(Follow Todd on Twitter @todd_zwillich)