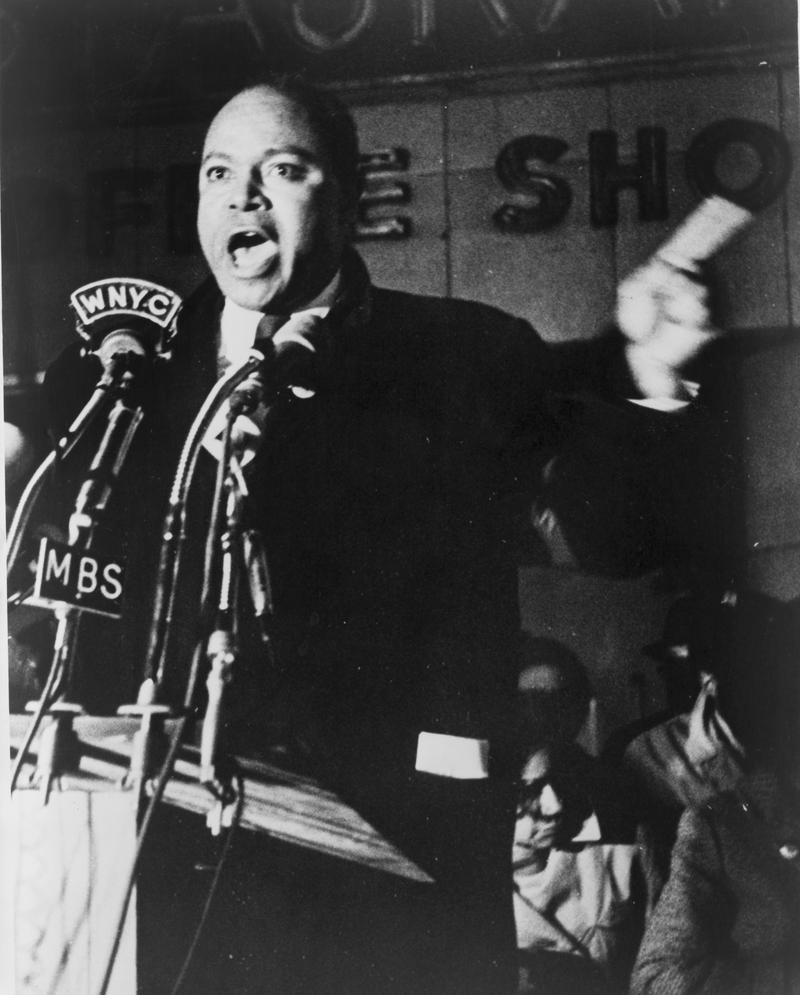 Summary
This episode is from the WNYC archives. It may contain language which is no longer politically or socially appropriate.
Barrett McGurn introduces James Farmer. McGurn describes CORE as the "Marines of the integration program with the Urban League as the State Department and the NAACP as the Justice Department and CORE as the militant passive resistance troops breaking the way to a revolutionary realization of fundamental American rights."


James Farmer, National Director of CORE speaks about Civil Rights movement. He speaks of the long history of discrimination and inequality in the United States and the recent revolution to make changes in society. He says that there are no innocent bystanders and that we all share the guilt in perpetuating segregation.
He also answers why the movement is taking place now - not 20 years earlier or 20 years later. One reason is WWII, where young African American men were sent to fight against the idea of a master race. Another is Africa, young African Americans are identifying with the events in Africa.

Farmer notes that more than half of CORE members are white, and that white members face greater violence in the South than black members, he mentions the brutal beating of CORE member of Eric Weinberger in Mississippi. He speaks at length about the CORE commitment to non-violence.

Farmer speaks of the limitations placed in African American children: shorter life expectancy than other Americans, job discrimination and the impact of segregated Unions. He says that more important than creating laws that ensure equality is enforcing these laws.

During the question and answer portion he talks about the upcoming March on Washington and describes the plans to ensure it remains a non-violent protest.

He also talks about the CORE views on Black Muslims. He believes that theie views are at odds with the views of CORE, whom he calls a separatist organization.

Farmer gives his view on the Kennedy administrations reaction to the Civil Rights movement- he gives specific examples when the administration has supported the movement and when they have, in CORE's view, fallen short of protecting the people. He gives a specific example of atrocious treatment by local police forces in Alabama against CORE members that were not followed up on by the FBI.

He states that CORE is in favor of reduced representation of states that restrict the voting rights of African Americans.

He also notes CORE's attempts to battle housing discrimination.
Audio courtesy of the NYC Municipal Archives WNYC Collection
WNYC archives id: 5723
Municipal archives id: T233
Transcript
This is a machine-generated transcript. Text is unformatted and may contain errors.

Members of the Overseas Press Club. Like to begin by thanking Joel nobody program director and Jim Sheldon the open house director for arranging another of the this brilliant series of weekly press luncheons with the country's major newsmakers of the world's major newsmakers. Our guest today is James Farmer the national director of C O R E of core committee of Racial Equality which considers itself to be sort of the Marines of the. Integration program with the. Urban League is the State Department and the N A C P Is the Justice Department and the C O R E as the as the militant. Passive resistance troops. Breaking the way to. The revolutionary realisation of fundamental American rights. James Farmer was one of the founders of corps in one thousand nine hundred eighty two he served as the committee's first national chairman he was program director for the N A C P for many years and in one thousand nine hundred eighty one he was the leader of the original Freedom Ride and was jailed in Jackson Mississippi put forty days. I present Mr Palmer. The chairman of them. And members of the Overseas Press Club I always got something of a shock being introduced as an ex jailbird jailbird for conscience but let me point out that I'm far from being alone in that there are today we would estimate more than thirty thousand probably close to forty thousand people who have been in and out of jail sentence February first one thousand nine hundred sixty in pursuit of equal rights in our country I expect that this parade into the jails will continue for a long long time because I think now America is being forced to face itself the thing that disturbs me and our country at the present time. Is that I do not feel that the majority of the American people understand the depths of the feeling which motivates people and drives them to the streets drives them to the picket lines and to the demonstration I do not feel that most of us have become involved in what is the greatest struggle and crusade in our country's history since indeed the Revolutionary War I would consider the present civil rights struggle as part two of America's Revolutionary War. Part one was of course in the eighteenth century when Americans were fighting to establish principles of freedom. And justice indeed but the freedoms which were won then in principle were won in fact for only a comparatively small segment of the American population the freedoms applied then only to white Americans and to now right still further they applied to Englishman now the fight which has been carried on for ever since the Revolutionary War and to extend it to other Americans has moved into a new phase. Like Americans have so far been rather excluded from the Social Contract of America now in the past Negroes have accepted this exclusion nobody has liked it. No one at all I recall speaking with my father the day before we left on the historic Freedom Rides this was on May third one thousand and sixty one and he at that time was in the hospital on what proved to be as bad I told him on tomorrow I'm going on a freedom ride and he asked Freedom Ride what is that I explained to him where we were going what we are going to do why we were writing I pointed out that there was a great gap in our country between principle and practice. Between the law and its implementation that the Supreme Court had said on at least two occasions that segregation and discrimination and interstate travel was unconstitutional and should not be tolerated yet in spite of the court rulings such segregation continued to exist and the people of color who tried to use those rights which the Supreme Court had said was there. Were subjected to violence or imprisonment or both he then looked up and asked Where are you going what states and I told him through Virginia the Carolinas Georgia Alabama Mississippi hopefully arriving in New Orleans on May seventeenth the anniversary of the Supreme Court School desegregation decision well my father thought for a long time and then he looked up and expressed words which of reverberated in my memory of a sense he said Well son I'm glad you're going on this ride and I'll tell you why. When I was a boy in South Carolina in Georgia we didn't like segregation either we hated it it burned us up inside but he said we thought that was the way things always had been and the way they had to be and there was nothing we could do about it therefore we put up with it while we burned inside he said I'm glad to know that there are lots of people today who don't feel that way to realize that these things can be changed and are willing to do a great deal and risk a great deal in the attempt to change them well he was right no one has ever like segregation but Negroes have put up with it up until recent years Langston Hughes and one of his poems put the question poignantly he said what happens to a dream deferred doesn't dry up. Like a raisin in the sun. Or does it explode. Well I think in the past several months in our country we've gotten something of an answer to that question we know that the dream of freedom and the dream of equality never dies and the human brass. It mainly smolder but suddenly it bursts forth into flame and that indeed has happened today all over the country the marching feet of hundreds of thousands of Negro negroes who previously had accepted segregation I would suggest that all of us have an important role to play in the struggle I have been assured Graham to read some of the editorials that have come out in recent weeks which indicate really a lack of understanding of the depth of the feeling of people who are involved indicate to a lack of understanding of the fact that this is indeed a revolution they have suggested that in some of the tactics being used by the direct action is today they may be violating the rights of innocent bystanders as a jones beach or at the Board of Education or elsewhere I would like to raise the question with you ladies and gentlemen who are innocent bystanders in a time of social revolution such as we are going through I would suggest to you that there are no innocent bystanders and there can be not in such a revolution as this if one is a bystander then that person is not innocent he is guilty you're either on one side or you are on the other and this is the message that the marching feet throughout the country are trying to bring to America all of us share the guilt I share it to I share it because for so long I have accepted segregation I'm a native southerner I lived in Texas Mississippi and Georgia put up with Jim Crow accepted second class citizenship and thus I helped to perpetuate it and keep it going all white persons who have accepted the caste system. Are equally guilty they have helped to perpetuate it to keep it going while now Americans need to decide each and every one you know in the jails of the South they have a number of songs which they say in illustrating this point one of those songs is taken from a trade unions song called which side are you on and it has one stanza that I find particularly moving it's a stanza that speaks to negroes who have not made up their minds in some localities of the country as to which side are they on and the reference is to those who are Uncle Toms those who accept the status quo and pretend to enjoy it says they say in Hinds County no neutrals have they met You're either for their freedom fight or you Tom for Ross Barnett and so when the negroes are making up their minds now I am white Americans need to make up their minds also when will it stop it is asked why now why did not start twenty years ago and by not twenty years since there are a number of reasons why Negroes have changed their mind and decided to call a halt to their own but this a patient in and acceptance Obs segregation One reason is the law World War two The negro lads like quite you were fighting they were told against the master race theory of what the result was they of course began to ask themselves What about the master race theory back home shouldn't we oppose that with equal vigor. They tell the story about the negro lad who was a new form on a train heading south and as he crossed the Mason Dixon line according to the story the conductor told him to get up and go into the Jim Crow coach the young man ignored the conductor's order it was repeated ignored again repeated a second time finally the lad looked up at the conductor and said rather play to play do you see this uniform he said yes I see it he said I didn't ask them for it they put it on me now they're going to send me to Timbuktu or some other place to fight and die for democracy well if I've got to fight and die for democracy over there I just assumed start here and so the conductor walked away I think all sensitive Americans black and white can understand the feeling which this young man expressed there is another factor and that is the increasing education of our youth when they learn of the tenets of American faith they learn of the freedoms which are supposed to be represented in our country they of course begin to ask do these things apply to me if not now when and they're asking it all over the country the current revolution has been sparked by young men and young women asking precisely those questions Another reason is Africa the emerging nations of Africa and Negro citizens in this country are identifying to a greater degree than ever before in the past with what is happening there they are sensing a greater identity and a feeling of pride and thus not willing any longer to fit in to the old pattern which has been accepted so long all these things I believe have made the revolution now it is not just a Negro revolution almost half of corps members are white and they are participating with equal vigor all over the country they white members of our organization are subjected to more violence in the South than other negro members. We just received word two days ago that Eric Weinberger one dedicated young man who had given up his talent and skill and Heywood and Fayette County Tennessee to help set up a top bag project to enable the negroes who had been thrown off the farms for their attempt to vote he wanted to enable them to earn a living with their own hands he is back down there and he was arrested and badly beaten brutally beaten but such violence is not new to people who are participating in this movement we do not use violence ourselves Corps as a nonviolent organization and our members never resort to violence even under great provocation and I think that this feeling has spread far beyond our own organization I have been greatly pleased with the small amount of violence that has taken place in the current civil rights revolution I think really that there has been less violence and our movement than there was in a comparable period of time in the Indian nonviolent movement under Mahatma Gandhi and this is indeed a credit to the nonviolent direct action movement in our country while it is happening not and the cry is for freedom not the people who will remain in the streets fighting for equal jobs we look at all of the children they like children. And we wonder what the future holds for them we know that their life expectancy is ten years less than the life expectancy for other American children we know that even though they might get training for jobs skilled jobs. It will be extremely difficult for them to get those jobs particularly if they are sheet metal workers they would not at present be able to get into that union and work on construction jobs we know the great limitations that a placed upon those children and this is what the marching feet are saying to America to we are pleased that the present discussion on civil rights legislation but we are under no illusions we do not believe that the problem is going to be solved by the passage of legislation though we will strive with all of our energy to secure the passage of a strong civil rights legislation is possible we know that in New York state our own state we have law we have fair and proper employment practices legislation we have housing legislation yet no one who is socially aware can deny that discrimination in those two areas continues to exist the big problem is in force many of the laws once they are stopped now on August twenty eighth there will be a gigantic dialogue between civil rights forces and America. This dialogue in the form of a march on Washington involving upwards of eight hundred fifty thousand persons white and colored will be peaceful discipline orderly it will be saying to Congress and it will be saying to all Americans that this is the time for Americans to make up their mind and decide whether they are on the side of freedom or whether they are willing to continue the segregation which this nation cannot afford. They will be saying to the world too that many Americans a hundred fifty thousand and many who could not come have made up their minds in the struggle and the the struggle will go on until all Americans can be treated as individuals on the basis of their individual memory and with out having any power to restrict to divide and to cripple that's what is being said today on the streets in New York in Chicago Los Angeles Alabama Mississippi a great Jewish court put it in words like this many years ago when he said if I am not for myself who will be for me and being for my own self what am I. And if not now when. Will. Thank you Mr Cuomo for this moving presentation of a capital American problem. Our custom here is to give priority to the working press are there any questions Mr Farmer. What role will corps play in the August twenty eighth March on Washington and how can there be a guarantee given that there will be no bottomless well today what is happening in the civil rights field is that the various civil rights organizations are getting together they are finding greater unity now than ever before despite claims to the contrary and the march on Washington is jointly sponsored by the major civil rights organizations Corps the National Association for the Advancement of Colored People the National Urban League the Negro American Labor Council the Southern Christian Leadership Conference and the Student Nonviolent Coordinating Committee all of these organizations are jointly sponsoring the March on Washington all role will be to get our seventy six chapters scattered throughout the country north and south to give top priority to mobilizing as many people as possible to charter buses or charter trains or planes to get people to Washington we also will be sending disciplined persons there who are trained in nonviolent resistance there are now between five hundred and one thousand persons under training to serve as guardians during the March on Washington to serve as monitors to keep the peace and see that the ranks of nonviolence are not broken by some persons who might not be trained and come into it and see that if there is provocation all persons in the March do not respond in kind with violence these persons will patrol the march they will be scattered throughout the crowd during the rally they will be trained and disciplined individuals themselves there is no plan for any city and in Congress at the present time this is a one day demonstration. Which will involve a march through Washington a demonstration at the White House is a ceremony there while individual leaders are talking with the president then we will march to the Lincoln Memorial for a gigantic rally and this will culminate the day's activities people will be coming into Washington early in the morning of August twenty eighth and they will be leaving that night. What is the civil rights attitude toward the Black Muslims who listen gentlemen feels are extreme organization even more extreme than the K.K.K.. Well I'd like to say first of all that core is an integration is TALK OF THE NATION while the Muslims are a separationist organization they believe in more separation we would call it segregation we also are into racial organization while they are all black so that both the nature of our going to zation is our opposite poles and the objectives which we seek in addition the methods which we use are at opposite poles Korea's a nonviolent organization and while I'm not aware that the Muslims have used any overt violence at least they do not reject our repudiate violence as a possible tool in the struggle so we are opposed to the things they stand for and they opposed to the things that we stand for I must point out however that in our view the Muslims are a creature of racial segregation and discrimination they have in a sense in our opinion to use I'd lay Stevenson's words confuse the disease with the Cure segregation is the thing that has created the problem and they propose more separation as a cure for this disease they have been created by segregation and by a sense of frustration on the part of the Negro masses it is quite appealing as an emotional appeal I do not know how large their organization is because it's a tightly kept secret I do not know whether they are growing or not because they do not reveal that fact but I do know that they have an emotional appeal I'll never forget talking to a friend of mine up in Harlem not very long ago and he said to me that I should have heard Malcolm X. when he spoke at Harlem Square the other Saturday night I said how was it and he replied he was terrific he was out of this world but what did he say I asked he hesitated that well but to be say he says well I don't know but he sure gave white folks hell. The attorney general has declared himself not in favor of the March on Washington and you remember his brother the president at his last press conference referred to self defeating moves by those in favor of those agitating for. Integration desegregation Would you care to comment on. The position of the two committee brothers weasely the march and given your only valuation of their work in this whole area. Earlier when the march was first announced the president and I believe the attorney general stated that they thought it was a mistake to take direct action or engage in such demonstrations which might lead to violence later when the plans for the march had more clearly gel the president announced that he was in favor of the March thought it would be a good thing and he planned to be there in Washington at the time and expected the congressmen the senators that this as far as I'm concerned is the last word from the administration and represents their view they are in favor of the march on to support it since they know that it will be an orderly peaceful and disciplined March. Second are you or your estimate of the way they are handling this problem and all. The question is are how do I think the administration is handling the civil rights problem in the north of the south Well I think the president as well as the attorney general are politicians and their response to the problem is essentially a politician's response I do not mean to indicate that I do not think they have feeling for it they do I believe though that their basic decisions are made on the basis of political considerations I think that they are feeling for the problem has increased and increased rate since the demonstrations began this is good recent utterances particularly the president's. All right speech two or three months ago. Was the first time that the president had indicated his feeling that this was a great moral American issue and that something had to be done to solve the problem I feel however that the kinds of those steps taken by the administration have not been adequate to meet the need for example the Justice Department has filed a number of suits on voting rights and this we applaud it has filed some suits on school desegregation this we applaud in some cases when our persons in the south have been intimidated and terrorized we have gotten support investigatory support from the Department of Justice and some action in terms of suits but many cases occur when people are because. We file the information with the Department of Justice. Their response is that they do not yet have a statutory right to move in on less they have clear and present proof that the local state and state authorities law enforcement officials either will not or cannot protect the people what it seems to mean therefore is that somebody has to lose his life before they can move in or there has to be great violence let me take a moment and give you an illustration of one incident of violence in Gadsden Alabama only last Saturday we had a mass march involving more than a thousand persons more than six hundred were jailed we shot they bailed one of the young men out and he reported day and night of Carol he reported that the men who had been arrested were made to run not walk but run barefoot from the county jail to the coliseum where they were being housed with cattle prods behind them to keep them running those electric instruments used to move cattle and this young man's feet were badly blistered the cattle prods were then used to burst the blisters and when we bailed him out to you had to be hospitalized this is only one of countless illustrations which could be given thus far we have not gotten action I regret to say that the F.B.I. agent in the locality Gadsden Alabama was notified of this and previous incidents of police brutality without any action whatsoever to have our field secretaries were jailed in Gadsden and badly beaten by state troopers that is our lingos men and that state they were brutally beaten and prodded with a cattle prod so that there were scars and wounds over their bodies they were actually bleeding the F.B.I. agent and got sick and was informed of this and it was requested that he go to the jail. To interview them to interview witnesses and possibly to take pictures of the physical evidence he did not do so he did not go to the jail at all and when one of the man got out and went by the F.B.I. office there in Gadsden. He showed the scars the wounds had been healed he showed the scars and the F.B.I. agent expressed and credulity at the scars but thus far no action has been taken so we say on the basis of these evidences which are many that part three is essentially needed part three was that section of the one nine hundred fifty seven Civil Rights Bill which would have given the Department of Justice the authority to file suit for all violations of civil rights not only voting rights or school desegregation writes this The administration has not pushed for the administration has pushed for school desegregation has pushed for the right to vote it is not now pushing for an effete P.C. Bill the administration package does not include fair employment practices legislation that is outside of government contracts and we desperately hope that when the final legislative package comes out and is debated on the floor of Congress in the Senate it will include part three of the old one nine hundred fifty seven bill giving the Department of Justice the right to file such suits as I indicated it will include fair employment practices legislation and it will include further granting authority to the federal government to withhold funds. From those areas which continue to practice segregation it seems to me a shame in our country for our money your money and my tax forms to be used to maintain and continue the practice of segregation in schools in hospitals and elsewhere I think that the government must come to the point where it says not one dollar of public funds shall be used to maintain the system of segregation which the courts and the law of the lab have declared to be illegal. There's a complete you. Want to solve a one one question. That. You suggested yourself when you spoke about the F.B.I. agent in the south is there reason to believe that some of these agents in fact are against the Negroes in the south and if that is the case would you propose that there be a change made in the composition of the F.B.I. agents in the south well on the first part of your question. I would not be prepared to say that they are against the negro but certainly they do not have a passionate feeling in behalf of the civil rights struggle in many cases what happens is that generally F.B.I. agents sent in to investigate or assigned to any hot civil rights area all persons who have worked in that locality for a long period of time they are natives of the county or the state they have been working there they have had to depend upon the cooperation of local and state law enforcement officials in order to apprehend federal criminal they have thus developed a friendly relationship a first name relationship with many of the law enforcement officials that all of a sudden these persons of then called upon to investigate their past Joe Our job or bill and this is a very difficult thing what we urge is that in civil rights cases the F.B.I. should send in agents from outside of that locality to do the investigation. You know find that there has been no reply to the suggestion. Oh oh. Oh. Oh. Oh. Oh oh. Oh. Oh. Oh we're. Right. Oh. Dr Martin Luther King was a couple was quoted in life as saying that little progress is being made in the south of the on the civil rights problem there is constant regression in the north is what coming to be made on that. I think essentially Dr King is right the south is making more rapid progress now we see the barriers coming down all over the South as a result of the demonstrations result of the nonviolent direct action city after city in North Carolina for example has become literally an open city with all businesses serving the public now serving all of the public regardless of the race there has been desegregation in lunch counters and hotels in various cities throughout even the Deep South we only recently desegregated through negotiation three major hotels in New Orleans and a major hotel in Mobile Alabama so these things we see happening all around us in the north the problems are more complex more involved and sometimes more subtle and progress is not being made nearly so rapidly in fact in some areas there is retrogression. Let us look at housing for a moment. I would suggest to you ladies and gentlemen that there is more residential segregation in northern cities today than there was ten years ago and this indicates that we are moving backward there is the old pattern developing the pattern of negroes and non-whites moving into the central core of the cities and whites moving out toward the suburbs it's a pattern which some observers have called the black core and the white noose This is unfortunate and it certainly increases the amount of segregation I would suggest to that job wise we are not making progress in the north this could be said for the entire nation while the standard of living of negroes has of course gone up I am I would be amused were it not so tragic when I hear Governor Wallace of Alabama our Governor Barnett of Mississippi comparing the standard of living of negroes in this country with the standard of living of black people in Africa I don't think that you should compare our American standard of living with the standard of living in Africa or Europe or Canada or elsewhere the only thing that you can compare the negro standard of living with is a standard of living of the Americans white America and when we make that comparison we find that we are not making the progress that we desire we find indeed that the gap between the average income for Negroes in this country and the average income of whites has increased since World War two during the war there was a narrowing of that gap but this was of course due to war time jobs temporary jobs and wartime industries but since the war since the say nine hundred fifty there has been a widening of the gap average income which shows that we are slipping back in this area too so I think that Dr King was essential right in his observation. For the questions. What effect will leave the August twentieth demonstration have on the negro population of Washington which is not yet involved in these various demonstrations across the country. Well the fact of the matter is that the Negro population in Washington is involved in such demonstrations it was a month ago or less that there was a mass demonstration at the White House and a march involving Washingtonians close to five thousand persons with an involved there are picket lines all over the city protesting discrimination in employment now in Washington so they have been involved but we are not relying solely sir upon the present involvement of negroes in Washington in order to see that they march is kept discipline our organizations who are on the N.A.C. P. the Southern Christian Leadership Conference and of those are now educating their members as to what to expect in the mass march on August twenty eighth they are being trained and disciplined in how to respond to the march and how to act we expect that there will be a large contingent from Washington itself of both white persons and negroes participating I've gotten calls almost daily from organizations in Washington more than half of those incidentally have been my partners ations church organizations and civic organizations asking for more information more details about the march because they have voted to approve a lot of it and voted cooperation and they want to know how they can best participate. A clip of Evans wants to know how you can reconcile the fact that American Negroes feel in a dedication with the emerging nations of Africa and yet at the same time really have no rep or with them since they are part of the American community. That is a very good question and I'm glad it was raised it is true there is no cultural identity between negroes in this country and negroes all of those in Africa because negroes in this country are Americans on a more closely identified culturally with white Americans than there are with black people elsewhere in the world but it is an emotional attachment that exists it's also a fact that Negroes in this country have been unique in that they have had no heritage which they were proud of they have had no roots as it were Negroes have chosen to forget slavery the slave period or have sought to forget it because this was a dark year out and no one likes to remember being a slave or his ancestors having been slaves Negroes have. Forgotten Africa in the past because they had the same stereotypes of Africa that white Americans had a few half naked people riding around on backs of elephants throwing spears at each other but now with the emerging nations of Africa and negroes in this country are seeing dignified black people quitting themselves while in the United Nations in the councils of the world there is a great a sense of pride and a sense of having come from something and I do not think that a man can really have a sense of destiny for the future unless he has at least a consciousness and awareness of the past the Negro has not had that now he has he is proud to look to Africa as a place from which he came. Can you come have done to Mr Maritz speech in Chicago a month ago to the do an N A A C P meeting and come out on that. Well Mr Meredith is in a very difficult and unique position and American history he has been through a tremendous ordeal he has been under siege as it were he has been all but alone though white the Negro people all over the country have expressed sympathy with him and some identity with him but he has had to face the hostile crowds by himself really. We are therefore proud of him negroes and I think of him white people of goodwill are proud of the courage and the dedication which he has shown but this does not indicate that anybody will necessarily agree with whatever Mr Merrett says now in his speech was in my view an unfortunate one it indicated that he himself on was not really in touch with the mood of the people in the current civil rights struggle he has a perfect right to his view he has an equal right to express his views any place but others have an equal right to disagree with his views it should be understood that the fact that a man enters the University of Mississippi and faces a terrible ordeal for any human being does not in itself qualify or equip him for the role of leadership. There is a tendency a very often for. People to think that any negro who achieves prominence must