Questions for de Blasio Include Role for Wife, Move to Gracie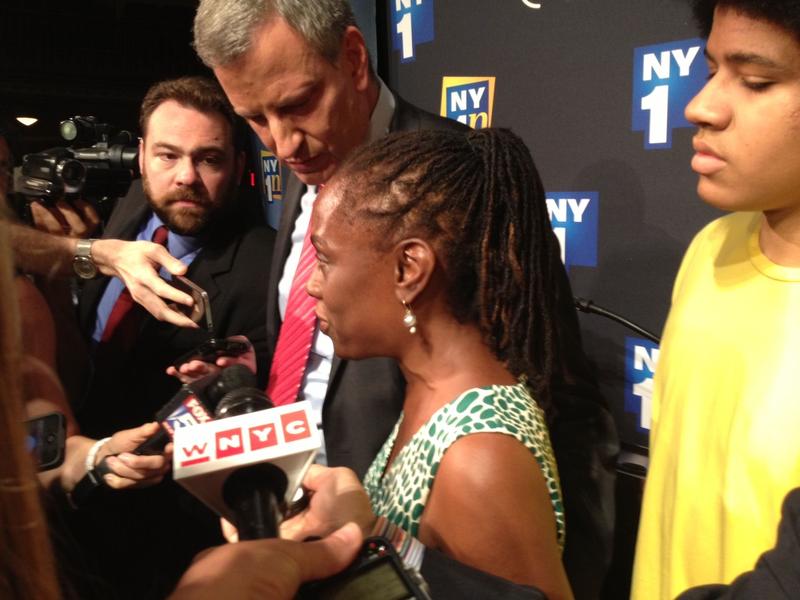 After 10 months on the campaign trail, Mayor-elect Bill de Blasio and his wife, Chirlane McCray, are taking some well-earned time off after he appears at the Somos El Futuro conference in Puerto Rico this week. But with just eight weeks before someone hands him the keys to City Hall, there are conversations to be had, even if it's while decompressing on the beach.
Here are five things Mayor-elect de Blasio may be mulling between now and Jan. 1.
1. First Deputy Mayor Chirlane McCray?
Mayor-elect de Blasio has never been shy about the crucial role his wife Chirlane McCray plays in his public and private life. "The most important voice in my life is Chirlane McCray," de Blasio reminded reporters during his Transition Team press conference on Wednesday.
She's played an important, strategic role throughout de Blasio's campaign, hitting the stump with or without him. While it's all but certain that she'll continue to serve as his adviser-in-chief on an informal basis, there's plenty of reason to think that McCray may take on more substantive duties.
"I'm privately hoping for First Deputy Mayor, but I don't think that's going to happen" joked NY1's Errol Louis on the Brian Lehrer Show.
 "I suspect she'll have the kind of informal portfolio that is somewhat analogous to what you see First Ladies carry out in Washington, meaning there might be a task force or a study group involving some range of issues and she would be on or in charge of," Louis added.
2. How Dante will get to school
This conversation may hinge on another decision: where will the family chose to live? When asked if the de Blasios would leave their Park Slope home and settle into Gracie Mansion, de Blasio told reporters that it would be a family conversation: "Mr. Dante de Blasio has strong feelings about proximity to his high school."
And why wouldn't he?
The teenager is a junior at Brooklyn Tech, among the city's top high schools. His mother told me this summer that he has been active on the debate team — and at an Upper West Side campaign stop, he told reporters he might have been bitten by his Dad's politics bug.
Dante with a pic of young @deBlasioNYC circa 1979 pic.twitter.com/aBKpFNoVCL
— Brigid Bergin (@brigidbergin) September 5, 2013
On the other hand, De Blasio has said he likes driving his son to school, so a longer ride from Gracie Mansion could just translate to more quality father-son time.
3. The virtues of straphangers vs. motorists
Mayor Bloomberg made a point of riding the subway to City Hall, after taking a chauffeured lift from his home on the Upper East Side to the train. It was in keeping with his transportation philosophy that sought to promote mass transit, reduce congestion on city streets and re-engineer the thoroughfares to be friendlier to bike riders and pedestrians. As a sometimes-straphanger, it was also one of the few ways Bloomberg seemed like an average New Yorker.
"They're more like you and me when that happens," said Gene Russianoff, head of the Straphangers Campaign, which advocates for mass transit improvements.
Russianoff was more concerned about de Blasio's wavering on pedestrian plazas. "I've been in a state of denial about it," Russianoff said, calling them one of the great achievements of the Bloomberg administration.
But he also cut the Mayor-elect some slack, since both happen to live in Park Slope. In the past, Russianoff said, mayors seemed like very distant figures. But now that it's someone he's seen shoveling or taking the laundry out, "It's like, regular guy makes good."
4. Sitting down with the city's "Lollipop Guilds"
Stephen Colbert joked with WNYC's Brian Lehrer that the only Mayor Bloomberg hadn't banned lollipops was resistance from the lollipop guild. (Hit play at the 18:30 mark!)
Good for a laugh. But the outgoing mayor has left the incoming de Blasio to negotiate 152 expired labor contracts covering 300,000 city workers. The Mayor-elect said repeatedly during the campaign that those negotiations should happen behind closed doors. But with a proposed budget for fiscal year 2015 due in February, settling those contracts soon will be important.
Mitchell Moss, professor of Urban Policy and Planning at New York University, said after de Blasio fills these top spots – First Deputy Mayor, NYPD Commissioner, and head of the Office of Management and Budget – he should move on to appoint Commissioner of the Office of Labor Relations. Moss even offered a nominee: the current commissioner, James Hanley.
5. Imagine the big party!
It's been eight years since New York City has seen a proper inaugural celebration. Outgoing Mayor Michael Bloomberg bankrolled his first two, spending $4 million dollars combined. Liza Minnelli even performed for one. For Bloomberg's controversial third term in 2009, the affair was toned down. He held a swearing in ceremony in 2009, but otherwise skipped the theatrics in lieu of participating in a day of public service projects.
Bill de Blasio will be the first mayor-elect who will have follow the Campaign Finance Board's fundraising rules for his Transition and Inauguration Entity (that's CFB parlance). His Transition committee registered with the CFB Wednesday, according to spokesman Matthew Sollars. That means the committee will need to raise new money to pay for transition and inauguration activities; the law prohibits the use of campaign dollars. Unless de Blasio self-finances the event like Bloomberg, his donors are limited to contributions of no more than $4,500.
If de Blasio's victory party was any indication, these City Hall affairs will likely have a distinctly Brooklyn twist.