Last Chance Foods: Asparagus
For those who love asparagus, now is the time to eat locally grown varieties. Farmers are harvesting asparagus weeks earlier than usual because of the warm weather this spring. And since crops can really only be cut for about eight weeks without damaging the plant, that means there's now only four weeks before asparagus season is over.
At Donaldson Farms in Hackettstown, N.J., Greg Donaldson (pictured below) has been growing the Jersey-specific varieties of asparagus for about 20 years. Jersey Knight and Jersey Giant are two types that were developed by Rutgers University to thrive in the Northeast area. His advice for picking out the best bunches is to go for stalks that are about as wide as a thumb. "If you're getting asparagus grown locally, the thicker it is the better," he says, adding the caveat that the product shipped in from countries like Peru is almost always tougher.

Asparagus is also a delicate and labor-intensive plant to grow, since it usually takes two years before it yields a substantial harvest. Then, once it is ready, all the stalks must be cut by hand. For Donaldson, that means one-and-a-half acres worth of work, but since asparagus is a perennial, there's no need to replant every year. "The one field that we're still cutting from we've had int he ground for 20 years," he explains.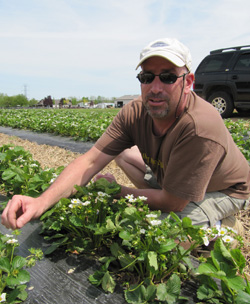 Donaldson doesn't grow organically on his farm, which has been in his family since 1896, but he does use best practices, which he says naturally tend toward more efficient growing. He points out that Rutgers monitors both weather conditions, such as leaf wetness, and insect activity on the farm, which helps him limit the use of chemicals amd pesticides. Last year, alerts were sent out so he knew that late blight was likely to hit the tomatoes, so he staked his plants and kept them dry and off the ground, avoiding any problems.

And as for asparagus' odoriferous side effect, even Donaldson was surprised to discover that it doesn't happen to everyone across the board. "Less than 50 percent of people have that effect," he says. "I never really realized that...so when you joke about it, some people have no idea what you're talking about."

Below is Donaldson's favorite asparagus recipe, which he notes is perfect for picnics.

Marinated & Chilled Jersey Fresh Asparagus
by Greg Donaldson


1 lb. Jersey fresh asparagus
1/4 cup olive oil
1/2 cup balsamic vinegar
1/4 cup fresh grated parmesan cheese
2 Tbsp. fresh chopped basil
2 cloves minced garlic

1. Steam asparagus to your liking. (Suggestion: Leave it with a little crunch.)
2. Run asparagus under cold water to chill after steaming.
3. Place in a tray or zip lock bag.
4. Mix all ingredients, except for the parmesan cheese, in a bowl and add to asparagus.
5. Place in refrigerator to chill for 15 minutes.
6. Sprinkle parmesan cheese on top and enjoy!