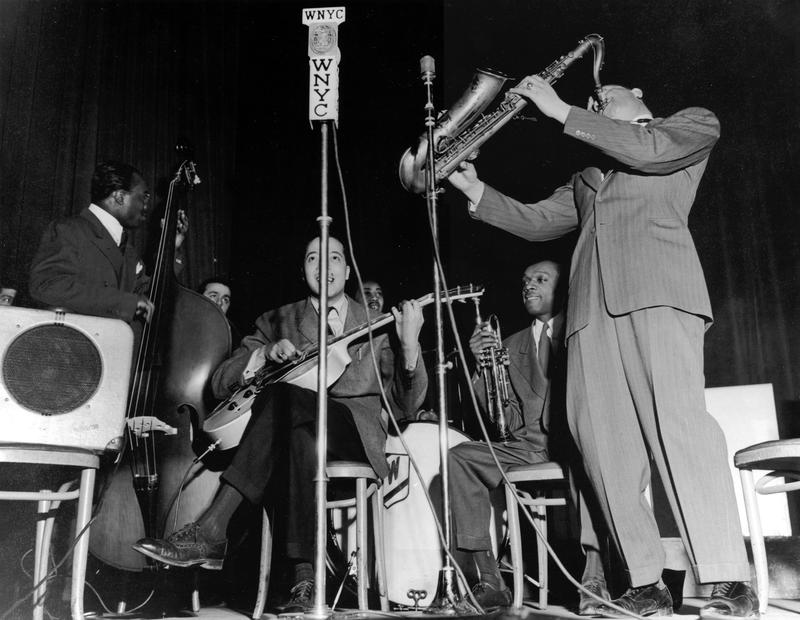 A major influence on the musicians of his day, tenor saxophonist Lester Young is remembered as much for his music as for his eccentricities, playing his horn at an awkward 45 degree angle, inventing his own personal slang and inspiring much of the hipster ethos that has come to be associated with jazz.
Young rose to fame as a soloist in Count Basie's orchestra but quit in 1940 to try his hand as a bandleader. During that time he recorded with Billie Holiday, or "Lady Day" as he famously nicknamed her. She returned the favor by dubbing him "Prez" (as in "man, I haven't listened to Basie since Prez left." --clarinetist Frank Powers, 1960).

In this rare broadcast from February 15, 1941, the short-lived Lester Young Band plays "Tickle Toe" for WNYC's American Music Festival audience. Joining Prez on stage are trumpeter Shad Collins, bassist Nick Fenton, John Collins on guitar and Harold "Doc" West on drums. Announcer Ralph Berton hosted WNYC's "Jazz University of the Air," among the first radio shows devoted to jazz recordings and critique.