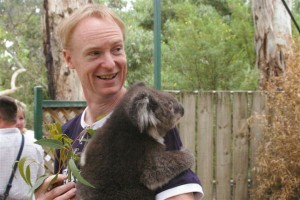 I've been thinking about insomnia a lot today – mainly because I just got back from Australia, and have got that all-consuming insomnia that jetlag produces. (Yes, that's me and a koala bear. Click here for shot of me, several kangaroos and two New York musicians, songwriter Jesse Harris and drummer Robert Di Pietro.) For many people, a surefire cure for insomnia is to listen to someone drone on about how, say, the new recording of Bartok's 'Music For Strings, Percussion and Celesta' by Les Violons Du Roy is so surprising, coming as it does from an early-music ensemble, and how it compares to the standard orchestral recordings, including the classic Fritz Reiner version... There, some of you are dozing already. But this is both classical music's blessing and its curse. On the one hand, there's always something new and/or surprising to evaluate, and maybe argue about. On the other, all that comparing of different versions of a single piece can be totally intimidating to newcomers.

I honestly don't think the classical music world sets out to make itself inaccessible to people. But for many folks who are just trying it out, it certainly seems that way. The formal, almost ritualized quality of classical concerts puts some people off, and even just going to the record store (does anyone actually do that anymore?) can be a daunting experience. What to make of all those different recordings of the same piece? How do you know which one to get?

When I was just getting into classical music, I found that there were actually quite a lot of people writing books and lists to help newcomers with suggestions of key pieces, classic recordings, and the like. Now, with the thousands of blogs and RIYL ("recommended if you like…") functions on some of the big websites, it's even easier to get lots of advice. Norman Lebrecht's turn as the "Record Doctor" is another good example of trying to make classical music as accessible and as user-friendly as possible.

Of course, all these recommendations and suggestions can be just as overwhelming as none at all, and some will inevitably contradict each other. In the end, there's nothing better than just listening. If you like it, it doesn't matter if it's not on someone's list of great pieces, or great performers. I've found that all it really takes is one piece, one recording, to open the door. (For me, it was Pierre Boulez's first recording of Stravinsky's 'The Rite of Spring.' He's since done two others, with arguably better orchestras and better recording gear; but I've never recovered from that early Nonesuch recording with the French National Radio and TV Orchestra.)

But if you do want a recommendation or suggestion, now's the time: the Record Doctor is in. Leave us a comment or question and we'll try to get Norman to answer as many we can fit.