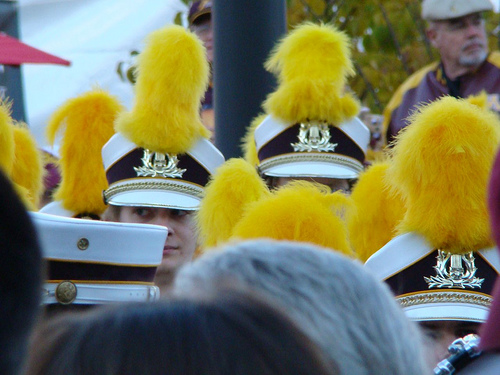 My own experience with marching bands is pretty negligible – see my blog from Nov. 6 for the sad tale. Growing up in New York City, as the rest of the country likes to constantly remind us, is not like growing up in… well, the rest of the country. Like many New Yorkers, I grew up thinking marching bands were old-fashioned and hopelessly square. Our high schools had -- and still have -- football teams and marching bands, and some of them are apparently pretty good. But it's not like the Midwest, or Texas, or Southern California outside LA, where, I'm told, the rivalries between high school bands match the intensity of the football rivalries, and are huge parts of people's lives. Our high schoolers have traditionally had other things to do, and if your local high school had Bloods and Crips fighting for control over the schoolyard drug trade, you might think marching band rivalries were pretty quaint too.
So anyway, I never got the whole marching band thing. I did get the football thing though, which meant that at halftime of college football games, I'd find something else to watch. Until one time, watching one of those classic Michigan-Ohio State games, I actually stayed tuned for the halftime show. I can't remember why, but I do remember the famous-to-everyone-but-me "Dotting of the I" by the Ohio State marching band. An aerial shot showed the band unspooling itself on the field into the letters "O," "h," "i," and "o" in a long serpentine line, which I had to admit was pretty impressive since they were playing the whole time. And then the announcers got all excited and the crowd started screaming, and suddenly a tuba player broke from the line, and pranced around to the top of the "i" to form the dot. The crowd went crazy; I guess the honor of dotting the i is akin to winning the Nobel Prize for Godlike Brilliance in Ohio.
Watch golfer (and Ohio alumnus) Jack Nicklaus dot the 'i' in 2006


That was the first time I really saw just how exciting the world of bands could be, at least to others, and how well-trained these musicians must be. So while I'm still no fan of parades, I'm interested to hear how many composers have used this still-untapped pool of skilled musicians. Works for "concert band" far outnumber the works for the far more visible symphony orchestras of the country, and NYC composer Phil Kline actually wrote a piece incorporating a high school marching band from Montana (hear him discussing it on Soundcheck last year).
And there's no getting around the fact that marching bands are still big deals in most of America. Tell us: What's your experience with marching bands? As a player, a director, a "band mom," or a spectator? Leave a comment.
[Photo: Flickr/MN Photos]