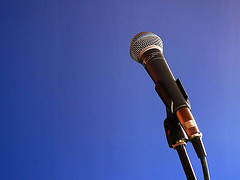 After the euphoria of the night before, many Americans woke up this morning with a) a hangover and b) the sobering realization of the enormity of the problems facing our new president. Obama has seemed clear-eyed about the challenges ahead, but he wanted this job anyway and worked his butt off to get it. This makes him a model not just for other politicians but for leaders in the arts world as well. There, the challenges are surprisingly similar: a struggling economy means fewer corporate or foundation dollars; the question of diversity looms large as arts organization try to broaden their base of support and remain relevant; and the huge amount of media available today makes it hard to get and hold people's attention for anything longer than a sound bite.
But technology is a double-edged sword; even before he arrived at Grant Park last night to give his acceptance speech, Barack Obama sent out an email blast to the various organizers and campaign volunteers across the country, thanking them and telling them that this only happened because of their work. Each email was personalized with the recipient's name, and signed simply, Barack. It was a brilliant use of technology and an example of the new thinking that today's arts leaders need to embrace as well. Concertgoers are unwilling to make the long-term commitment of time and money to buy season tickets to an orchestra or hall when there are so many other entertainment options around; museum exhibits have to compete with the easy access we have to virtually anything online; record companies are no longer the way for a band to establish its image, its brand, and its audience. Technology has changed all that. And whether you're the lead singer of an indie rock band or the head of one of the world's great art museums, you need to figure out how to use technology the way the Obama campaign did – to reach out to and energize the core supporters, the fan base. Indie-rockers are well on their way, routinely using social networking sites and blogs to gain attention, and at the upper levels, using media like TV and film to really get into the mainstream market. But older organizations with older "core" audiences, like the NY Phil or the Met Museum, need to be able to reach these younger, tech-savvy people as well.
I don't think an email blast from Lorin Maazel touting his next performance of the Brahms Symphony #1 is going to fill the hall with young listeners chanting "yes you can… play that Allegretto movement in under 5 minutes!" But somehow, to stay relevant, arts organizations are going to have to say, it's time for change, and figure out how to use newer technologies and make a broader, younger audience a part of their mission.
Tell us: Have you seen any interesting examples of an arts leader who's made his/her organization seem more vital and relevant? Tell us who, and what they've attempted to do. Leave a comment.