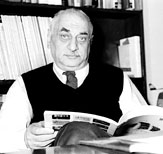 Folkways Records did many things, but chief among them was proving that Big Bill Broonzy was right: "They're all folk songs," Broonzy once said; "I ain't never heard a horse sing." (A bunch of other people have said the same thing since, so you'll see various later attributions of this statement.) Trying to define "folk song" as one particular thing is like nailing the proverbial jello to the wall. All the more credit to Moses Asch (pictured) and his Folkways label that he wasted very little time even trying.
Most Americans would recognize songs like "My Old Kentucky Home" or "Oh Susannah" as folk songs, because they're a common part of our culture and an enduring piece of "old America." But when Stephen Foster wrote them, and so many other songs in the mid-19th century, he wasn't creating "folk songs," he was writing what he hoped would be popular songs – the pop music of his day. And by the way, he did write them – notating the lyrics and the music in a way that is, in theory at least, completely at odds with folk music's oral tradition.
The point is, you can never tell what will end up being folk music, until the folk themselves pick it up. When Moses Asch started collecting songs, he quickly found that there were many worlds of folk music out there. Just here in the States, there were ballads that were essentially old English and Scottish songs that had been frozen in time among the isolated hills and valleys of Appalachia. There were fiddle tunes that came from Ireland and Norway, accordion music from Germany, and a hundred other styles of folk music that pointed to other parts of the world. And so his Folkways label quickly expanded beyond the borders of the US and became, over the course of its long history, one of the world's preeminent sources of traditional musics from around the world. Of course, the label is most famous for introducing American folkies like Pete Seeger, Woody Guthrie, Lead Belly, Mary Lou Williams, and so many more. But even here, defining things as "folk music" could often be a tricky thing. One of my favorite records of 1983 was a Folkways LP by a Texas magazine editor and guitarist named Ben Tavera King, and it was called "Border Crossings: New Directions in Tex-Mex Music." No one would argue that Tex-Mex is a great old musical (and gastronomical) tradition, but King had written these pieces himself, recently. As the album's subtitle indicated, this was not an attempt to recreate an old folk sound, but rather to extend it. Ben still makes records – and has his own label, called Talking Taco Records – and last time I spoke to him, he hadn't turned into a horse. So yes, they're all folk songs.
Do you have a favorite Folkways record? Ever hear an old folk record and suddenly recognize a tune you'd thought was written by a favorite rock band, or see early evidence of a recent popular song that seems to be making its way into the realm of "folk" music? Leave a comment.
[photo: Diana Davies]