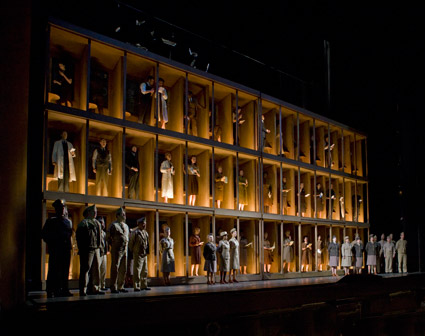 In the NY Times recently, Anthony Tommasini wrote about how he supports the idea of modern opera, of contemporary composers trying to extend and even reinvent the opera tradition for modern times and for modern America particularly. He also wrote about how so many of the American operas we get to see these days fall short of the mark. Part of the problem may simply be what people expect "opera" to be. The form was forever changed by the Philip Glass/Robert Wilson epic "Einstein On The Beach" in 1976 – piece of music/theater that had very little of the sound or the staging or even the narrative of conventional opera. Even an opera like John Adams' "Doctor Atomic," which has an almost Romantic sound, with flowing solos and dramatic choruses, is very different, in subtle but important ways, from the world of Puccini, Verdi, and Rossini. (It may not be so different from Wagner, but that's a whole 'nother blog.)
People talk about how opera was the pop music of an earlier day, but those operas had memorable tunes – almost like pop songs. Composers today almost seem to be afraid to do that. And there may actually be a good reason for this: realism. In early operas, like those of Handel, you'd have the "recitative" – the explanatory preface that was sung in a simple, almost chant-like way in order for the words to be clear, thus moving the story along and setting up the hit tune to come – and then the "aria," wherein the story is often put on hold for a minute so everyone can revel in a really great melody and (hopefully) a really great performance. Well, American composers tend to be a literary bunch – they like to collaborate with top poets and playwrights and novelists, with the result that the libretto for the average American opera these days is lot more sophisticated than most earlier operas and the storytelling begins to take on a logic and a momentum that is hard to stop. And I just wonder if composers are allowing the texts to dictate the music, and sacrificing a really killer tune on the altar of narrative clarity.
In John Adams' operas, he seems to deal with the problem by writing a lot of clear, recitative-like music for his characters – and then breaking away for a few minutes to allow the chorus a few minutes to comment on the action (which seems more realistic than the characters actually doing it themselves) with some of his most memorable music. Having said that, there are exceptions: Nixon's aria, "News has a kind of mystery," from "Nixon In China," has hit tune written all over it. At least for the first half, before the repeating melody begins to dissipate as Nixon loses himself in reverie and nostalgia. Remember, it's the repetition of a melody that allows an aria (from Mozart's "Non piu andrai" to Puccini's "Nessun Dorma") to cement itself in our brains; and today, that has given way to a kind of writing that unfolds along with the story. It's better storytelling, but not necessarily better opera.
What's your impression of modern American opera? Do you like being able to follow the story? Or do you want to be able to walk out with a tune stuck in your head? Leave a comment.
[Photo Credit: Ken Howard/Metropolitan Opera]