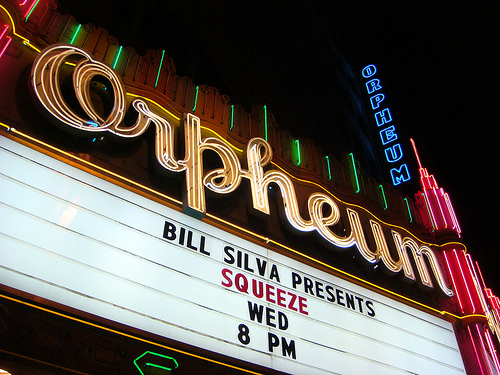 In general, I'm not a big fan of reunion tours. I'm trying to figure out why I feel this way, even when it's bands I like. Part of it is watching the aging process at work. When Devo takes the stage now, I can't help thinking "these guys were so thin once, and they had hair." That's the sort of reminder that a guy hurtling towards the end of his 40s doesn't need. But a bigger part of it is the idea of trying to recapture a moment as opposed to continuing a work interrupted. I loved – and still love – the Pixies, and their reunion tour got incredible reviews, but the Pixies are not going to build on the momentum of 15 or 20 years ago and release a new, even better record. They had a moment, and by pop/rock standards it was a good long moment, and left us only after bequeathing us a handful of truly superior rock albums. In other words, they did their job, and did it well, and didn't need to do more.
On the other hand, My Bloody Valentine broke up before their time, and their reunion tour is just a tantalizing appetizer to what their fans can only hope will be a new album that builds on their previous work in a way that acknowledges that music has moved on in the past decade or so and that they have to do something to distinguish themselves from a pack of imitators (see The Twilight Sad, et.al.). This is a case of a band whose work was incomplete when things fell apart.
So what about Squeeze? Beginning in the late '70s and lasting through much of the 80s, they churned out one hit song after another. Chris Difford and Glenn Tillbrook had a great formula – Glenn's clear high tenor and Chris's appealingly monochromatic lower voice following along, the catchy melodies, the sense of humor in songs like "Tempted" and "Cool For Cats," and the occasional sense of the bittersweet in songs like "Up The Junction." So they had a moment – a real long one, too. But a funny thing happened in the 90s… Squeeze got caught in the crossfire of record industry politics just as they were releasing some of their most interesting music. Check out their 1991 album "Play," for example. The decade was unkind to Tillbrook and Difford, and they ended up parting ways, for good it appeared, in 1998. But strangely, it appeared as if the band hadn't finished the job, somehow.
Now Squeeze is back, with a live album and a reunion tour that's getting rave reviews. They're playing all their old hits, all from the early days of the band. It's great stuff, but I'm taking a wait and see approach. Will this recapturing of a moment result in the band moving on to a new one?
Tell us: What's your take on all the band reunions going on these days? And Squeeze in particular…