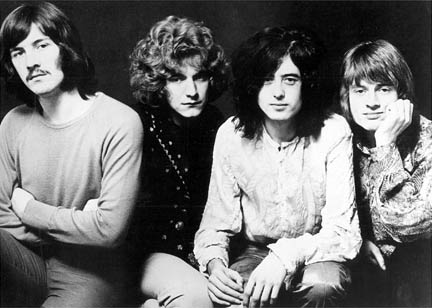 Why Music Is So Cool, Reason #325: if you're the least bit curious, it will lead you to other things you didn't even know existed. One of those things is the huge sloppy musical mess we call "Americana." When I turned 13, I was required by Federal statute, as a teenage American male, to become a huge Led Zeppelin fan – at least, I assume there must've been some law somewhere, otherwise why did it seem everyone was doing it? Anyway, I noticed a lot of the songs I liked were credited to "Page/Plant" (I've always been a big liner notes fan, as I've blogged about fairly recently) – but not all of them. And so it was that Led Zeppelin led me to wonder who "Trad" and "Arr" were, and led to this city-dwelling New Yorker's first encounters with the blues.
For people a little older than me, it was Cream leading them to Robert Johnson, the legendary blues guitarist; or the Beatles, stepping off the plane to America and expressing to journalists their shock at the fact that Muddy Waters and Bo Diddley were not household names in this, their own country. For people a little younger than me, it was the alt-country of the 90s, with bands like Uncle Tupelo, leading them back to Woody Guthrie, or Leadbelly. And for people considerably younger than me, it's the roots-rock of bands like Califone and Calexico and Iron & Wine that has young listeners checking out The Carter Family, Tex-Mex music, and delta blues. Plus they're listening to Led Zeppelin again…
The word "Americana" is broad enough to encompass whatever you want it to, but for most of us, it means the sounds of traditional American song, whether it's Skip James and his guitar or The Stanley Brothers' high, lonesome voices. And while it seems like it's old music, made by people who are remote in both time and place, the fact is that this music lives on – even when many of its players are gone. So we have the late career fascination with Johnny Cash, the unexpected tidal wave of Americana that followed in the wake of the film "O Brother Where Art Thou," and the name-checking of Harry Smith and his historic anthology of American folk music by hundreds of hipster bands.
I should probably point out that a similar thing happened in the UK, where those Led Zeppelin fans not only ran to the blues section of their local record shoppes but also rediscovered the rich tradition of English folk song. That folk-rock tradition, spawned by bands like Pentangle and Fairport Convention in the 60s, has also gotten a second wind in the 00s with "folktronica" groups like Tunng.]
Have you become a fan of older American music? Early country or bluegrass, delta blues, Appalachian ballads, shape-note hymns, and the like? If so, tell us how you got there – what mainstream music opened the door for you to the roots of American music?