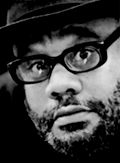 Here's what bugs me about Broadway - well, aside from the ticket prices: you have a somewhat edgy, idiosyncratic musical like 'Passing Strange' (the brainchild of musician Stew, pictured) actually trying to do something different and getting a great amount of critical respect, but can't seem to get a decent-sized crowd in the hall; and then you have 'Grease' and 'The Little Mermaid' getting panned because they are basically just reinventing the wheel - and are taking in cash faster than the oil companies.
Last night's Tony Award winners seem to show that Broadway remains resistant to change. No, 'Grease' and 'Mermaid' were not winners (they weren't even nominated), but neither really was 'Passing Strange,' which was nominated for tons of categories and won only for best book of a musical. I am not one of those people worshiping at the altar of 'Passing Strange'; listening to this 'rock musical' I hear a lot more musical than rock, but I give the producers props for taking a chance on an eccentric Joe's Pub hit and moving it to the big stage. 'In the Heights' seems to me to have a classic Broadway musical sound, except tinged with salsa - the way 'West Side Story' had a little Latin tinge. Sensing the familiar, the voters rushed to that one. And speaking of familiar, what about the headlong rush to throw as many awards at 'South Pacific' as possible?
Classical music has a problem with the standard repertoire crowding out the new and experimental music being written today - it's a main reason why younger audiences think it's boring and old-fashioned. Broadway seems to be headed the same way.
Leave a comment: What's your reaction to the Tonys?