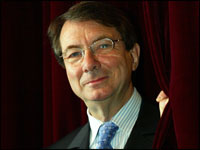 For an arts organization to survive today, it has to take risks. Gerard Mortier (pictured at right), who takes over the New York City Opera in 2009, knows about taking risks. And he knows that when you roll the dice, you might win, or you might lose – but both are likely to be spectacular. Mortier took one of Europe's most elite, tradition-laden institutions – the Salzburg Festival – and made it into something vibrant and provocative and relevant. He did a production of Richard Strauss's genial opera "Die Fledermaus" as a cocaine-laced slap in the face of Austria's far-right political movement; Nazi regalia and simulated (god I hope it was simulated) copulation were just a few of the onstage details that raised eyebrows and caused the genteel ladies to swoon. A big win for Mortier.
Then he went to the Paris Opera, another of Europe's most venerable classical music institutions. Let's call that one a slight loss. The Mozart "Magic Flute" is already weird enough – it didn't really need the day-glo fever-dream sets and the neon jumpsuits.
Now he's at City Opera, and they have taken the hugely risky step of canceling almost all of the upcoming season. They'll take a full year to completely renovate their home, the acoustically-challenged NY State Theater, and then, if all goes well, come roaring back to new life in 2009. It's not quite Pol Pot's "Year Zero" plan for Cambodia, but some observers think it is possibly institutional suicide. Tell us: What do you think? Will a new, rejuvenated, risk-taking City Opera find a niche on a crowded landscape after being out of the public eye for a year?