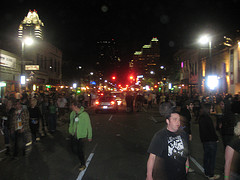 The festival is all about live music, so here are some impressions of the live music I've seen:
Tuesday night. The opening party for the Music Festival is also the closing party for the Film Festival. It's at Stubb's.
Addictive TV is a techno DJ duo from the UK who remix video as well as music. Best moment - the final piece, a video and audio remix of Led Zeppelin's 'Black Dog,' with Jimmy Page's sliced-and-diced guitar riffs matched with footage from the otherwise unwatchable Led Zep concert film.
Moby takes the stage, but alas, it's just a DJ set. Interesting for a while because it's Moby, but then I want to see someone really making music.
Down the street at Emo's, a Seattle band called The Hands are really making a loud noise. And at times it does coalesce into music, though the singer's not great and the band, as it turns out, has had a long journey and is really tired. By the end of the set, it shows.

On to Friends, which is hosting an international lineup. An Iranian band called Hypernova )pictured) starts up a set that immediately recalls the short-lived, influential British post-punk band Joy Division, and perhaps the like-minded current NY band Interpol. But hey, I like those bands, so while the music isn't original, and the English lyrics are charmingly off-kilter, it's a fun set. The lead singer informs us that they actually were supposed to come to SXSW last year, but one of them had a visa problem and delayed their arrival. So they stayed around for a year and came back to Austin. (He has apparently learned the word f#*@ing here, which he uses liberally, to almost comic effect, in his between-song patter. 'We are so f#*@ing happy to be here. We f#*@ing hate LA. Etc.)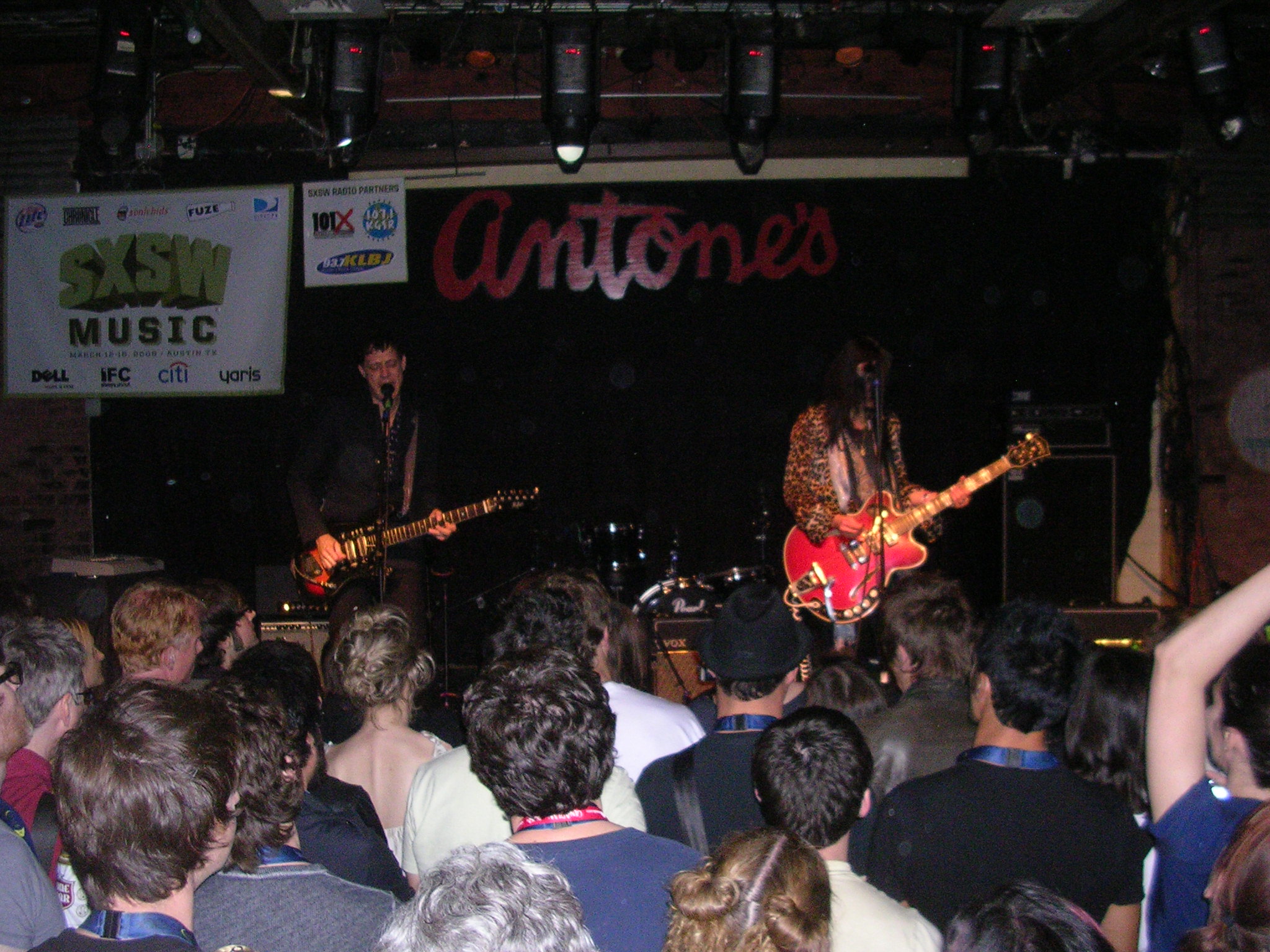 Wednesday night. The streets are bedlam - drums and indistinct squalls of electric guitars pour out of every storefront on 6th Street. Antone's, the blues club on 5th Street, has an intriguing lineup of UK bands, featuring The Kills (pictured at right). But they're on at the same time as REM, the hot ticket for tonight, at Stubbs. By 8pm the lines (2 for folks who've forked over $160 or more for festival wristbands and 1 for holders of badges, reserved for musicians and industry, inlcuding the media) are around the block at Antone's and it's clear my carefully-mapped plan to catch 5 different acts in 4 different clubs is not going to work - I'd spend most of the night standing on lines. Once into Antone's, I decide to stay.

Simian Mobile Disco (left) was my choice of 8pm acts, but again, the set is just the two DJs behind a table of gear. Not the most compelling stuff, especially when you're not in a club looking for grooves to dance to.
These New Puritans take the stage next. Youngsters from Essex, UK, are fronted by a singer/guitarist wearing what appears to be a Halloween costume's chain-mail shirt. I'm expecting songs about elven queens and evil orcs, but instead we get a set that sounds (and looks) vaguely like very early Talking Heads.
Lightspeed Champion offers a drummerless, mostly acoustic set. Dev Hynes sings and plays guitars, with violin and some occasional guest vocals. He's entertaining, the songs somewhat less so, but the set finishes strong, especially with his new single 'Tell Me What It's Worth,' which he dedicates to 'Jack and Sawyer' (for all you devotees of tv's Lost).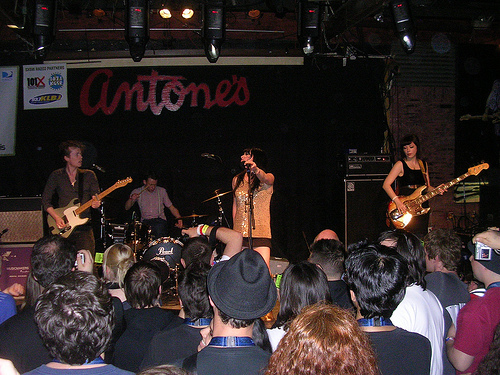 Sons And Daughters (above) are from Glasgow, and I've heard their music before, courtesy of my brother Jerry. Though I'm only 11 months older, I've always introduced new bands to him - from the Stones when I was 9 to Jamie T last year. But this band he somehow got to first, and I'm interested to see how they do in a live setting. The answer is - quite well. For one thing, they LOOK good onstage. A handsome singer/guitarist, and a drummer who looks like he's got a portrait of David Byrne aging in his attic, and two young women, sisters apparently, who sing and play bass and look like Bjork. They seem to have all the tools, and it should be just a matter of time before Sons And Daughters' angular but melodic rock becomes better known in the States.
The Kills are no REM, but hey, no one was getting in to see REM unless, like Joel Meyer, you had a badge AND were willing to go to Stubbs early and stay there. Onstage, The Kills will inevitably be likened to The White Stripes, both for their high-octane rock and for the fact they're a male/female duo. But the similarities end there, because the Kills don't have a drummer, instead playing to drum tracks. (And with all due respect to Jack and Meg White, The Kills are better looking.) To that extent, they remind me of the 80s duo Timbuk3 - if they'd spent the night hopped up on Red Bull and LSD.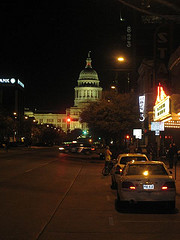 After today's (Thursday's) show, we'll pack up and head home. On the one hand, it's disappointing to leave SxSW after just one official (and one unofficial) night. On the other, I don't know how much of this a person can take. Really. It's just too much, and whatever you see, and however much you're enjoying it, you always feel the weight of all the other things going on that you also wanted to see and now can't. But hey, as problems go, I guess that's not a bad one. Sort of akin to 'where do I put all this beer?'
Still, SXSW is perilously close to answering the age-old question, how much is TOO much. I also can't help feeling bad for everyone who pays at least 160 bucks for a wristband that ostensibly gets you into any gig, space allowing. Once the people with badges get in, there's often no space left for wristbands. (Even a badge won't get you into the hottest gigs.). At least there are free daytime concerts that attempt to give the local residents a fighting chance to experience some of the festival.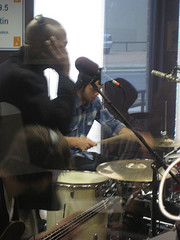 Our final live music experience in Austin is today's final segment on SC, when The Heavy performs for the first time in America on our show (pictured in KMFA's Studio 2000). They show up without any adapters for their UK-based equipment, and the poor bassist has been given incorrect equipment by whomever he got his amp from. The pre-show mike check is a mad scramble for batteries, adapters, and anything else that might allow them to actually play their music.
In the end, the bass sound is poor, and then virtually inaudible, but the band, despite playing in a room designed for nothing larger - or louder - than a string quartet, plays with real energy and fire. They're a lovely bunch, too, and I think we're all pretty damn pleased with ourselves - we went to SXSW and picked a winner.