So, after all this, what about the concert itself? Well, you can presumably hear it by clicking on the link to our broadcast of it elsewhere on this website (ed.'s note: our broadcast window has expired. Check the New York Philharmonic's site, which has full online audio/video of the event: www.nyphil.org.) I will say that the performance was not perfect. There was some weirdness in the first section of the Gershwin and a few flubs in the Dvorak, for example, but no one cared and it really didn't matter. This was history, and everyone knew it.
This audience also rose instantly when the DPRK anthem began, and stood ramrod straight through the American anthem as well, but there was little evidence of uncertainty here - the music ended and they applauded and the concert began in earnest. Lorin Maazel had apparently used his afternoon wisely - his attempts at Korean this time provoked genuine amusement and applause. He did offer an unusual introduction to An American In Paris: someday, he said, some composer might write a piece called Americans In Pyongyang. Now, if he'd said 'An American in Pyongyang,' that would've had a friendly, musical travelogue feel to it. But 'Americans In Pyongyang' sounds more like a threat. Fortunately, everyone understood what he meant, and the three encores went off without a hitch - and without the six Korean wind players. 'Arirang' went on much longer, it seemed to me, but the audience, recognizing the tune instantly, loved it. And then, when the piece and the concert ended, came the moment that everyone is still talking about now, a day later.
The Moment That Everyone is Still Talking About
It started normally enough - Maazel left the stage, thunderous applause (plus a bravo or two - that must've been the Western diplomatic corps, North Koreans do not shout like that) continued, he returned for a bow, the orchestra stood and bowed, flowers were presented - all the usual routine. Except the applause didn't stop. Even after Maazel left again and came back, bowed, and left yet again. Finally, the orchestra had to make a decision. After much exchanging of confused glances, concertmaster Glenn Dicterow stood up, and musicians began to move off the stage. As they did, much of the front section of the audience began waving goodbye. Clearly caught by surprise, some of the musicians started waving back. A few were clearly starting to cry. This was too good to miss - I gathered my gear and ran backstage (I edited that part out for the broadcast) and grabbed Jon Deak, the eloquent associate principal bassist of the Phil, whose voice I used at the top of the broadcast musing about stepping off the plane onto North Korean soil. He was just gathering himself together. Nearby was Katherine Greene, one of the top violists, also just gathering herself. Both were moved by the same thing: not the movement of forces of history, and not even by the music they'd just played, but by the personal connection they'd just experienced. The feeling of gratitude and goodwill coming from an audience that might've been expected to be polite and nothing more. If this latest example of Ping Pong Diplomacy does anything, it will be because two groups of people make connections, whether through music (the Boston Symphony in China in 1973, the Philadelphians in the Soviet Union in 1959, the NY Phil here), or sports (the American table tennis team's visit to China in the early 70s), or some other field. The North Koreans, presented for the first time with a group from the country they've been taught from birth to distrust and hate, responded with an unexpected and spontaneous display of affection. And the orchestra, some of whom were becoming quite skittish around the unnatural amount of media attention and perhaps feeling the weight of unreasonable historic/political expectations, found that at the end of the day they'd been right all along - it was about the music touching people and forging a connection.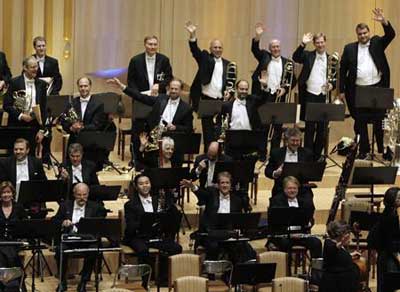 (Photo: REUTERS/David Gray)
Okay, time to cut the swelling melodramatic background music. The concert ends, but now the real work begins. Morning Edition needs something, so does CBS, and American Public Media's 'Performance Today,' and Soundcheck, and the blogs, in bits and pieces if time allows - and there's the concert broadcast to finally deal with. Has Larry Rock figured it out? Turns out he has - using the same internet technology I'd been unable to purchase the day before.
The concert will have to be sent back home in pieces, in compressed pieces, and Ed Haber and Eileen Delahunty will have to piece it back together for airtime.
What the Late-Night Recon Mission Uncovered
Around midnight, with two reports done and several to go, and the music en route to NY, I head off to the men's room. I could go up to my room, but the elevators are slow and that'll waste 15 minutes. I'm not afraid of the glass-fronted Elevator of Death because at night, that glass wall might as well be black marble: Pyongyang is virtually invisible at night. Like an English city during the Blitz, it is almost completely dark - yet another facet of its weird, ghost-town vibe.
Anyway, the signs say there's a bathroom downstairs. So here's the scene: late at night. The hotel lobby is dark and quiet. The front desk seems unstaffed. (Guess they don't get unexpected guests here.). The little souvenir and bottled water shops are closed and dark. Down the stairs, there's a Chinese restaurant closing up, a few Australian journalists sitting at the lone table in front, finishing their drinks. I follow the signs down a quiet hallway that turns, turns again, and leads to... A casino. Blackjack, baccarat, roulette - the tables all stand empty and silent, with hotel staff behind most of them. It's like something out of Stephen King's 'The Shining,' his book about a writer going crazy in an apparently empty hotel in the Rockies. Here, in this eerie scene in a remote hotel in one of the world's most repressive states, I wonder if I'm going crazy. It feels like every eye is following me as I head to the men's room. When I come out, they're all still there - I am not hallucinating. Questions pile on top of each other: who's this for? What does the 'house' use for money? So many questions, but I'm not sure I want the answers. And I still have hours of work to do.
That's a Wrap
At least I'm feeling a bit better about some of tonight's reports, and I think the concert will sound good. But I can't get the photos off my camera, onto the laptop, and into an email for these blogs. Or I can, but it's so slow. At 4am, I decide that the 3 or 4 photos I've managed to attach will just have to do until I get back to NY. It has been a long and surreal day, and we have a tight schedule and an early start tomorrow. It is time, finally, for bed.