Under other circumstances, the New York Philharmonic's performance here tonight might be a story unto itself. But with the orchestra leaving tomorrow morning, with its press corps in tow, for the history-making concert in North Korea, tonight is simply a prelude to the main event.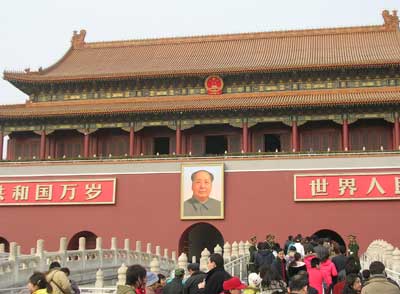 Still, Beijing has proven to be an interesting place. The hotel most of us are staying in is near Tiananmen Square and the Forbidden City. A brisk walk will take you to both - one, the square, is simply a large open plaza surrounded by important but nondescript buildings. The other, though, is a massive complex of temples, palaces, pavilions, gardens and even larger open plazas that requires at least one whole day to take in.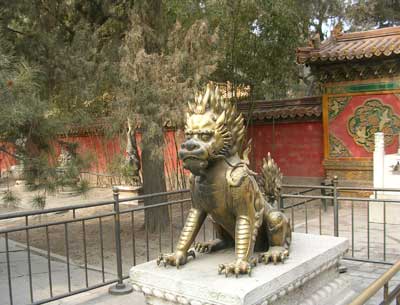 Tonight's concert took place at the new National Centre for the Performing Arts, just west of Tiananmen Square and the exact opposite of the stolid architecture that surrounds it. Known as the 'floating pearl' or the 'duck's egg,' this in-your-face structure is not only visually controversial, it is financially and musically so. Now two months old, it was way over budget, and much ink has been spilled on whether this 'National' center should focus on Chinese arts or international performers. The decision seems to be, for now at least, to try focusing on both - which of course means not focusing at all. So a mishmash of traditional music/dance events are lined up alongside the NY Phil, the London Symphony Orchestra (due shortly), and other decidedly un-Chinese attractions.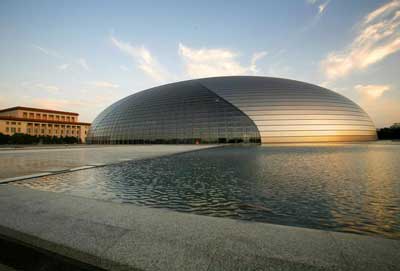 Anyway, the concert hall looks like a huge metal and glass egg half-submerged in a pond - with no visible means of entry from the street. (You actually go down stairs from street level to enter.). When you walk through the enormous foyer, the waters of the pond can be seen moving across the glass ceiling high above.
The concert was a big deal: at least 3 people asked - by means of pidgin English or sign language - if I would sell my ticket. (A young woman asked me something too, in Mandarin, but I'm pretty sure the concert wasn't what she had in mind.) It couldn't have been the program, which was fairly prosaic: Dvorak's 7th and the Brahms 4th. But the NY Phil in Beijing, in the new space, in the year of the Beijing Olympics, was apparently a hot ticket.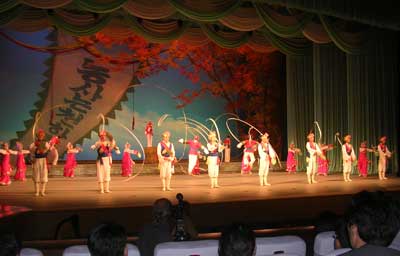 Tuesday will be another matter. At a press conference today, the Phil told us that they would not know if any 'special guests' were coming until Monday or possibly Tuesday morning. It was a subtle reminder that Condoleezza Rice is leading a US government contingent to the inauguration of South Korea's new president on Monday, so there will be representatives of the administration on the peninsula for the concert. Of course, the concert was okayed by the State Department last fall, when negotiations on dismantling Pyongyang's nuclear weapons program seemed to be moving forward. Now, with the North missing a Dec 31 deadline, it may be deemed politically incorrect for Rice or any other top administration folks to show up.
We'll just have to see what happens tomorrow...